Caramel, vanilla, butterscotch, citrus, hazelnuts

1.5 Jahre

Bourbon barrel

Jalisco, Mexico

40% vol.
More information about Fortaleza Tequila Añejo
Fortaleza is made by one of the great family names in the history of tequila. Fortaleza is one of the few traditionally made tequilas that are still made using the Tahona process to grind the agaves after roasting. Currently, there are few producers left on the market that do this (credibly and transparently documented). However, many are blends of Tahona and machine-ground agave, as the time and labor required to produce them is extremely high. The result of the production process means that each numbered bottle is unique.
Aroma and flavor
Caramel, vanilla, butterscotch and cooking agave flavors practically leap out of the glass in this highly acclaimed and perfectly aged Añejo. This tequila is so rich and complex that some people can even detect pineapple, peach, orange blossom, nutmeg and raisins on the nose.
Once in the mouth, the cooked agave experience continues with a thick and oily texture that coats your mouth in a very soothing way. Butterscotch, caramel, toffee, citrus and hazelnut are common flavors that people identify.
The facts
- Agave: Lowland, Jalisco, Mexico
- Cooking method: stone/brick oven
- Crushing method: 100% Tahona
- Distillation: Double distilled
- Pot method: Copper
- Fermentation: Outdoor wooden tanks
- Sugar: 100% agave
- Water Source: Natural source
- Aging time: 18 months in used ex-whiskey bourbon barrels
- Bottles: Mouth blown in Mexico
Smell:
Pineapple, peach, orange blossom, nutmeg, raisins
Manufacturer:
Tequila Fortaleza
Food companies:
Barrel Brothers GmbH, Kellerstrasse 43, 81667 Munich, Germany
---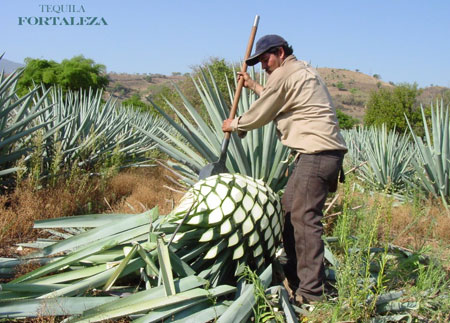 Tequila Fortaleza began production in 2005. We may be a relatively young company - but have over 140 years of history behind our brand. Our great-great-grandfather Don Cenobio founded his first distillery - La Perseverancia - in Tequila, Jalisco in 1873. Don Cenobio was not only the first person to export "Mezcal de Tequila" to the U.S., shortening the name to just Tequila and introducing the use of steam to cook the agave (instead of an earthen pit). It was also he who determined that blue agave was the best agave for tequila production. What follows is a success story closely linked to the evolution of tequila itself. A few generations later, Don Cenobio's grandson, who incidentally ensured that tequila was a protected beverage that could only be produced in Mexico, bought a piece of land on the highest point of the city - and built a small distillery there, which he christened La...
[Read more]