fine juniper note, citrus nuances, apple, cinnamon, lavender

Juniper, Lavender, Apple

Upper Austria, Austria

40% vol.
More information about Gin FIOR
Gin FIOR - usually different - A London Dry Gin, which prepares a distinctive drinking experience with its hand-picked botanicals. Fine notes of lavender, citrus and apple, coupled with the typical juniper flavor and a touch of rosemary, cardamom, cinnamon and ginger make the Gin FIOR so special.
Handcrafted in Austria: Gin FIOR is distilled at Sammerhof, near Lake Traun (Upper Austria). Here, tradition and modern distilling technology meet a unique recipe and create pure drinking pleasure.
Even the design of the bottle leaves nothing to be desired, it does justice to this extraordinary gin and brings optics as well as haptics to the point. Gin FIOR stands for perfect taste, exquisite ingredients and 100% handmade from Austria.
Botanicals:
Juniper, apple, lemon, lavender, ginger, lemongrass, orange, rosemary, cardamom, cinnamon
Smell:
fine juniper note, citrus aromas, floral nuances
Food companies:
Fior Handels GmbH, Zeileisstraße 6, 4600 Wels, Austria
---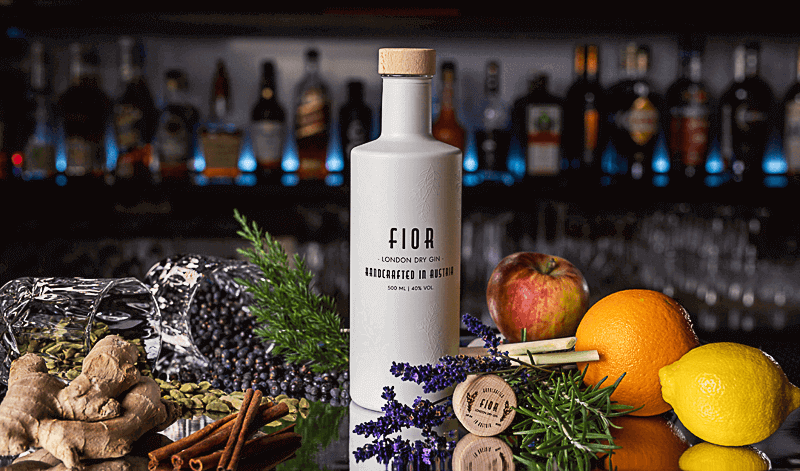 There were once 4 friends who shared a love for gin. Many fun evenings followed, where they raised their glasses together and tasted a variety of different gins from all over the world. More and more the feeling arose that a gin with a special note was still missing. And so the idea of the 4 friends to produce their own gin was born. Promptly a small table distillery was purchased to distill the juniper schnapps themselves at home. They experimented with different botanicals, read countless books about gin production and developed their first recipe. The 4th distilling attempt was clearly convincing and the result was not only well received by the 4 friends. They shared the self-distilled gin with their families & friends, who quickly got a taste for more. Spurred on by this, the idea of producing a larger quantity was born. To implement this plan, they first had to find a name and a...
[Read more]