distinct juniper, fresh citrus aromas, orange blossom, cinnamon-like aftertaste

Baden-Wuerttemberg, Germany

44% vol.
More information about Goldwood Gin
A gin that is fun - whether pure with your favorite garnish or a delicious mixer.
The entry is complex and aromatic: strong juniper note harmonizes with fresh citrus aromas and is rounded off by pleasantly soft orange blossoms. Followed by a long-lasting warm, cinnamony finish.

Complex enough when you want to indulge and at the same time so round and fine that it just goes all the time. Perfect balance.

About Goldwood Gin:

Gold and wood
Both the design and the name "Goldwood" feature the actually opposing materials gold and wood. These stand for the two sides of Goldwood Gin: on the one hand, it can shine in a noble ambience, on the other hand, it fits perfectly into the casual, cozy round.

The cork used for the label, which is infused with golden highlights, originates in Portugal. Thanks to state-of-the-art laser technology, the cork is used to engrave and cut the fancy label in Neukirch.

Inside the bottle, in addition to our summery classic Dry Gin, there are also 23-carat edible gold flakes that dance sparkling through the liquid delicacy.
Botanicals:
Juniper, angelica, allspice, cinnamon, orange blossom, mango, orange, lemon, lime and grapefruit peel, hibiscus flower, Szechuan pepper.
Manufacturer:
Goldwood Gin
Food companies:
Goldwood Spirits Heinirch and Daniel Zerlaut GbR, Schnaidterstr. 1, 88099 Neukirch
---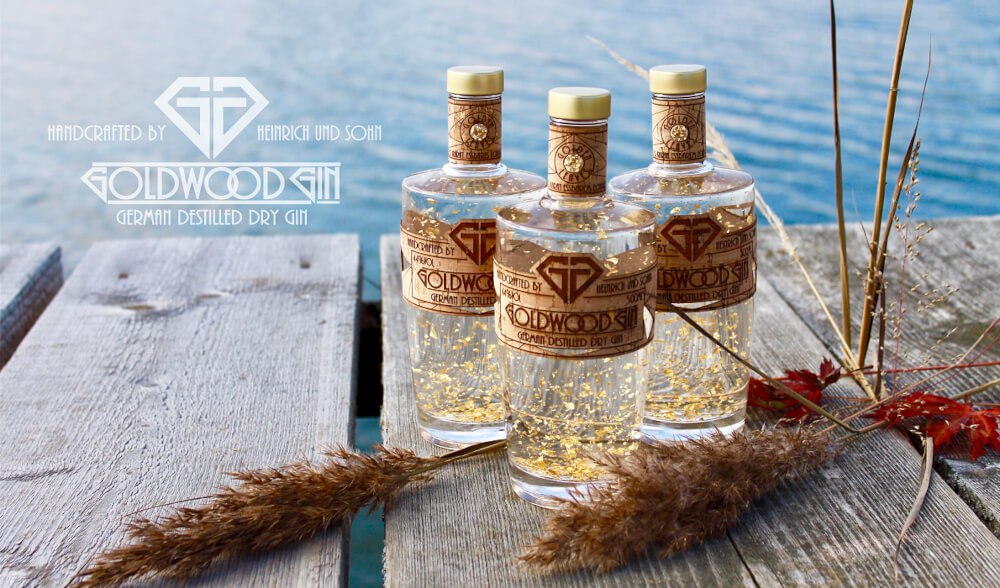 The production of fine spirits has a long tradition in the Zerlaut family. Even the grandfather produced a wide variety of distillates in the in-house distillery. His love of juniper schnapps was so pronounced that it earned him the succinct but meaningful nickname "Gin". However, this love seemed to skip a generation, so that his son Heinrich initially concentrated on the production of other high-proof palate-pleasers. It was not until his grandson Daniel rediscovered his enthusiasm for this complex liquor that he was able to infect his father after all. Today, when father and son go to work in the now renovated distillery and the pleasant smell of freshly distilled gin fills the air of the distillery, one can only imagine how this puts a satisfied smile on the face of the grandfather's spirit.
[Read more]