tart, herbal, fruity-sweet

Rhineland-Palatinate, Germany
More information about Wind Chimes Herbal Hemp Tonic Water
At the core of exceptional characteristics. The Herbal Hemp Tonic inspires with the special taste of hemp and at the same time manages the balancing act between sweet and bitter, tart and subtle. Never overdone and yet always tangible, fine citrus notes bring the freshness effect to the sparkling refreshing drink, while the inspiring herbal flavor gently fades on the palate.
Whether served neat or with our Premium Dry Gin, this tonic is an absolute trendy drink with its tart, herbal and fruity-sweet flavors and central perlage.

Packaged in our own Windspiel Dry Tonic 6-pack tray, the tonic not only tastes fabulous, it looks great too.
Quinine-flavored lemonade with hemp taste

Content per bottle:
200ml
Manufacturer:
Wind Chimes Manufacture
Contains carbonic acid:
Yes
Ingredients:
Natural mineral water, sugar, carbonic acid, acidifier citric acid, natural aroma, aroma quinine, hemp seed extract
Drink type:
Quinine-containing soft drink
Food companies:
Windspiel Manufaktur GmbH, Maria Hilf Str. 6, D-54550 Daun
Nutritional values per 100g:
Calorific value: 162 kj/38 kcal | Fat: <0.5g | of which saturated fat: <0.1g | Carbohydrates: 9 g | of which sugar: 9 g | Protein: <0.5 g | Salt: <0.01 g
---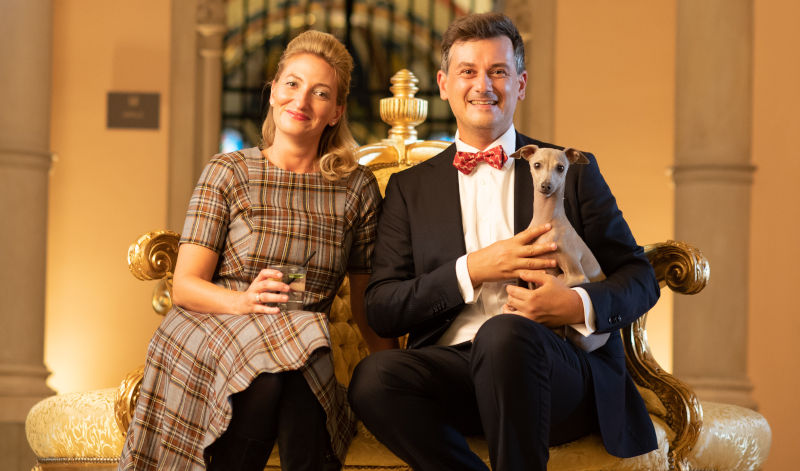 Noble pleasure from the land - Windspiel could hardly be better described. The potatoes that make the premium spirits of Windspiel founders Sandra Wimmeler and Denis Lönnendonker so unique are grown in the particularly mineral soil of the Volcanic Eifel. They impress with their down-to-earth attitude, sense of style and sense of tradition. The spirits are handcrafted and sold in small batches. Windspiel is dedicated to Frederick the Great, the discoverer of the potato in Germany and his second passion: the Windspiel dogs.
[Read more]