balanced herbaceous, pleasant sweetness

North Rhine-Westphalia, Germany

40% vol.
More information about Mills herbs
Mühlen Kräuter Kräuterlikör is a popular liqueur specialty that is guaranteed to delight herbal liqueur fans. The liqueur is distilled according to an old family recipe from pure wheat distillate and over 40 raw materials such as herbs, flowers and roots as well as other ingredients in a complex process. It convinces with its and rich aromas and its balanced taste with a pleasant sweetness. The delicious liqueur can be enjoyed not only as a digestif after a good meal, but is suitable for many occasions. It is also great for giving cocktails and long drinks a unique kick.
Base alcohol:
Wheat distillate
Manufacturer:
Leverings Ossenkämper
Food companies:
Krugmann Branded Spirits GmbH & Co.KG, Krim 2, D-58540 Meinerzhagen
---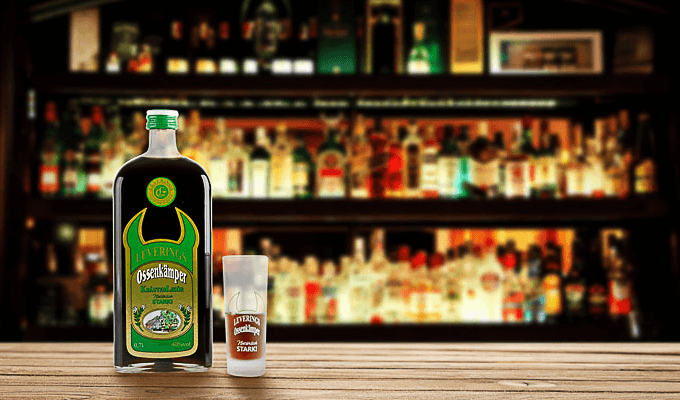 In 1808, Carl Levering founded a grain distillery just outside the small Westphalian town of Schwelm. From here, one looked all around over large pastures where the numerous herds of cattle traditionally spent the summer. These oxen meadows were simply called "Ossenkamp" in Schwelmer Platt. "Ossenkämper" was then also the name Carl Levering gave to his distinctive herbal liqueur, which is still one of the most popular specialties of the fine Kornbrennerei Levering. Even today, our master distillers continue in the tradition of the old craft - because a good distillate needs above all time and care! The extraordinary purity and fullness of taste of our distillates and liqueurs have won over a growing circle of connoisseurs and gourmets over 200 years. Even beyond the regional borders.
[Read more]