very coherent, complex, peppers, spices, wood, herbs

Oaxaca, Mexico

45.27% vol.
More information about Mezcalosfera Ensamble Mezcal Magueys 2018
The Ensamble Mezcal Magueys is an "Ensamble" - that is a mix - of the wild agave varieties Bicuishe, Tobala and Madrecuishe.
The master distiller of the Mezcalosfera Ensamble Mezcal Magueys is Margarito Cortes, who comes from a family that has been producing mezcal in the traditional way for many generations.
About the production
Like all other Mezcalosfera mezcals, this one is roasted with mezquite and encino wood, then fermented for 8 days, followed by double distillation. There are only 157 liters of this 2018 bottling. By the way, the production is done completely without running water and electricity. This method of production is called "Mezcal Ancestral".
Aroma: Wood, pepper and herbs.
Taste: Complex, several layers of flavor from peppers, spices, wood, herbs and terrozo. Overall very coherent.
Distributor:
fifteenlions GmbH & Co. KG, Boschetsrieder Str. 57, D-81379 Munich
Manufacturer:
Mezcalosfera by Mezcaloteca
Food companies:
fifteenlions GmbH & Co. KG, Auenstrasse 100, 80469 Munich, Germany
---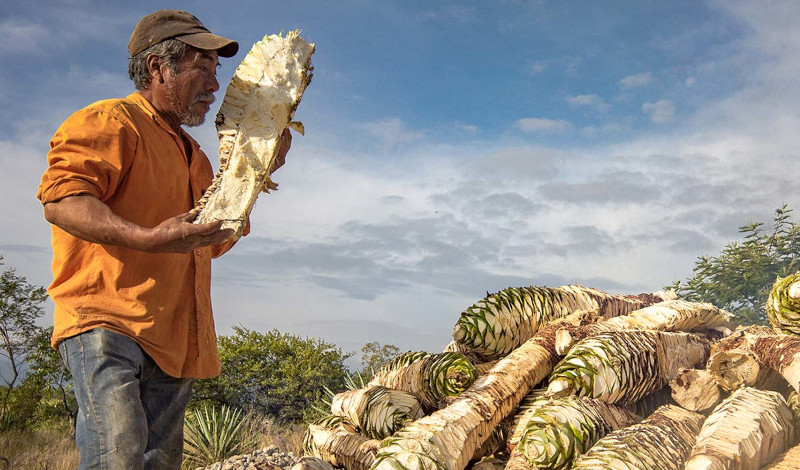 Mezcalosfera brings together mezcals from smaller, regional and often remote distilleries. The Mezcalosfera brand is operated by the Mexican bar "Mezcaloteca" in Oaxaca City in the state of Oaxaca. The mezcal bottlings that go under this name are not infrequently bottlings of a few hundred liters. Because of the small quantity and the high focus on quality, all Mezcals from Mezcalosfera are true masterpieces. In the production of Mezcal, each Maestro Mezcalero brings his own flavor of his region to the final product. Thus, the distillates are not only rare, but all have a strong individual note, which is marked by their origin. In production, the maestros work with traditional distilling and manufacturing methods and their own ideas for their mezcals. The agave varieties used range from wild agave to very tame. With each bottling, all the important information about the particular...
[Read more]