Hesse, Germany
More information about Octobräu Tasting Box
Tasting box with various beers from our permanent beer range and seasonal beers. As a seasonal highlight currently with our fresh wheat with Saphir hops.
This is included in the package:
3x Octobräu Helles - 0.5 l | 5.1% vol.
Our Helles with fantastic drinkability. A Bavarian Helles subtly but specially interpreted. With a radiant light color combined with great full-bodiedness, plus very finely embedded, nuanced hop notes.
Hops: Cascade, Citra, Mandarina Bavaria, Simcoe
3x Octobräu Saphir Weizen - 0.5 l | 4.9% vol.
Named after the main hop variety, this wheat has, as the hops promise, floral to citrusy fresh aromas. These are contrasted with the strong banana aroma typical of wheat beer, which is ensured by the selection of yeast and the special fermentation process. A drinkable wheat beer that is not heavy on the stomach. Perfect beer for balmy summer evenings and cool winter days.
Hops: Saphir
3x Octobräu Malin Mandarina Pale Ale - 0,5 l | 5,1 % vol.
The perfect starter for those who want to discover a special beer and expand their taste horizons in beer heaven. The classic English beer style was underpinned by the selection of fine aroma hops with a pleasant fresh citrus aroma. The light, tart aroma paired with a pleasant maltiness makes this beer a real stunner!
Hops: Cascade, Citra, Mandarina Bavaria, Simcoe
3x Octobräu Surfers Ale Lahnwelle - 0,5 l | 4 % vol.
Taste the freshness of the wave! A wonderfully refreshing ale. Alcohol reduced with full-bodied taste.
Hops: Amarillo, Citra
Content per bottle:
0.5 liters
Food companies:
Octobräu, Atzbacher Str. 26, D-35633 Lahnau
---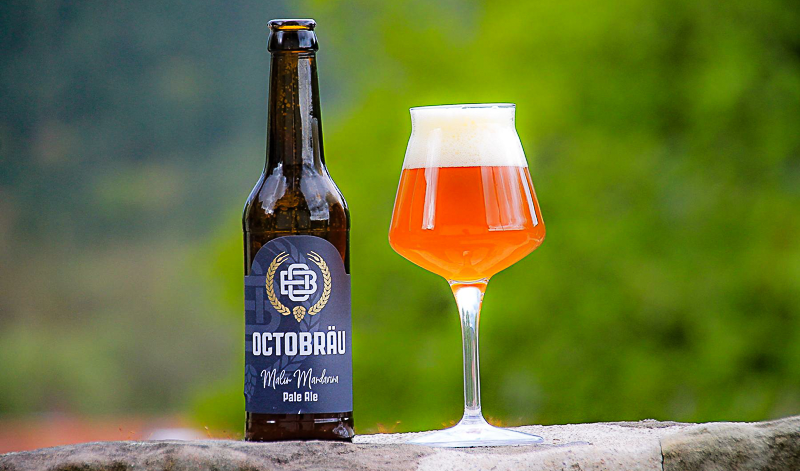 The self-proclaimed pop-up microbrewery "Octobräu" has been bringing beer culture back to life in Central Hesse since 2018. The four guys started - like almost every microbrewery - with small preserving machines and cooking pots in their home kitchen. But with these limited means it is not possible to reach people outside the circle of acquaintances. For this reason, they have come up with a new and unique concept of how to bring craft brewing back to the people. Brewing takes place in Atzbach, between Gießen and Wetzlar, and when there are no Corona restrictions, there is a show brewing in their pop-up brewery: the specially purchased fire truck. This is the only way to be close to the fans.
[Read more]