Berlin, Germany
More information about Berliner Malz
Childhood, neighborhood culture and community. Berlin now has its own BIO MALT DRINK - minimalist in design, uncompromising in taste.
Experience a bit of childhood and a bit of neighborhood flair with "BIO Berliner Malz" - brewed from the best organic raw materials.
That's how sweet Berlin is. The "BIO Berliner Malz" from Berliner Kieztrunk tastes like the hot summer days you spend in Mauerpark or at the Späti on the corner. Just sit on the curb, chat and swish a "Berliner Malz". The malt beer also somehow reminds you of the old days, when you were too young for beer, but really wanted that sweet caramel taste. The fine, tart hop note rounds off the drink skillfully and cheekily. Sip after sip, you'll experience endless drinking fun - those were the days! Kieztrunk brews its malt beer exclusively from raw materials that come from organic farming. Neither dyes nor other artificial crap ends up in the "Berliner Malz". That's how far it goes!
Berliner Malz - Organic Malt Beer | Alcohol Free Ecological Vegan | 24 x 330 ml Bottle
Ingredients:
Water, barley malt*, raw cane sugar*, rice syrup*, hops*, carbonic acid.
(*from organic farming)
Average nutritional values per 100ml:
Calorific value 221kJ/52kcal
Fat 0g
Carbohydrates 12,3g
of which sugar 2,3g
Protein 0,6g
Salt 0,01g
Dietary fiber 0.1g
Content per bottle:
0,33 liters
Manufacturer:
Berlin malt
Grain and malt varieties:
Barley
Ingredients:
Water, barley malt*, raw cane sugar*, rice syrup*, hops*, carbonic acid *from controlled organic cultivation
Drink type:
Non-alcoholic beer
Food companies:
Berlin Kieztrunk UG (limited liability), Cuvrystraße 27, D-10997 Berlin
Organic (according to EC Organic Regulation):
---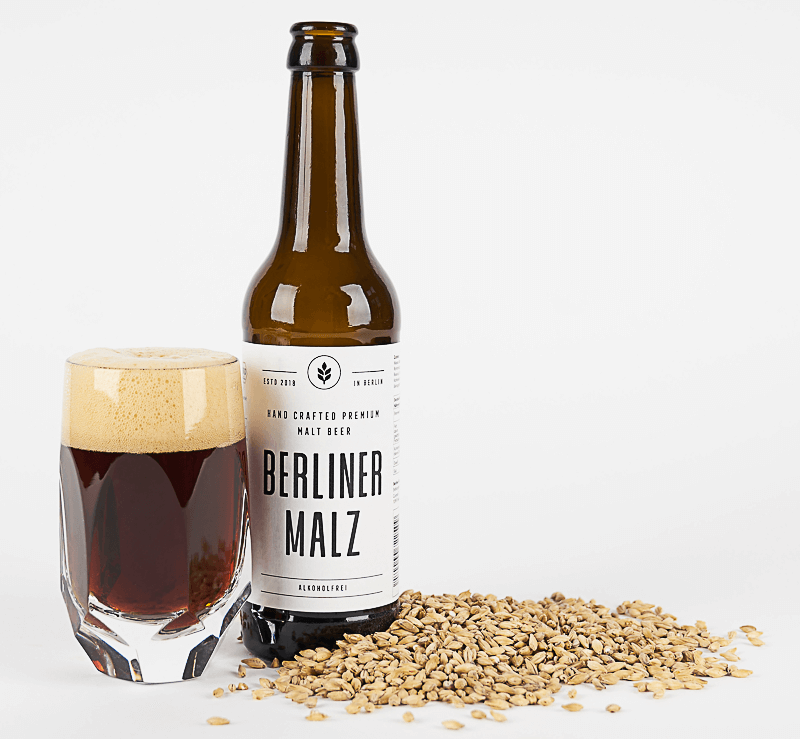 In the summer of 2018, two good friends in an old apartment in Berlin philosophized about how many drinks had probably been reinvented in this city. With all these modern approaches, one drink has been completely forgotten. A drink that evokes childhood memories in most of us - malt beer. The drink seemed to have stood still in time. This had to change, the sweet malt beer needed a comeback! At that moment it was born: the idea to reinvent the malt beer. Berliner Malz - 100% organic, vegan, not too sweet in taste and minimalist in design. A declaration of love to taste and to a city that is second to none.
[Read more]