North Rhine-Westphalia, Germany
More information about Craft Beer Tasting Set Mix Six Pack
The Clucking Hen Craft Beer Tasting Set Mix Sixpack is our mix box to try through. The Craft Beer Sixpack is perfect for anyone who wants to get to know our brewery.
What is included in the set?
"LUPULO LILIUM" is a sunny yellow beer with aroma hops Bobek, which smells of lilies and thus provides enormous spring feelings! Cold-hopped, floral and neat tart!
Alcohol content: 4.9% vol.
Our RYE PALE ALE is a cold-hopped, aromatic pale ale infused with rye. It is creamy in the mouth, spicy and lemony - the perfect balance between sweet and sour. Aged in the bottle!
Alcohol content: 6.3% vol.
Nelson Sauvin hops awaken the taste of Sauvignon Blanc grapes in our wheat beer. The typical full wheat taste is retained, to which is added a tangy acidity and a fresh, grape-like fruitiness.
Alcohol content: 5,1 % vol.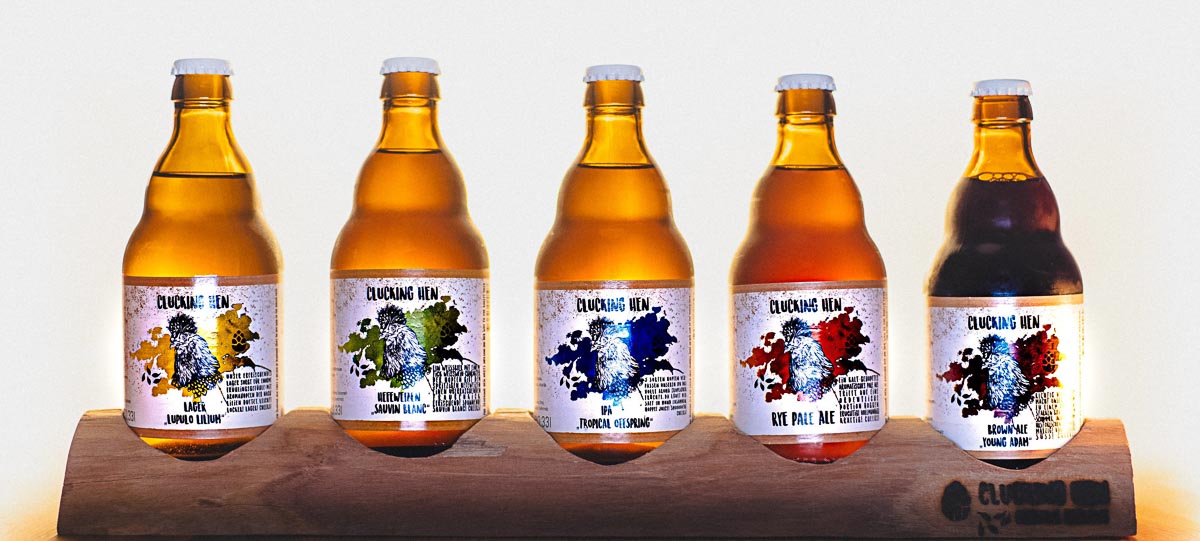 A whole five hop varieties come together in this tropical India Pale Ale creation - and make you long for white beaches and deep blue seas.
Alcohol content: 6.8% vol.
This beer style is inspired by its origins: Adam beers were originally brewed in Westphalia. "YOUNG ADAM" is top-fermented and strongly brewed, so it develops wonderful aromas of chocolate, caramel, dried fruits and nuts.
Alcohol content: 8.1% vol.
1 x Dry-hopped WIT "Sinaasappeltje".
A Belgian Witbier that is completely in the style of our neighbors - with bitter orange and coriander seeds. Thanks to the hops Styrian Golding, our beer still gets an orangy note that crowns the taste!
Alcohol content: 4.7% vol.
Content per bottle:
0,33 liters
Manufacturer:
Clucking Hen
Food companies:
Clucking Hen - Creative Brewing, owner Christina Triefenbach, Am Hainberg 11, D-59872 Meschede, Germany
---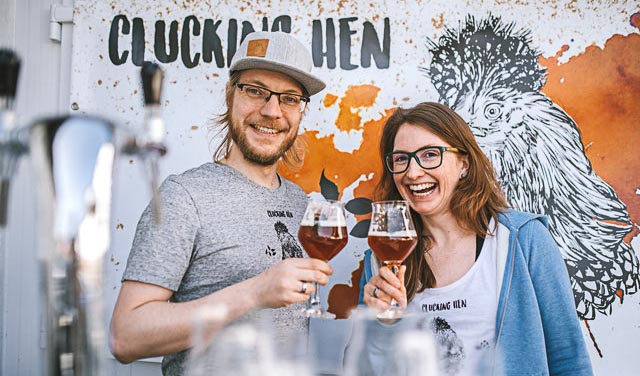 We are BEERLOVERS! People who love beer. People who enjoy beer. People who like to try new beers. People who appreciate the craft of brewing. People who love the taste of beer. People who love the variety of beer... We grew up in the Sauerland region of Germany, where beer is very popular and traditionally Pils is drunk above all. Sometimes you have to get away from home to discover in Belgium that beer can be so much more. We picked up quite a bit from Belgian beer culture: You can have a beer (emphasis on the number one) during your lunch break. There is a drinks menu with a huge selection of beers, where everyone can find their favorite. People talk about the beers and the taste in the pub. One enjoys a beer with the meal.... Back in Germany, curiosity got the better of us to brew beer ourselves and try beers from all over the world. In the process, we were able to discover many...
[Read more]