Coriander, pineapple, pumpkin, spicy

Hamburg, Germany
More information about 6x Organic Jamu No2
1,000 years of tradition in a drink

Relaxing recipe with millennium-old tradition
Vegan
Organic certified
With ginger, turmeric & ginseng
No added sugar
The herbal drink Jamu No2 can contribute to relaxation and a restful sleep. It owes this to a miracle plant, ginseng, which was worth its weight in gold in ancient China. The all-rounder can not only boost the production of the "happiness hormone" serotonin, but also reduce the level of the "stress hormone" cortisol. The millennial combination of beneficial ingredients can lower cholesterol levels and blood pressure, while activating the immune system and metabolism for holistic regeneration.
The wellness drink has no added sugar and has only 19 kcal per 100 ml.
Content per bottle:
330ml
Manufacturer:
JAMU Organic Spices
Contains carbonic acid:
Yes
Ingredients:
Mixture of spice extracts* (ginger*, curcuma*, coriander*, ginseng*), grape juice concentrate*, lemon juice*, carrot juice*, lemon oil*, carbonic acid *from controlled organic farming
Food companies:
JAMU GmbH, Deichstr. 41, 20459 Hamburg, Germany
Organic (according to EC Organic Regulation):
Nutritional values per 100g:
Energy: 82 kJ / 19.5 kcal | Fat: < 0.5 g | of which saturated fat: < 0.1 g | Carbohydrates: 5 g | of which sugar: 4.8 g | Protein: < 0.5 g | Salt < 0.01 g
---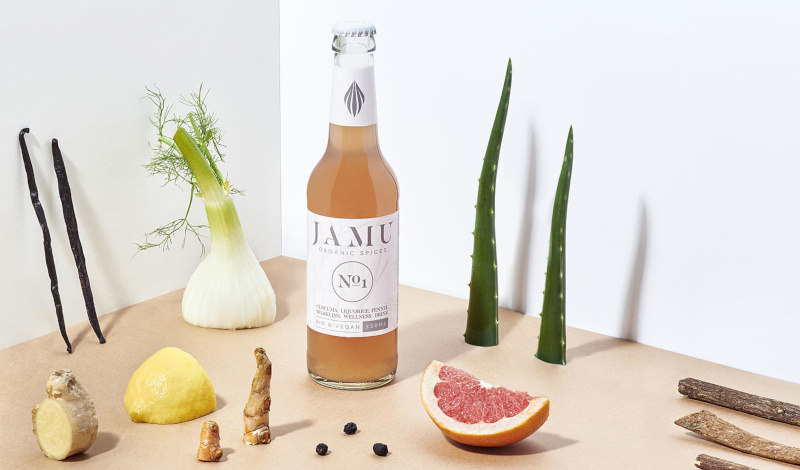 Refreshing health drink according to Indonesian tradition - organic, vegan, lactose & gluten free. The herbal medicine JAMU was originally reserved for the royal families of the island of Java and spread over 1,300 years throughout Indonesia as well as parts of Southeast Asia. JAMU means "herbs, flowers and roots" and can be compared to Indian Ayurveda and Traditional Chinese Medicine. A healthy body and mind, as well as inner and outer beauty, are at the center of the teachings. The recipes from herbs and roots are passed down from generation to generation - mostly from mother to daughter. All varieties of JAMU Organic Spices are based on original Indonesian JAMU recipes with bioactive plant substances such as turmeric, ginseng, ginger and licorice root. These so-called adaptogens are beneficial and can strengthen body and mind - each composition of herbs, spices and juices has a...
[Read more]