It didn't actually look as if Lars, Ole and Timo Looschelders would be reunited. The three brothers from Kerken were already busy traveling the world, living in Hamburg, Vienna and Plymouth and pursuing their careers in marketing and sales. But their vocation was patiently waiting for the Looschelders. At home on the Lower Rhine.
Ever since they were children, the three of them had dreamed of building something together. Something of their own that is also firmly rooted in the region - because although Lars, Ole and Timo have traveled a lot, the Lower Rhine has always remained their home.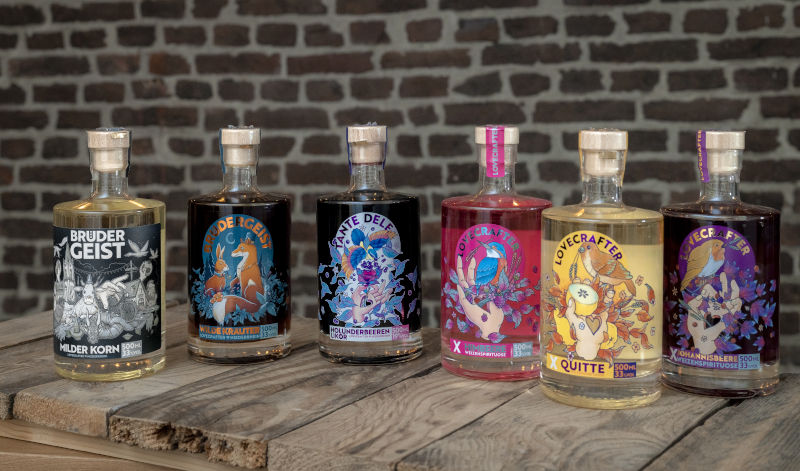 The three brothers from the Lower Rhine now have five varieties in their luggage

"For us, the Lower Rhine is much more than the flat land somewhere between the Rhineland, the Ruhr area and Holland. It's the friendly people, the old traditions and, of course, the beautiful landscape with rivers, meadows and forests that make life here so liveable and lovable," says Timo. So the three of them thought about how they could best do justice to the region and its peculiarities - and came up with schnapps. "We noticed that there are almost no premium spirits that come from the region, represent the Lower Rhine and at the same time seem modern and cool."
The three of them experimented, had friends and family eagerly taste them and soon found the Looschelders' eponymous first product: Brüdergeist Korn. A mature, very mild grain spirit. Aged for six months on Limousin oak, at a pleasant 33% vol. This was soon joined by Tante Dele, an elderberry liqueur made according to an old family recipe.
Buy Brüdergeist Lovecrafter spirits
However, this elderberry liqueur has been known in the region for much longer, as tradition dictates that it is served every five years at the Obereyll'schen St. Hubertus Bruderschaft shooting festival. The joy of no longer having to wait half a decade for the good drop is probably not only great on the Lower Rhine.
However, regionality means even more to Brüdergeist. When putting together their creations, they only use ingredients that grow locally. This is also the case with their LOVECRAFTER X range. Their grain spirit was infused with three regional fruits: a fresh and light raspberry, a tart and fruity version with redcurrants and a late summer quince variant.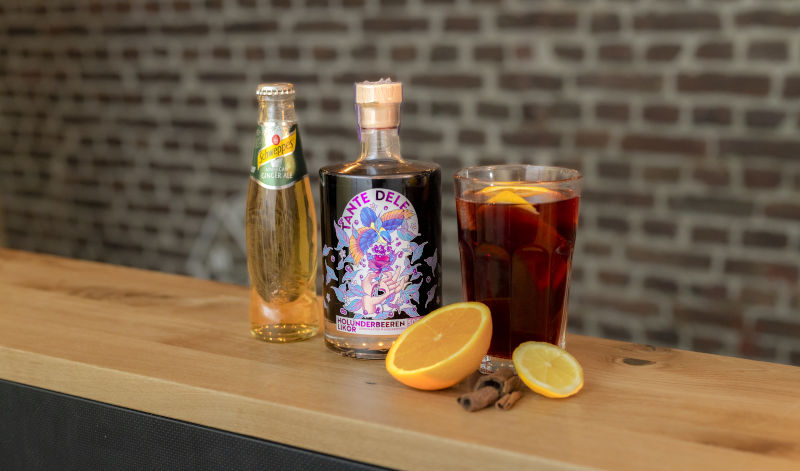 Like all her spirits, the Tante Dele elderberry liqueur also tastes great as a long drink - for example with ginger ale.

All three not only taste great on their own, but are also ideal for long drinks and as an alternative to conventional gin - and are also visually appealing. All labels feature birds, which represent the three brothers' homeland: The kingfisher can be found on the raspberry spirit, the robin on the redcurrant and the sparrow on the quince.
Brüdergeist's latest creation bears an illustration of a hare and fox on its label - a proverbial allusion to their homeland, where 'fox and hare say goodnight'. There are lots of local herbs in the bottle. "We've often been asked when we're finally going to produce a herbal liqueur. After some initial pondering, we quickly realized that herbal liqueurs have a long tradition in the Lower Rhine region and could therefore also suit us," says Lars Looschelders. Mildly spicy and sweetly fiery in taste, the Brüdergeist Wild Herbs with wormwood, coriander and a dash of fresh ginger is a delight. Of course, the herbal liqueur is also genuinely handmade - directly on the Lower Rhine.