Nikolas Rose is the founder of Couchtasting - and an absolute connoisseur. Born in East Westphalia and now living in Frankfurt am Main, he has been passionate about spirits, wines and delicatessen since his youth. He was so fascinated by this flavorful and multifaceted world of culinary delights that he decided to dedicate his life to the finer things in life.
The result: Couchtasting. Practical tasting boxes that are put together with a lot of sense and understanding in order to offer a special experience to anyone with a taste for pleasure - all from the comfort of their own sofa. In this interview, he explains how he came up with this idea, what makes couchtasting so special and how he sees developments in the tasting industry.
Honest & Rare: How did you come up with the idea of founding a start-up that makes tasting boxes?
Nikolas Rose: My passion for bartending led me to train professionally - although many people around me were critical of this step. In order to learn from the ground up, I traveled around the world and collected and experienced the delights of the world. On this exciting and enriching journey, I not only learned the craft of bartending, but also got to know a completely new definition of enjoyment. I wanted to pass on the essence of this to other people. Unfortunately, not everyone can travel the world to gain these experiences.
After my tour around the world, I was able to apply what I had learned for the first time when I managed the wine bar on a cruise ship. It was there that I first came into contact with tastings, as I was able to conduct gin, rum, whisky and wine tastings with the guests. These evenings and the enthusiasm of the participants inspired me. My friends at home also noticed this: For my birthday, they surprised me with a voucher for a local wine tasting. However, as there were problems finding a date and only five out of ten friends took part in the end, I wanted to develop a solution.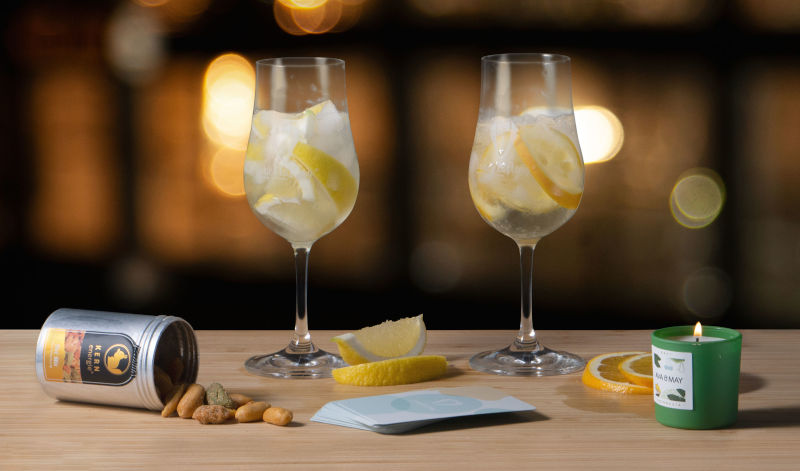 The coffee tasting boxes not only come with the gins to taste, but also with matching accessories

What is included in such a coffee tasting box?
We came across 4 friendly distilleries that produce incredibly delicious gins. Look forward to the charmer, the gentle duke, the pachyderm on soft soles and the playful monkey. They all have something special and influences from all over the world. A delicious snack, an emotional card game and a pleasant-smelling scented candle also await you. You'll also find nosing glasses and a surprise in the box!
"Our accessories are not just for enhancing the box"
How does the coffee tasting work?
Well, it's quite simple. You simply open the couchtasting box and read the greeting card first. It is the heart of the box and guides you through your tasting. QR codes take you directly to the videos for the rest of the tasting process. You are taken completely by the hand. In the videos, you will learn more about the smell, the taste, the finish and, of course, the history of the individual spirits.
Scented candle, card game and Spotify playlist - do you know if your customers make full use of this or do they just empty the delicious drops?
We know from the positive feedback from our customers that all the elements in the box are being used. We have also structured our concept in such a way that the elements are anchored in the tasting videos. They are not there purely to enhance the box.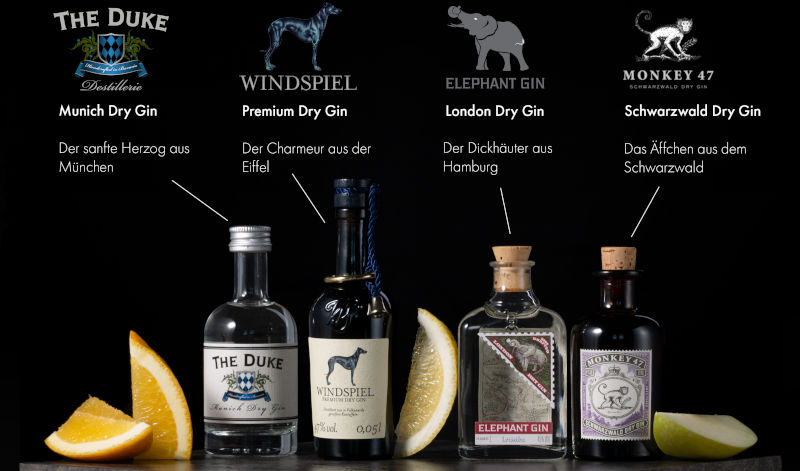 The Couchtasting Gin Box contains: The Duke, Windspiel Gin, Elephant Gin and Monkey 47.

How do you select the spirits for your tasting boxes?
The first selection was based on our own preferences. As a startup, you learn over time, we now know how to create our boxes so that we respond to the customer and the market, because they usually decide for themselves what they would like best.
What have been the 3 most important lessons you've learned with your boxes since you started?
First: Find out as quickly as possible which service providers really know your industry, especially in the area of marketing. Secondly, find the right blue print for your product development and don't just develop a product by feel and the way you like it best. Thirdly: Hang in there, life as a founder can be damn hard. After every valley comes another peak.
"Home events are becoming more and more important"
How do you see the future of tasting? Will it increasingly take place online and at home instead of somewhere on site? Or will we always have a mix?
I'll be honest: on-site tastings will never be replaced, because the feeling of being in a wine cellar or a great bar, for example, cannot replace tasting at home. However, it is becoming an increasingly attractive alternative, as studies show that home events are becoming more and more important.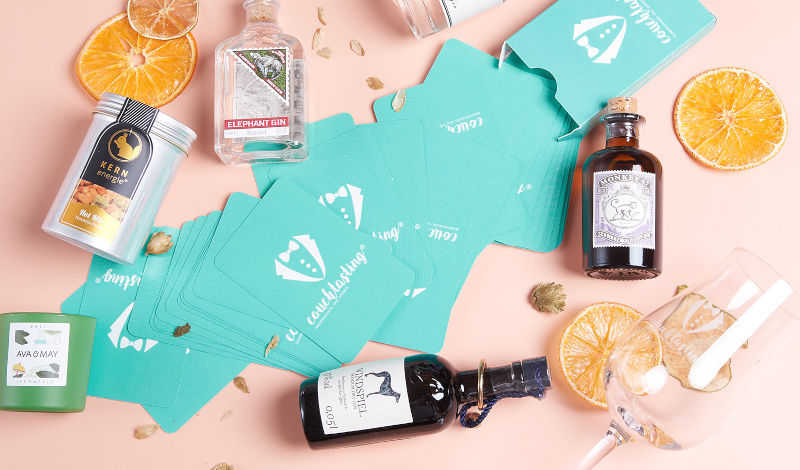 The playful character of the coffee tasting box will become even more important in the future

What approaches do you see for the future to make the tasting experience even more exciting for people?
I see the topic of gamification at the top of the list. We all love games, so why not guide people through a tasting in a playful way? That's why we decided to provide our customers with more than just information brochures - and we will continue to expand this in the future, as with our Wine Tasting Box, which is expected to be launched on Valentine's Day. We will be introducing a completely new concept here, which will go in the direction of board games. Stay tuned!
Is gin still the undisputed leader or do you also see other styles of drink in your target group that work well?
It feels like gin has become a "never-ending hype", which is of course also reflected in my range. Nevertheless, I have the feeling that rum is catching up a little at the moment. But I'm also curious to see how our coffee tasters will take up the new topic of wine.
Would you like to start your own coffee tasting now? You can order your box here: To the Gin Couchtasting