Cologne is a city with a flair all its own. But above all, Cologne is a city for everyone. Nowhere are people welcomed as naturally as in the metropolis on the Rhine. Tolerance and openness characterize Cologne just as much as an inimitable sense of community.
It's hard not to fall in love with Cologne. Abbass Khatami agrees. Actually the owner of a marketing agency, he wanted to give something back to his city. Something that captures the spirit of Cologne and makes it consumable for everyone. That's why he founded Gin de Cologne in 2017.
Buy Gin de Cologne:
"We are Cologne people, we love Cologne. Gin de Cologne is meant to be a tribute to our beloved city and to carry the "Cologne feeling" out into the world," says Stephanie Gawlik, who is now also part of the Cologne gin family. For this to succeed, one thing was important right from the start: no frills. No exclusive botanicals that come up with wild flavor combinations, but: A gin that tastes good to everyone. Because only in this way can the Gin de Cologne do justice to its hometown.
Thus, the first Gin de Cologne convinces with its mild & fresh aroma, which mainly comes up with citrus peels, lavender and hibiscus flowers. Produced by hand in Cologne Ehrenfeld, the gin was so well received that the range has now grown considerably. In addition to the classic, there is also an Orange Gin, which is distilled with fresh oranges, a Rosé, which was enriched with blueberries, raspberries and strawberries, a Mediterranean Gin, which is distilled with Mediterranean herbs, two non-alcoholic gins, and three Vermouth varieties.
Gin de Cologne - a gin that tastes good to everyone
Vermouth is an ideal complement to Gin de Cologne. Not only does the combination of gin and vermouth end up in countless cocktails - the vermouth itself also impresses with its versatility. "Vermouth is an interesting product that has become more and more popular in recent years," says Stephanie Gawlik. And, of course, it also fits in with the Cologne lifestyle: Simple but good ingredients, little tam tam, lots of flavor.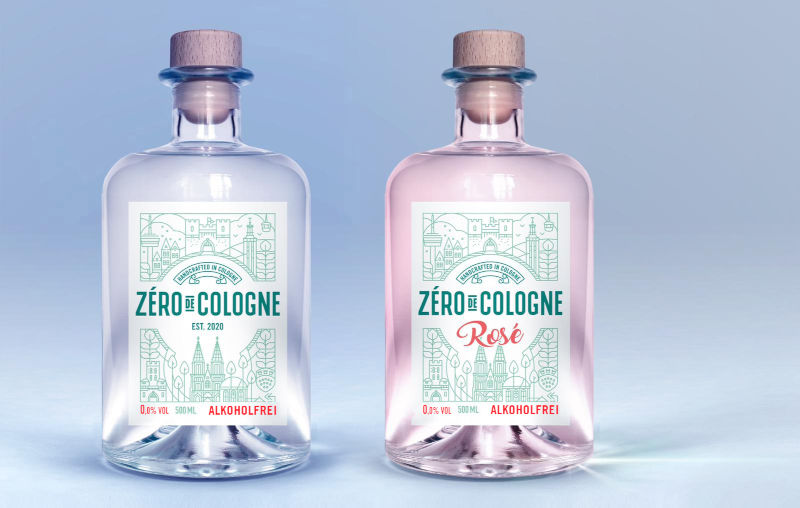 Not only the Vermouth, but also the non-alcoholic gins from Gin de Cologne enjoy great popularity.

"For all varieties, we use a cuvée of Chardonnay and Sauvignon Blanc. The white Vermouth was refined in addition to the wormwood, still with peach, mango, lime, ginger and cardamom. Vermouth de Cologne Rosé has a berry flavor with blueberries, raspberries, strawberries, basil and rosemary. Our red version: Vermouth de Cologne Rouge convinces with a bitter note with cherry, vanilla, bitter almond and cinnamon."
Sounds delicious? Tastes like it, too. And the best part: for serving, the Gin & Vermouth de Cologne varieties are all super uncomplicated. Simply mix with a tonic water, and the perfect summer and after-work drink is ready. Simple, good and always a pleasure: That is Gin de Cologne. Just as a gin for Cologne must be. Cheers!