Waldemar Popp and Andreas Frais have a lot in common. In addition to family ties, the two cousins also share an insatiable curiosity and a love of pleasure. What holds the world together? How is the beauty of nature created? Or why the hell do some spirits burn like fire in the throat, while others caress the palate wonderfully softly?
It is probably thanks to the two cousins' urgent thirst for knowledge that they have had a new unifying element for some time now. In order to find an answer to the schnapps question, the two locked themselves in the cellar in 2019 and tried things out. The result of their love of experimentation was so drinkable that they quickly founded their own distillery: SNOWO Distillers.
Buy SNOWO Distillers gin:
Since last year, the trained chemical technician and amateur botanist have been officially distilling spirits. They started with three different gins, which were already showered with gold medals just a few months after being founded. They came, saw and won - or something like that. "We do absolutely everything ourselves. From the recipe to the production, which we make as sustainable as possible, to the bottle design. This passion simply stands out in terms of taste and overall impression. We distil absolutely honestly and authentically. That speaks for itself," says Waldemar.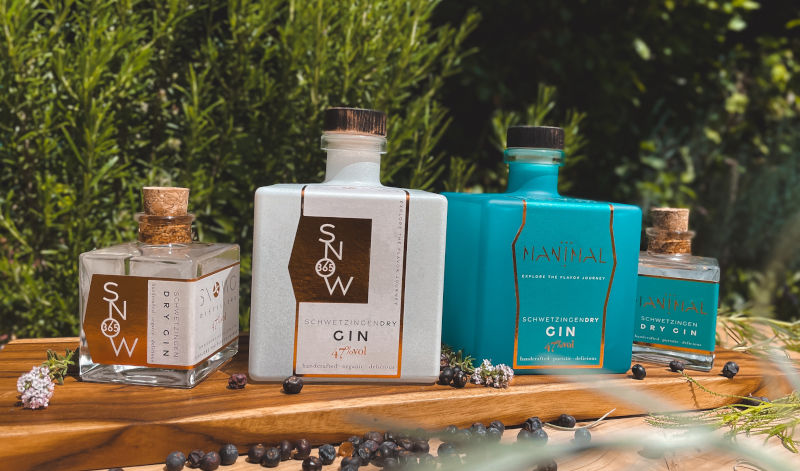 SNOWO Distillers inspire with their authentic & natural gin creations.

And something else speaks for them: Their claim of complete naturalness. "Pure nature in a glass" is the credo after distilling and experimenting - because intense taste experiences are not achieved through artificial additives.
SNOWO - a name with meaning
But why SNOWO anyway? To find out more about the meaning of the name of their distillery, you need to take a look at the history of Waldemar Popp and Andreas Frais. The two were born in a village of German origin in Siberia, which bears the name Podsosnowo. They came to Germany as children in 1994 - and found their new home in Schwetzingen, in the heart of the Electoral Palatinate. But of course the connection to their birthplace has remained. That's why they quickly made part of their origins the name of their distillery.
To complete the homage to their origins, the two cousins chose the crane as the logo for their distillery. It adorns a monument in Podsosnowo, which is dedicated to emigrants and symbolizes moving on and turning to happiness. However, SNOWO should by no means be seen as a mere return to the roots or mere nostalgia. Andreas Frais and Waldemar Popp have too much spirit of discovery and pioneering spirit for that. The word "snowo" also means "again" in Slavic - and fits like a glove with the soul of this distillery, which draws so much inspiration for something new from reflecting and passing on what already exists.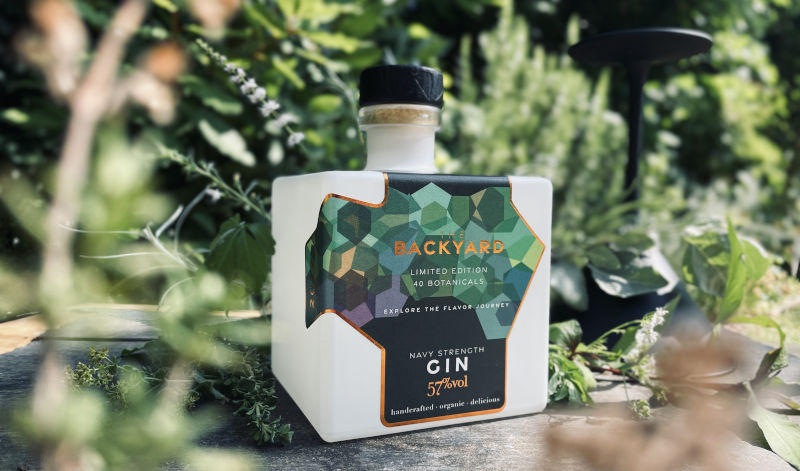 BACKYARD Gin is distilled exclusively with herbs and spices from Waldemar Popp's garden

Incidentally, SNOWO Distillers have plenty of new things in their luggage - or rather in their vault. There are already 20 new recipes waiting to be distilled and bottled. So it won't just be gins that will be delighting our palates in the future.
Until then, we'll make do with the three existing gin creations: BACKYARD, which contains 39 herbs and spices from Waldemar's garden. The MANIMAL, which incidentally has less to do with the animal in man, but rather combines the maximum and the minimum. The London Dry Gin offers maximum flavor with only three minimalist ingredients: Ginger, lemongrass and Thai basil. Last but not least, there is SNOW365, which looks like a "snow flurry in a glass" thanks to the essential oils of star anise. But don't let the name fool you: The SNOW360 also tastes great on snow-free days. Best enjoyed with an Indian tonic water (such as the Signature Tonic from Mistelhain) and a twist of orange.
Enjoy the full taste of nature - with distillates from SNOWO.