Ilsfeld is nestled in the Schozach valley, in the most beautiful Swabian idyll. A tranquil town with castle ruins, a pretty little church and lots of greenery all around. A cozy little town like many others in Germany.
And yet Ilsfeld is home to something else between its old town walls. Something that sets this place apart from others. Or rather: someone. A creative mind with a thirst for action, who creates something in the tranquillity of the region that is bursting with passion and the will to create. We are talking about Marijo Cutura and his gin manufactory of the same name: Distillery Cutura.
Buy gins from Distillery Cutura:
The small, handmade copper pot still has been in operation since 2021, where Cutura and his 2-man team named Thomas and Jonas distil fantastic gin creations. The Swabian with Croatian roots was practically born with a passion for distilling: "My grandfather was already enthusiastically distilling schnapps back then in Croatia and passed this passion on to me," says Marijo Cutura. So it seems only logical that the grandson should finally turn his dream of owning his own distillery into reality.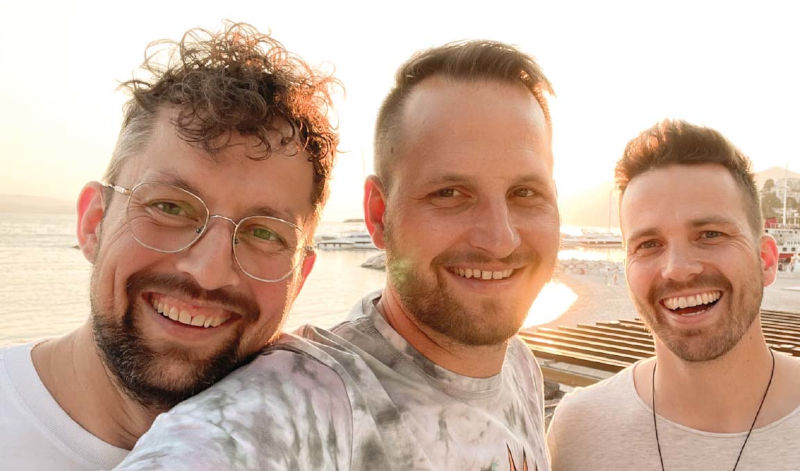 The Cutura Distillery team

It is not necessarily specific recipes that Cutura took over from his grandfather. Rather, his distillates are infused with a primal dedication to the craft that you can almost taste: Lovingly selected ingredients that are constantly checked for quality and - where possible - sourced from the region or even his own garden. In addition, multiple distillations are carried out at particularly low temperatures in order to get as many aromas as possible into the individual creations.
We want to connect people with our products
In addition to the hard facts of craftsmanship, the Distillery Cutura's philosophy is irrefutably life-affirming: "Embrace life and enjoy the moment." This is not only in every bottle - it is also written on the front. The HUGS gin creations are a tribute to the beautiful moments in life when we live, laugh and celebrate together. "We want to connect people with our products and create great moments together. From our point of view, a good distillate should not be missing," says the head distiller.

The HUGS cranberry gin liqueur has won several awards

And so the HUGS gins inspire with their unique aroma profiles and outstanding quality. The HUGS London Dry Gin impresses with a slim nine botanicals, including rosemary, lavender, cardamom, bitter orange - and cranberries. The latter were also the reason for adding a liqueur to the gin. "We thought the combination of cranberry juice and gin was simply brilliant and a great fit," says Cutura. The fact that the HUGS cranberry gin liqueur is a real hit was confirmed by the awards it received in its very first year: double gold at the World Spirits Awards - as well as the Spirit of the Year Award.
But it is not only life and its special moments that inspire Marijo Cutura - his grandfather's homeland also continues to have a special influence on his work. Together with Croatian star chef Pero Savanović, the distillery created Adriatic Dry Gin, which captures the flavors of Croatia's Adriatic coast.
"When I saw Pero's cooking show, I thought to myself: he needs his own gin!"
"We were watching Chef Pero's cooking show and, as luck would have it, Pero drinks a proper gin and tonic before every show. So I thought to myself: he needs his own gin! I got in touch with him without further ado. Pero was immediately hooked," says the distiller.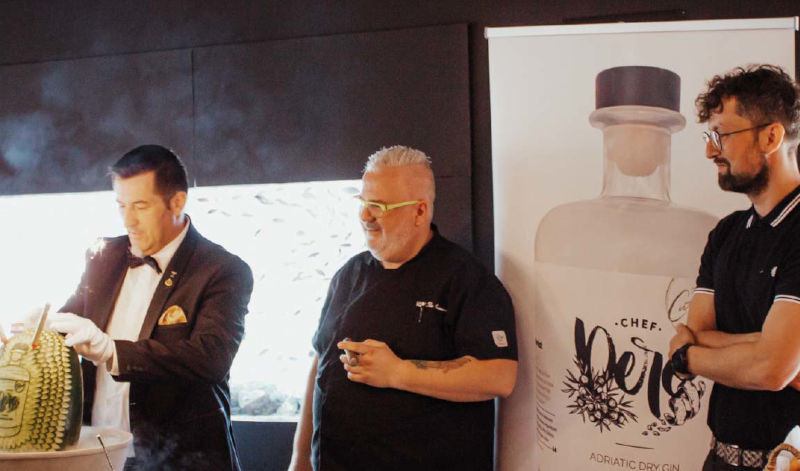 Together with the Croatian star chef Pero Savanović, the Cutura distillery created Adriatic Dry Gin

However, the collaboration was somewhat complicated by the external circumstances of the coronavirus pandemic. "In fact, it was a bit difficult during Corona, as we could only communicate via video and telephone. Pero naturally brought his many years of knowledge from top gastronomy to the table and already had precise ideas about how the gin should taste. On Christmas Eve, he then received three different compositions from us." Among them: The Adriatic Dry Gin. A great composition of Mediterranean herbs such as rosemary and lavender and fruity-floral aromas of hibiscus, bitter orange, chokeberry and lime. A light, summery New Western that transports you to the Adriatic coast with every sip.
And what does the future hold? The creative distiller keeps a pretty low profile in response to this question. Only this much can be revealed: "We want to continue on our path of handmade, honest products." For us, one thing is certain: where distillation is carried out with so much passion, determination and dedication, nothing can go wrong.