Gin FIOR stands for handmade gin from Austria. And the five friends behind Gin FIOR mean this quite literally. "For each new batch, we get together and process all the ingredients for the maceration by hand," explains Patrick Schoyswohl.
However, a brief confusion of numbers has to be cleared up first. The Old High German word fior actually stands for the number four. Because at the beginning of Gin FIOR's journey, there were still four friends who shared one thing above all: A love of juniper schnapps. Patrick Schoyswohl, Michael Raberger, Bernhard Aichinger and Tobias Luger met regularly for cozy evenings where they enjoyed a gin or two. However, they soon realized: THE gin that absolutely convinces them is not among them.
Handmade: they take this literally at Gin FIOR
So what do four resourceful buddies do? Of course: they buy a table distillery. They happily sorted and macerated and after the fourth attempt they realized: this is the one. When friends and family couldn't get enough of their home-distilled gin, they set about looking for a suitable distillery in which to grow the Gin FIOR project.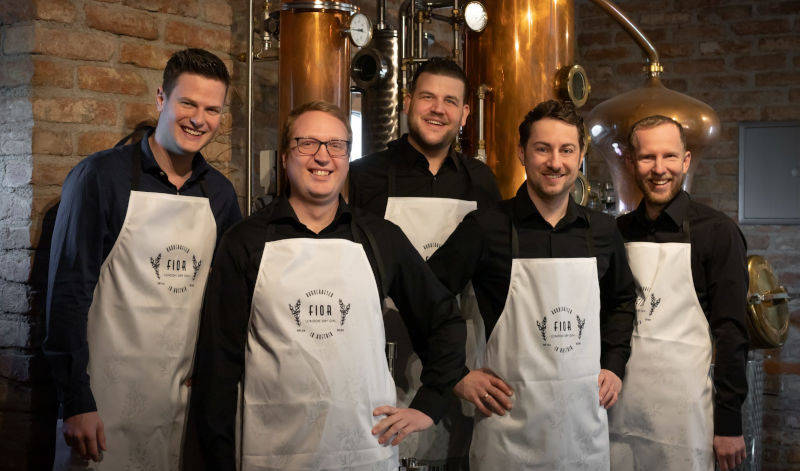 The five friends behind Gin FIOR: from left: Bernhard Aichinger, Tobias Luger, Patrick Schoyswohl, Michael Raberger and Christian Brunner

And this is where the fifth friend comes into play. Because in Christian Brunner, the owner of Sammerhof, they not only found a suitable distiller who understands his craft, but also a brother in spirit.
Buying Gin FIOR:
So Brunner has put the finishing touches to Gin FIOR. Lavender, rosemary, cardamom, lemongrass, ginger, cinnamon, oranges, lemons and apples - and of course a good portion of juniper - are now regularly added to his still near Lake Traunsee, where they are gently macerated to create an exciting drinking experience. Tangy citrus notes, tart herbs and a pleasantly silky finish make Gin FIOR not only a great companion in long drinks and cocktails, but also a real pleasure on its own.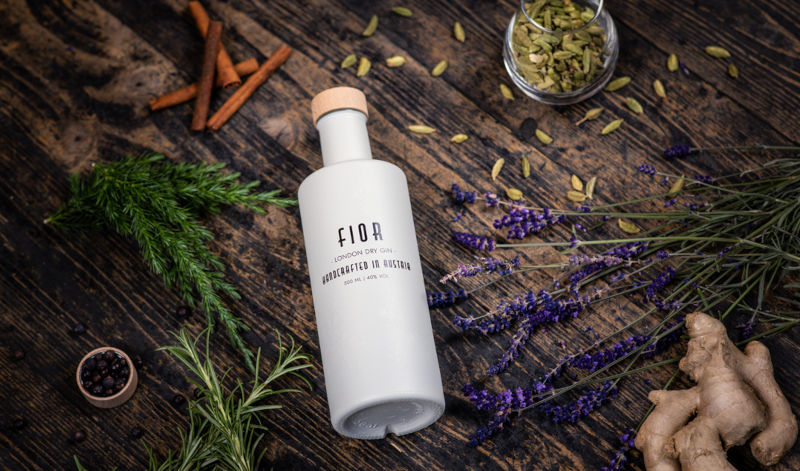 Gin FIOR contains botanicals such as cinnamon, rosemary, lavender and fresh ginger. There is also lemongrass, cardamom, oranges, lemons and apples

Incidentally, the London Dry Gin comes with a little surprise in terms of its feel. Even if its packaging looks like a clay bottle, it is actually an elaborately coated glass that impresses with a fine floral pattern.
The five friends have now also developed a great Navy Strength variant for those who like it a little stronger. There will also be a few strictly limited Distillers Cut editions of Gin FIOR in the future, but no more is revealed about them yet. Either way, one thing will certainly be in the foreground: Handmade enjoyment, straight from Austria.