The international hype surrounding cold brew coffees continues. Especially in summer, cold-brewed coffee specialties offer a welcome change from classic refreshing drinks. But what actually distinguishes a cold brew from a normal coffee? And what should you look out for when making it? We spoke to the two people behind Good Spirits, who make what is probably the best ready-to-drink cold brew coffee you can get in this country.
Order directly here & try for yourself: Good Spirits Cold Brew Coffee
Cold brew coffee is a widespread and established drink, especially in the USA and Canada. What about cold brew coffee in Germany?
Since our foundation in 2014, we have been able to observe the development of the market in Germany very closely. While for the first few years it was mainly a product that you might have found in a specialty coffee shop, since around 2018 the topic of cold brew coffee has also been taken up and promoted in Germany by large established companies such as Starbucks, Nescafé and McDonalds. We would say that the potential of cold brew has been discovered, but is still in the growth phase.
Do you know what the situation is like in other European countries? Is there a country that is known to have a strong cold brew culture?
Cold brew is naturally well received, especially in the warmer southern European countries. What we find super exciting is that a large proportion of consumers in Eastern Europe are also very open to cold brew coffee.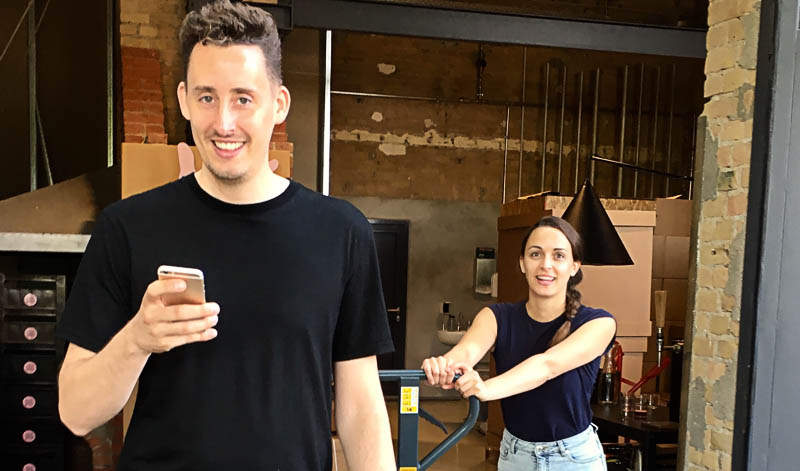 Florian and Mascha Häupl, the two founders of Good Spirits

I can think of two German cold brew producers who had good products but are no longer on the market. Is the challenge the right quality? Or in addressing the right target group? Or does the German market simply not have enough space for too many suppliers?
Although cold brew as a ready-to-drink coffee beverage is becoming increasingly well-known, it is still quite new to the average German consumer. On the one hand, coffee is the most popular drink, but habits are also firmly rooted. The willingness to change habits must be challenged. This takes time and presence, i.e. enough capital to withstand slow growth or to invest in marketing campaigns. Whether a company is successful or not with a product on the market can also have many reasons.
How exactly is cold brew coffee made?
Basically quite simple: you need coarsely ground coffee beans, filtered cold water and a lot of time.
Are there different ways to make cold brew coffee?
Classic cold brew is made using the so-called immersion process: Coffee powder and water are mixed and left to stand for the extraction time. In parallel, there is cold drip: water drips very slowly and constantly onto the coffee powder. This makes the result much more concentrated. Cold brew is more like filter coffee, cold drip more like espresso.
Is it fair to say that the only two - and therefore decisive - factors are the coffee beans and the right water?
Roasting, the degree of grinding and the extraction time also have a major influence on the result. So does the temperature, whether extracted overnight in the fridge, at room temperature or even with a "hot bloom". In the end, it all comes down to the right combination of these factors and the (taste) result you want to achieve.
To put it bluntly, what exactly is the difference between a cold brew and a hot brewed coffee that is then simply chilled?
When extracting with cold water, the aromas are extracted from the coffee bean more gently. Above all, less unpleasant bitter substances are produced compared to hot brewed coffee.
Can you make cold brew coffee at home?
Ideally, you can mix the ground coffee with water at home in an airtight container (e.g. screw-top jar), leave it to stand overnight and filter it through a paper coffee filter.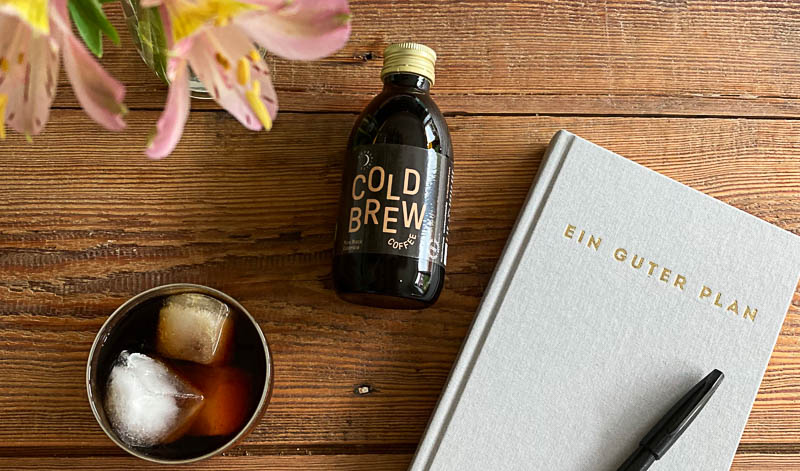 The cold brew from Good Spirits cuts a really fine figure when iced

How did you come to cold brew and Good Spirits?
We first came into contact with specialty coffee through our background in gastronomy and then delved deeper at various barista championships. We got to know cold brew at one of these championships in 2013 and were so fascinated by it that we got more involved with the topic. At that time, cold brew was already a big trend in the USA, but not yet here in Germany. That's where the impulse came from: hey, why don't we do it? In 2014, we were the first provider of cold brew coffee on the German market. A lot has happened since then and we are now also working with a growing number of coffee roasters for whom we produce cold brew.
What is your philosophy?
Our focus is on quality, sustainability, innovation and accessibility. With our cold brew, we want to offer a ready-to-drink coffee beverage that uses only natural ingredients, without additives, and still offers a full taste experience.
You call your manufactory a coffee brewery. Why is that?
Our cold brew coffee is cold brewed instead of hot brewed. We also see ourselves as the craft coffee brewers for the coffee market, similar to what the craft beer brewers are for the beer market. The market is dominated by the large manufacturers who focus on quantity rather than quality. We counter this with our focus on quality and innovation.
How will the German cold brew market develop? Can new trends already be foreseen?
In the future, large suppliers will continue to offer cold brew primarily as a mixed drink: as a lemonade with a small amount of coffee or as a mixed milk drink. We are also observing that existing brands that do not primarily focus on coffee are expanding their product portfolio to include cold brew.
Good Spirits Cold Brew is available as Pure Black Colombia and Pure Black Ethiopia Cold Brew - both of course in organic quality and in practical 6 or 12 packs!