strong note of buckwheat and red wine, finish red wine & dark chocolate

1 Jahre

Cabernet Sauvignon barrel

Saxony, Germany

49% vol.
More information about Rose Valley buckwheat brandy barrel aged
Buckwheat brandy is probably one of the more unusual grain brandies. In terms of its production and taste, the noble brandy can also be compared to a classic single grain whiskey - distilled in the same way from malt and grain, without the use of technical enzymes. The grain brandy gets its strong note from the storage in a freshly emptied Cabernet Sauvignon barrel. Unlike whiskey, however, without three years of storage, so that it is available to us as a regional grain brandy, with grain from the Nossner region.


Aroma:
interesting and unusually strong note of buckwheat and red wine
Ingredients:
local grain from Altzella/Nossen

Processing:

The grain is digested without technical enzymes using only malt. Similar to brewing beer, the grain is added to hot water. Through various temperature levels and the added malt, the starch it contains is then converted into fermentable sugar.

Production:
Gentle double distillation

Bottling quantity:
Approx. 250 bottles per year

Storage period:
at least 12 months

Special features:
Storage in freshly emptied Cabernet Sauvignon barrel, single barrel bottling.

Alcohol content:
48.5% vol.

Manufacturer:
Rose Valley
Food companies:
Feinbrand Manufacture Eric Brabant, Rosentalstr. 17, 09661 Striegistal OT Marbach
---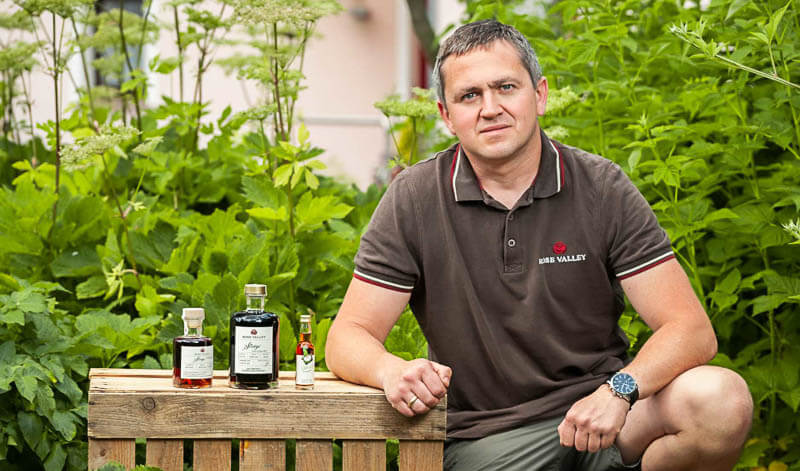 Fine brandies from the Striegistal - Welcome to the Feinbrandmanufaktur Eric Brabant The quality of our products is very important to us. Therefore we use only the best, mainly regional, raw materials. All products are manufactured without artificial flavorings and additives. Pure nature, that is our principle. The combination of the best raw materials, love for the craft, and the necessary portion of patience make the enjoyment of noble distillates and varietal aromas an unforgettable experience.
[Read more]