fresh, flowery, fruity
Juniper, Ginger, Chamomile, Orange blossom
Saxony, Germany
44% vol.
More information about Gin Rose Valley "Summer Edition
Gin Rose Valley "Summer Edition" is a floral, fruity dry gin, characterized by notes of citrus, chamomile, ginger, orange and juniper. Through the use of floral botanicals such as chamomile, lime and orange blossom, it smells floral and fruity at the same time. This gin makes you want to go on vacation, sun sand and sea.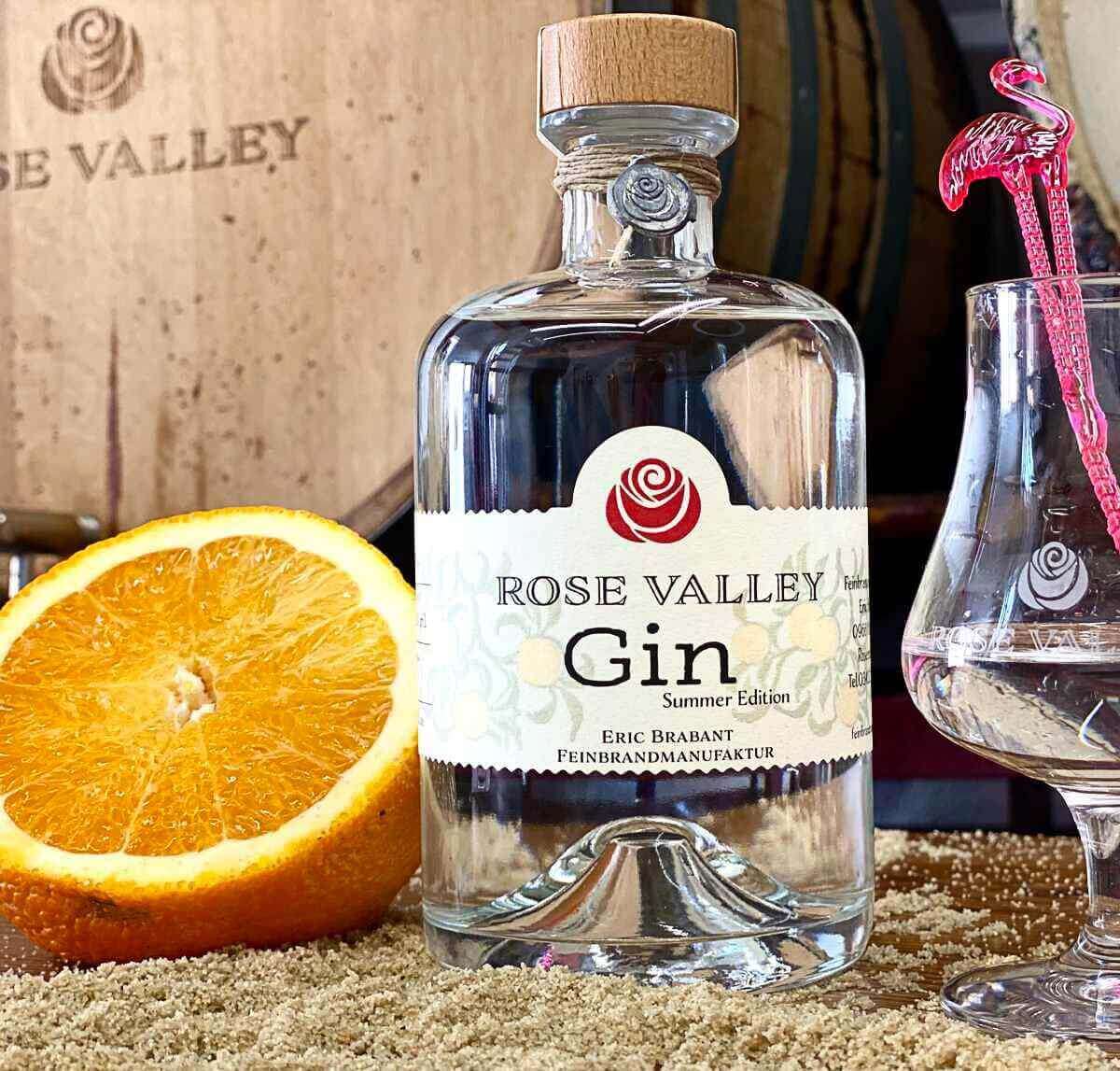 Aroma:
Mild alcohol, juniper, floral sweet aromas of chamomile, lime and orange blossom, ginger notes round out the gin perfectly.
Ingredients:
13 botanicals, floral botanicals of chamomile, lime and orange blossom, angelica root, ginger, orange peel and pepper.
Processing:
Botanicals are macerated in a gentle cold extract, with neutral alcohol carefully distilled beforehand. During this process, the macerate is given plenty of time. The solid components are then separated from the liquid ones. The macerate then goes into the still, and fresh botanicals are additionally added to the aroma basket during distillation.
Manufacture:
Gentle distillation, with additional botanicals during distillation in the aroma basket.
Recommendation:
As an aperitif, pure to enjoy, for a delicious martini or gin and tonic, as a cocktail base.
Alcohol content:
44% Vol.
Botanicals:
Chamomile, lime blossom, orange blossom, angelica root, ginger, orange peel, pepper, juniper and others.
Manufacturer:
Rose Valley
Filling quantity:
yearly about 500 bottles
Food companies:
Feinbrand Manufacture Eric Brabant, Rosentalstr. 17, 09661 Striegistal OT Marbach
---
Fine brandies from the Striegistal - Welcome to the Feinbrandmanufaktur Eric Brabant The quality of our products is very important to us. Therefore we use only the best, mainly regional, raw materials. All products are manufactured without artificial flavorings and additives. Pure nature, that is our principle. The combination of the best raw materials, love for the craft, and the necessary portion of patience make the enjoyment of noble distillates and varietal aromas an unforgettable experience.
[Read more]