fruity, floral, aromatic

Saxony, Germany

42% vol.
More information about Mirabelle plum brandy "of Nancy
The pure fruit brandy from hand-picked mirabelles is mashed and distilled without stone. For this purpose, the mirabelles from our own orchard are pitted directly after harvesting. The result is a mirabelle brandy with a pure fruit taste and intense, flowery mirabelle aromas, but without the typical almond aroma of the stones, which occurs with most stone fruit brandies.
Aroma: mild alcohol, aromatic, intense floral and fruity mirabelle aromas with elegant accents, fruity finish with a barely perceptible stone note.
Ingredients:
Mirabelles, from regional home gardens and our own orchard.
Processing:
The fully ripe fruits are hand-picked, pitted and gently cold fermented.
Production:
gentle double distillation
Bottling quantity:
Annually approx. 750 bottles
Application:
As an aperitif and digestif
Alcohol content:
44% vol.

Manufacturer:
Rose Valley
Food companies:
Feinbrand Manufacture Eric Brabant, Rosentalstr. 17, 09661 Striegistal OT Marbach
---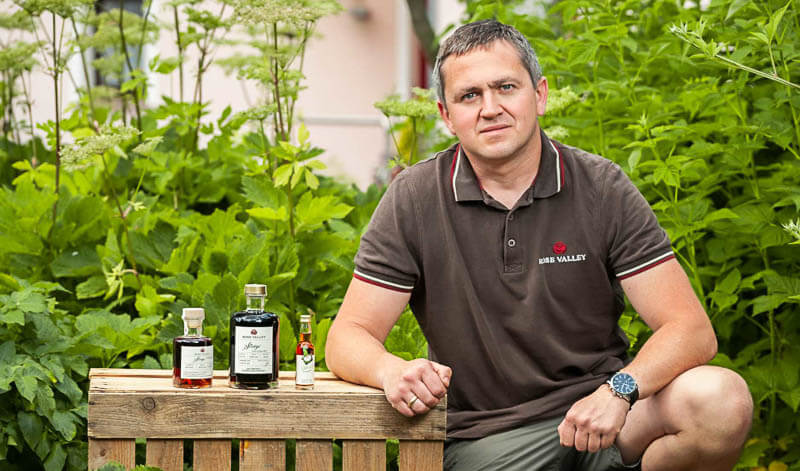 Fine brandies from the Striegistal - Welcome to the Feinbrandmanufaktur Eric Brabant The quality of our products is very important to us. Therefore we use only the best, mainly regional, raw materials. All products are manufactured without artificial flavorings and additives. Pure nature, that is our principle. The combination of the best raw materials, love for the craft, and the necessary portion of patience make the enjoyment of noble distillates and varietal aromas an unforgettable experience.
[Read more]