Wolfgang and Tobias Fessler don't just run a distillery. Together with their family, they are carrying on the 600-year-old family tradition, preserving a regional cultural asset with the Fessler Mill despite the drastic decline of mills, and also run a fitness studio, produce sports nutrition and organize various events in their region. Tobias tells us in an interview how this variety of activities arose out of necessity and how extremely regional their gins and whiskies are.
You can buy online at fesslermill1396 here
The Fessler Mill has been in Sersheim for 623 years. How far back can you trace your family tree?

We can trace our family tree back to the mid 1300s and have a long tradition as millers. Our ancestors were millers and ran a mill as early as the 15th century. So I'm the 10th (master) miller in a row.


And do you know when you had your first distillery? And who was the first?

My great-grandfather Wilhelm Fessler was already distilling his fruit and stone fruit around 1920.

On the left, great-grandfather Wilhelm Fessler stands in front of the grist mill, which is still used to grind grain today


Your mill is still in full operation. It must be quite a responsibility to look after the maintenance of such a valuable cultural asset in your region.

The milling industry in the country is not doing too well, especially the small and medium-sized mills. If you consider that in the 1950s there were still over 2,000 mills in Baden-Württemberg and today there are around 160, many of which live mainly from the second mainstay they have built up, then you can see that milling in our state is in serious decline. If the mill has a long historical tradition, as is the case with us, it is a certain responsibility to secure the family business for the future and to keep the milling going. Our mill is still in operation, but in addition to flours and natural foods, we also specialized in the production of sports nutrition back in the 1970s. In the 1990s, we added a small mill bakery so that we could also process the flour ourselves.


What is special about your distillery and your products?

Our distillery was built so that we can distil everything, but especially so that we can produce high-quality gin and whisky. A special feature of our distillates is their absolute regionality. As part of the 2nd Glencoe Swabian Whiskyday, we received a 225-liter barrel from the neighbouring Lemberger winery, which had been emptied shortly beforehand (the barrel contained a Lemberger wine). We then filled the cask with a locally grown rye distillate, together with some celebrities as part of our Whiskyday. The oak for the cask comes from Maulbronn, which is also in the immediate vicinity. And it was produced in the neighboring town of Bietigheim-Bissingen.
What's more, the energy we need for distilling comes from our own water turbine - powered by our little river, the Metter. We also only use selected ingredients for the gin, most of which are even organically grown. Here, the water used for distillation comes from the alwa mineral spring in Sersheim. Of course, we also use this water for our whiskies. We also grow some of the ingredients for the gin ourselves. A small gin experience field is currently being created behind the distillery.

The historic mill building


The growing popularity of German whiskies continues unabated. And gin anyway. Who are your customers? Do you mainly sell in your region or are you increasingly selling nationwide?

Years ago, we were the only whisky and gin producer in our region. Back then, we decided not to produce any other distillates so that we wouldn't compete with the many small distillers around us. In the meantime, a lot has changed in the distilling industry and fruit distillers are now also allowed to distil grain, so that more and more small distillers are also venturing into whisky and, of course, gin. We have quite a large customer base in the region and sell the distillates through our mill store. Of course, there are also customers who order nationwide. We can also be found at various markets and trade fairs throughout the year.
Our customers are end consumers and here in the region, of course, the specialist and drinks trade. We also produce our own brands for other suppliers and large catering businesses.


You are also President of the Württemberger Whisky Club. What exactly does the club do?

The Württemberger Whiskyclub* was founded by me and my father and now has over 2,000 members in Germany and abroad. Even master distillers from well-known foreign distilleries are members of the club. Members can apply for a membership card and then have the opportunity to make discounted purchases from friendly institutions such as wineries, distilleries and so on. However, they can only do this themselves.


However, spirits are by no means the only thing you do. Gym, sports nutrition, bakery, cooking classes? How can all this be combined?

Our company's portfolio naturally grew out of necessity when the second great mill extinction began in the 1970s and then the structures in rural areas changed drastically in the 1980s and 1990s. There were fewer and fewer farmers and, above all, fewer and fewer households that made their own bread or cakes. So new ideas were needed and my parents had the brilliant idea that nutrition and exercise could be even more important in the future. As a result, in addition to natural foods, nutritional supplements were also produced and the farm building was converted into a fitness center over 40 years ago. Today, we are among the pioneers in both areas. Even if it looks like a large general store at first glance, all of our company branches are indirectly related to each other. Either with health or with relaxation, such as our cabaret stage - laughing is healthy and relaxing. Ultimately, it's also about enjoying a wide range of products and, of course, the whisky and gin from the fesslermill1396 distillery.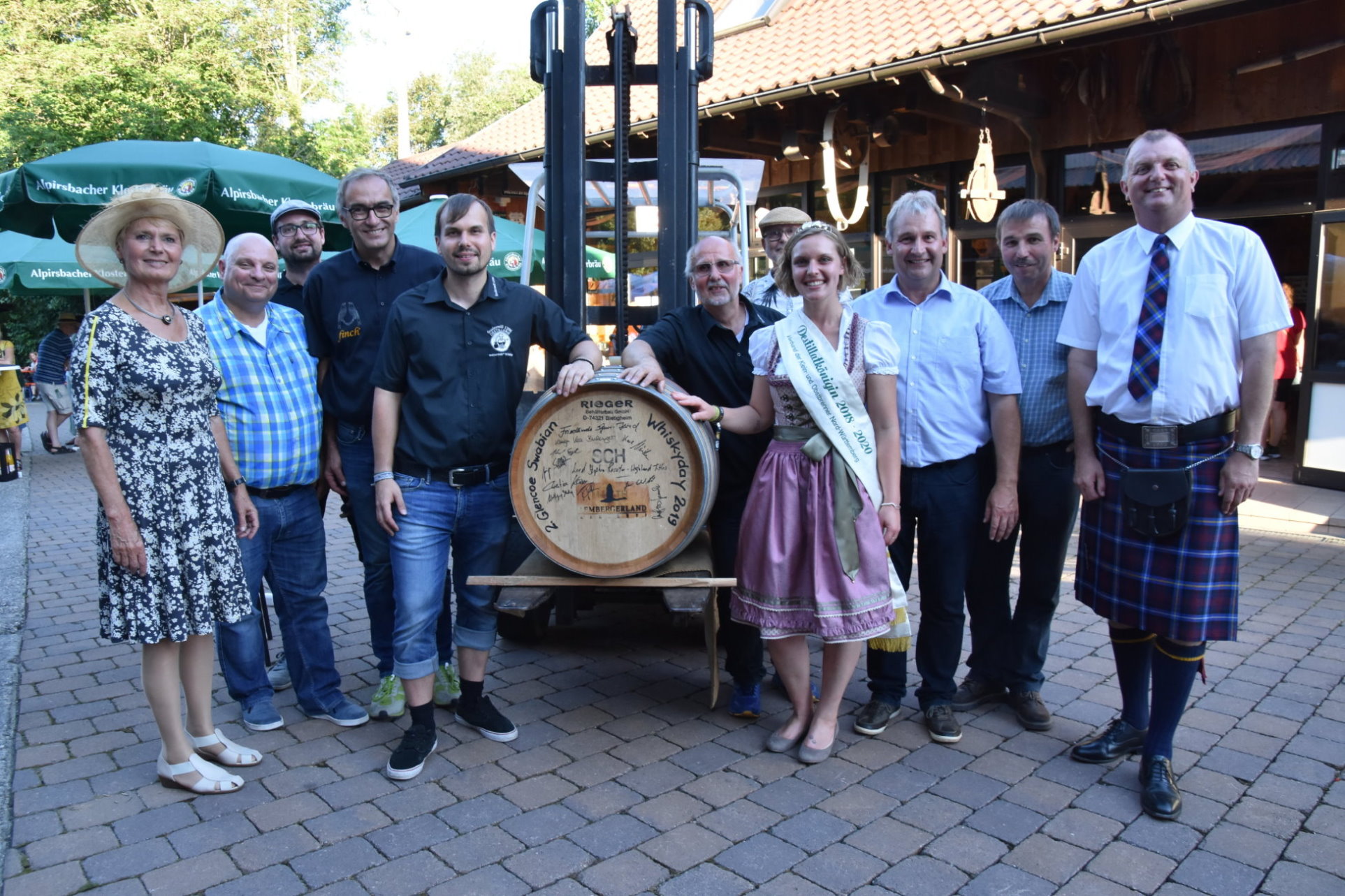 2nd Glencoe Swabian Whiskyday: A regional cask is filled by the celebrities in attendance


Besides the mill, there is a lot more to discover. Do you have any special programs or events for interested visitors to the Fessler Mill and Distillery?

Of course, we have been organizing special events for many years, as well as completely new ones. Two major annual events, for example, are the German Mill Day at Fessler Mühle on Whit Monday, when the championship for the Master of the Sack takes place every two years. Here you can visit the mill, the museum and the distillery and there are all kinds of culinary delights from our company.
The second major event next year will be the Glencoe Swabian Whisky Day, which will be held for the third time and will be attended by our friends from Scotland, our cigar maker from Cuba and some distilleries we are friends with will have a stand in the mill yard. There will also be Scottish-Irish music and, of course, culinary delights. Glencoe Swabian Whiskyday is always on the last Saturday in June.
Our annual whisky and wine hike around the Stromberg and the Fessler Mühle with various wine stations and, of course, whisky tastings from our house over a distance of approx. 8 km has also become a tradition. The next whisky-wine hike will take place on 05.09.2020. In addition, there are whisky and gin tastings throughout the year, often together with whisky or gin from friendly distilleries. A special feature is our distillery evening, where we invite the members of the Württemberger Whisky Club to a tasting, including Scottish and Irish whiskies, every now and then after distilling.
More tradition and regionality in the bottle is hardly possible. You can buy the gin and whisky from the fesslermill1396 distillery online here.

*The Württemberger Whiskyclub has set itself the task of bringing whisky, gin and local distillates as well as wines from Baden-Württemberg closer to those interested. Of course, we also look beyond our own backyard to the now large whisky and wine country of Germany and have connections to Scotland, Ireland and America. Another of our smaller hobbies is grain and grappa, where we are at home in Trento near Marzadro and northern Italy as well as northern Germany. As the municipality of Sersheim has had a successful and intensive partnership with the municipality of Canale in Piedmont, close to Barolo and Barbaresco, for over 40 years, Piedmontese wines and grappas are naturally also close to our hearts. We have personally known many distilleries and winegrowers around our partner municipality for decades and often store special whisky distillate from the fesslermill 1396® distillery in our 400-year-old cellar under the mill in Lemberger, Barolo or Arnei barrels from friendly winegrowers from Canale and Württemberg.