Beer is one of the oldest and most popular drinks in the world. In recent years, however, beer has undergone something of a transformation as mixologists and bartenders around the world have discovered the benefits of beer cocktails.
These unique drinks add an exciting twist to the classic beer by mixing it with different spirits and mixers.
Where do beer cocktails come from?
Beer cocktails are popular in many parts of the world, but they are particularly common in Mexico, where they have a long history. Mexican beer cocktails are said to have originated in the 1940s and 1950s, when the beer industry was flourishing in Mexico.
During this time, light beer was introduced to the market and quickly became very popular with the locals. It was often mixed with other ingredients to create a refreshing and tasty drink that was particularly cooling on hot summer days.
One of the most popular beer cocktails in Mexico is the Michelada. It is believed that this cocktail was invented in Mexico City in the 1940s. Today, the drink is an integral part of Mexican drinking culture. In fact, the Michelada is so popular in Mexico that it is often sold pre-mixed in cans and bottles.
Which beers are suitable for cocktails?
Lighter beers such as lagers, pilsners and wheat beers are best suited to most beer cocktails as they are not too heavy and have a clean taste.
However, some cocktails require a stronger and more robust beer, such as a stout or porter. The type of beer you choose for your cocktail ultimately depends on the ingredients and flavors you want to mix it with.
Beer cocktail recipes
Enough theory - let's get down to practice! Here are three very interesting beer cocktail recipes.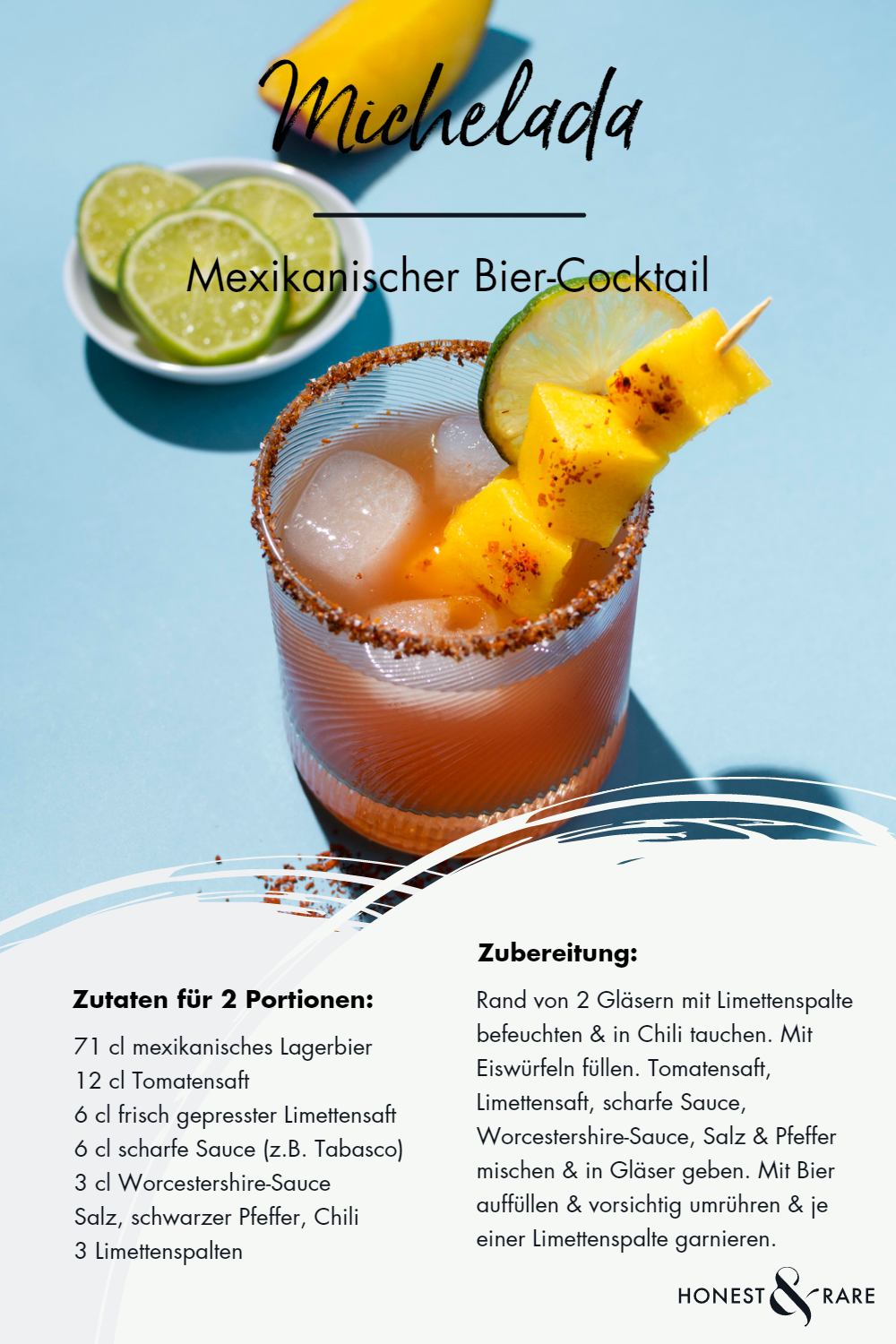 Michelada
The Michelada is a perfect refreshing drink for a hot summer's day.
Ingredients (for 2 servings):
71 cl Mexican lager
12 cl tomato juice
6 cl freshly squeezed lime juice
6 cl hot sauce (e.g. Tabasco)
3 cl Worcestershire sauce
salt
black pepper
chili pepper
ice cubes
3 lime wedges
Preparation:
Moisten the rim of 2 highball glasses with lime wedge and dip in chili.
Fill glasses with ice cubes.
Mix tomato juice, lime juice, hot sauce, Worcestershire sauce, salt and black pepper & pour into glasses.
Top up with lager & stir carefully.
Garnish each with a lime wedge.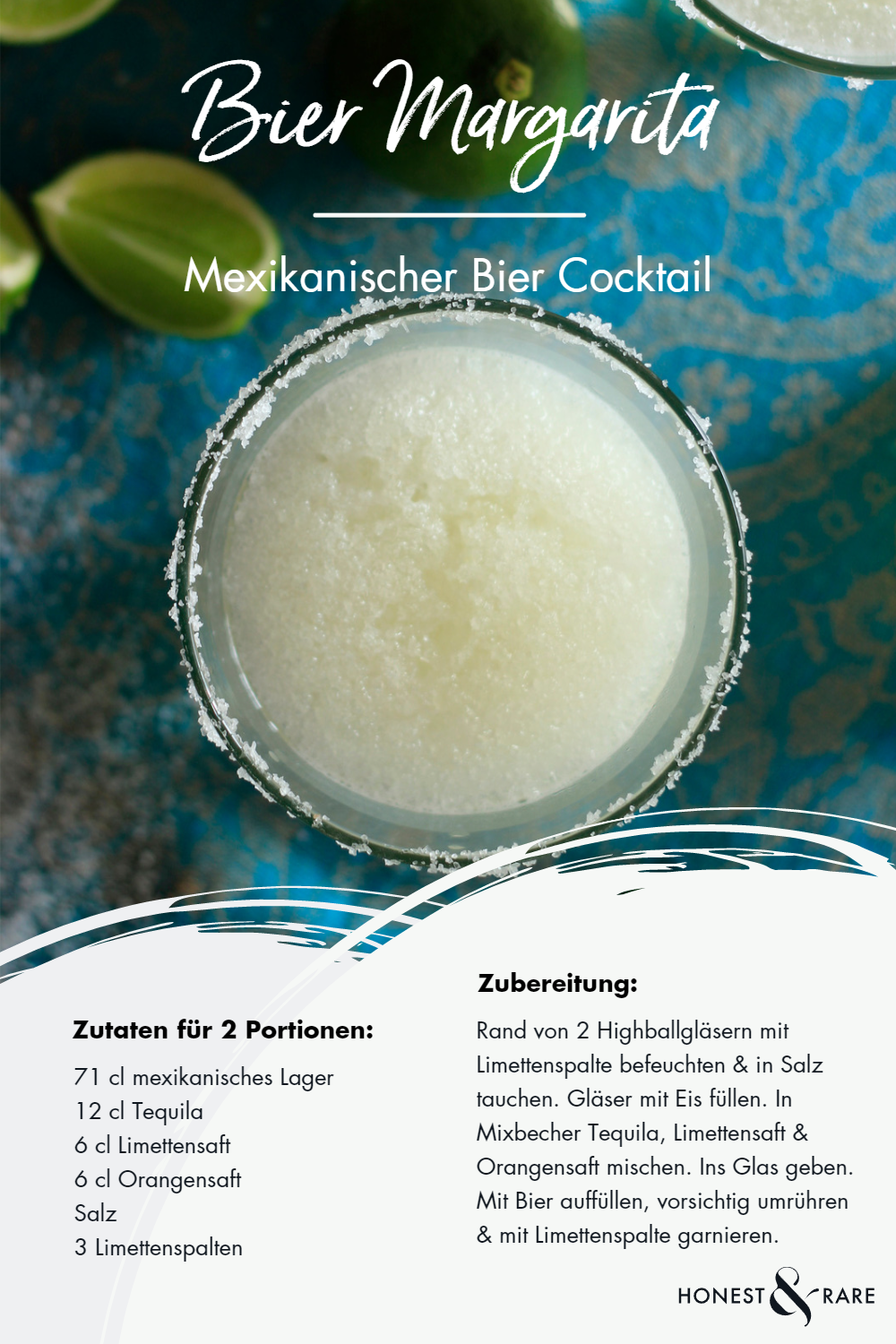 Beer Margarita
The Beer Margarita is a beery variation on the classic margarita. Here's how to make this cocktail:
Ingredients (for 2 servings):
71 cl light beer (preferably Mexican lager)
12 cl tequila
6 cl lime juice
6 cl orange juice
salt
3 lime wedges
ice
Preparation:
Moisten the rim of 2 highball glasses with lime wedge and dip in salt.
Fill glasses with ice.
Mix tequila, lime juice and orange juice in a mixing cup & pour into the glass.
Top up with beer and stir carefully.
Garnish with a lime wedge.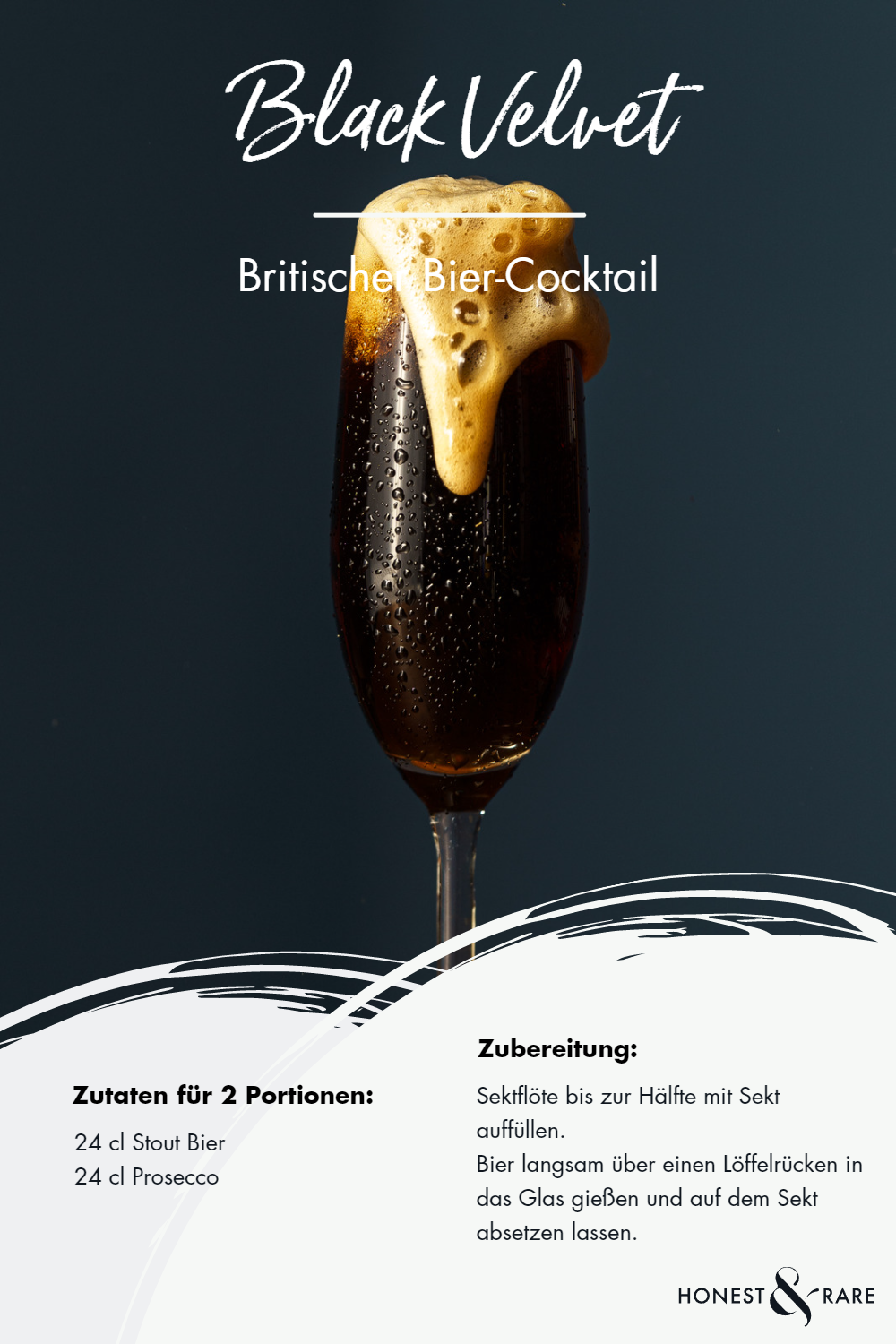 Black Velvet
The Black Velvet originally comes from England and is made by combining stout and prosecco. This cocktail is perfect for special occasions - and is very easy to prepare.
Ingredients (for 2 portions):
24 cl Stout beer
24 cl Prosecco
Preparation:
Fill the champagne flute halfway with sparkling wine.
Slowly pour the beer into the glass over the back of a spoon and allow to settle on the sparkling wine.