The most important facts summarized for you:
Spezi is a mixed drink made from cola and orange soda
It was invented in Bavarian pubs in the 1950s
Spezi is a brand name and cannot simply be used for any cola-based mixed drink
You can say both die and der or das Spezi
Around 300,000 liters of Spezi are drunk every year. However, this enthusiasm is almost exclusively limited to German-speaking countries, so you will hardly find Spezi in the USA, for example. We explain what the popular cola and orange soda drink is all about, who makes it and what you can mix it with to make delicious drinks.
What is Spezi?
Spezi is a sparkling, fresh mixed drink made from cola and orange soda. The fizzy cola mix is non-alcoholic, but is not only popular with children and enjoys great popularity among cola mix fans of all ages. In Bavaria, this refreshing cola and orange mix is considered a national drink alongside beer. This is hardly surprising, as it was born here after all.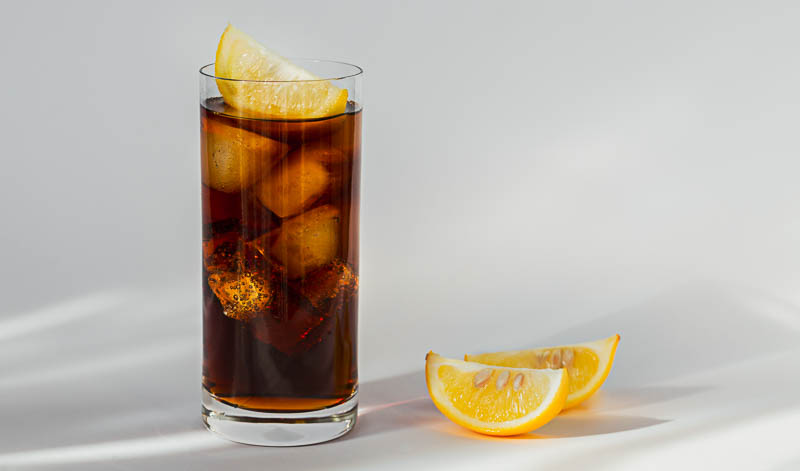 Spezi is a mixed drink made from cola and orange soda

Want to find out more about cola? Take a look here: What is cola and how is it made?
A brief history of Spezi
Shortly after the end of the Second World War, guests in Bavarian pubs were increasingly ordering a mixed drink made from cola and orange soda. However, this new beverage preference posed a number of challenges for landlords. Mixing was time-consuming due to the large number of orders, opened bottles littered the bar and leftover cola and lemonade regularly went stale.
This tense situation gave the master brewer of a small family brewery in Augsburg the idea of developing a ready-made mixed drink. Spezi was originally a beer, until the manufacturer used this name for the non-alcoholic SPEZIal mix of cola and orange.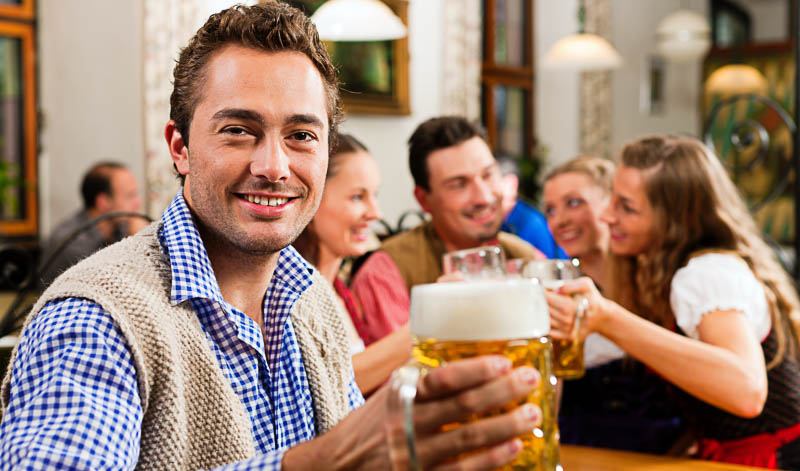 Spezi was created in Bavarian pubs in the 1950s

As early as 1956, the Riegele brewery secured the trademark rights for this term. Its resounding success in the 1970s meant that the company could no longer cope with demand on its own. For this reason, those responsible decided to license the brand. This led to the founding of the Spezi Markengetränke Verband in 1977, which has been granting licenses to other producers ever since.
Is it called the, the or the Spezi?
This question is the subject of passionate debate in Bavarian pubs in particular. As Spezi is strictly speaking a brand name, there is no official article. What is certain is that "das Spezi" has been in use at the Riegele brewery from the very beginning. In the Bavarian dialect, however, "der Spezi " has become widespread - derived from "Spezl" or "Spezi", the Bavarian term of endearment for friend.
Only "die Spezi" has hardly caught on in Bavaria and is used more in the rest of Germany. Here, the article is derived from the superordinate product category to which Spezi belongs: lemonade.
Is every cola mix drink the same as Spezi?
The popular cola mix is available from many manufacturers, but not every soft drink made from cola and orange is automatically called Spezi. Colloquially, the term has long been established as a generic term for this type of cola mix drink, but not every company is officially allowed to use this name for its products.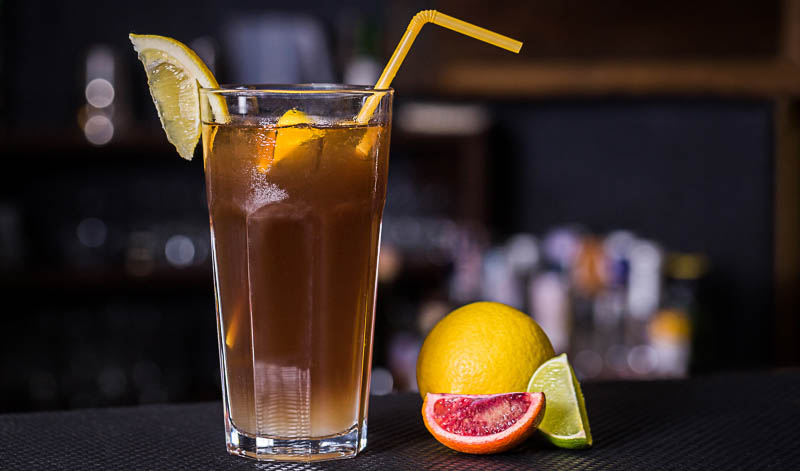 Not every mixed cola drink can automatically be called Spezi.

The Riegele brewery still owns the trademark rights to the term Spezi and only allows the brand name to be used against payment of a regular license fee.
Paulaner Spezi: a special case
You may also be familiar with Paulaner Spezi, which has been available since the 1970s. The Munich brewery is allowed to adorn its product with this brand name without paying any license fees. Paulaner had already acquired a permanent license before the association was founded by paying a one-off fee and therefore does not have to pay any annual license fees to Riegele.
Top secret recipe
In terms of taste, you can definitely tell the difference between Paulaner Spezi and the drinks from Riegele and other brands, as different recipes are used in each case. Over the years, the Riegele brewery has changed the original recipe several times, so the modern version no longer contains mandarin oil, for example.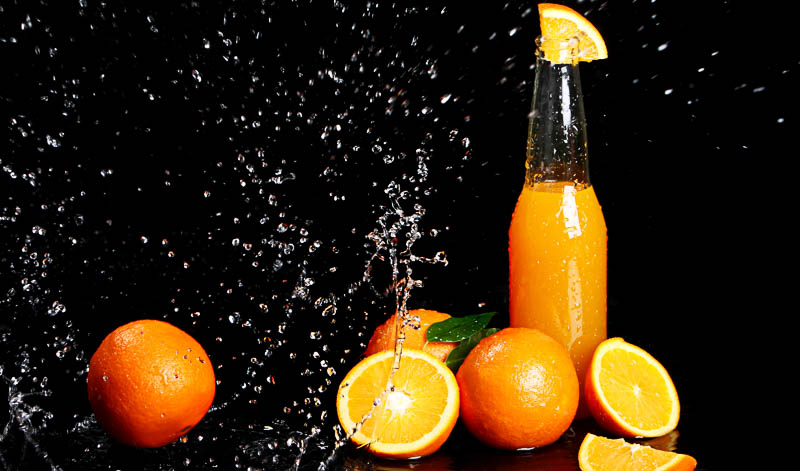 The exact recipe for Spezi is a secret. However, there are two main ingredients: Cola and orange soda

However, cola and orange are still the main ingredients. Although the exact composition of the original is secret, the main ingredients of the original are well known:
Water
sugar
Glucose-fructose syrup
Orange juice from orange juice concentrate
Lemon juice from lemon juice concentrate
Carbonic acid
In the meantime, the classic has even got company: you can now also find Spezi Zero (without sugar) and Spezi energy (with taurine and four vitamins).
What can you mix Spezi with?
A chilled refreshing drink is a real treat, especially in summer. You can drink Spezi on its own or enjoy it with ice cubes and a slice of orange. There are even said to be specialists who prefer their very own creation and mix the cola mix with beer or grain.
Recipes for cocktails & co. with Spezi
Is the mixture with beer or grain too mundane for you and are you looking for a more sophisticated cocktail recipe with Spezi? Basically, there are hardly any limits to your imagination here; for example, you can opt for cocktails that contain cola and orange juice and use Spezi instead. Alternatively, you can mix cocktails created by Munich bartenders for inspiration.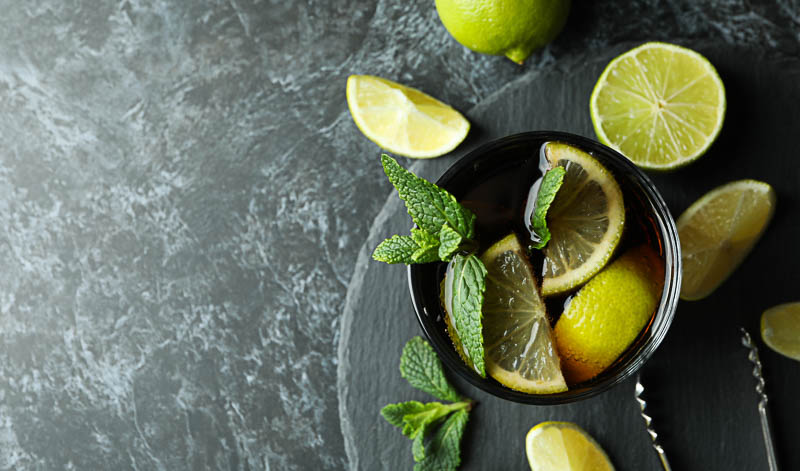 Spezi cocktail recipe: Minga75 with gin

Minga 75 - Spezi cocktail with gin
Ingredients:
3 cl gin
2 cl fresh lemon juice
1 cl sugar syrup
2 dashes of Angostura
Spezi
Preparation:
Pour all ingredients except Spezi into a shaker and mix.
Pour into a glass over ice and strain the contents of the shaker into the glass
Top up with Spezi.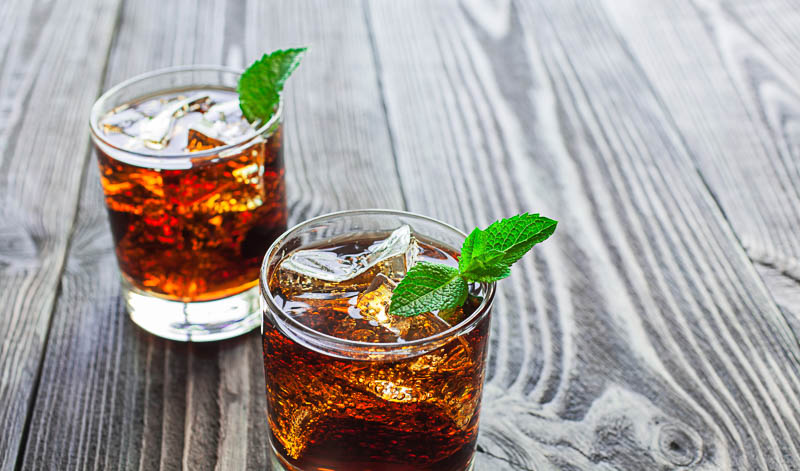 Spezi cocktail with herbal liqueur: Deer's Neck

Deer's Neck - cocktail with herbal liqueur and Spezi
Ingredients:
4 cl herbal liqueur
2 dashes of chocolate bitters
Spezi
Orange zest
ice
Preparation:
Pour the herbal liqueur and chocolate bitters into a glass with ice cubes.
Top up with Spezi and stir carefully.
Garnish with orange zest.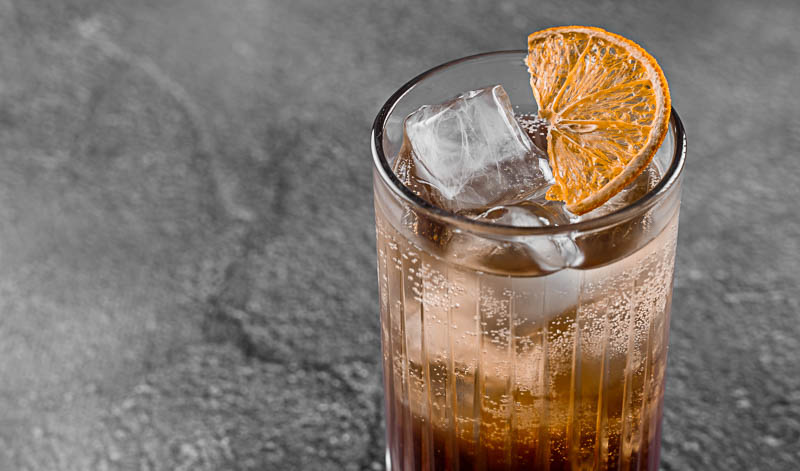 Spezi cocktail with rum: Kingston Lemonade

Kingston Lemonade - rum cocktail with Spezi
Ingredients:
5 cl white Jamaica rum
2 cl fresh lime juice
2 cl triple sec
Spezi
Preparation:
Pour all ingredients except Spezi into a shaker with ice.
Shake well and strain into a glass over fresh ice.
Top up with Spezi. You can garnish the drink with lime and orange zest.
Are you now sufficiently inspired and thirsty for more? You'll find high-quality cola & lemonades in our range: To the lemonade range