full-bodied, round, mild

Baden-Wuerttemberg, Germany

40% vol.
More information about Marten wild cherry brandy
The wild cherry is also known as the bird cherry in many regions. It is a rather rare brandy, as the very small fruits are not always available and only in limited quantities. It has intense fleshy fruit notes framed by a pronounced stone tone. On the palate it is very full-bodied, round and mild, which makes for a great experience on the palate.
Smell:
intense fruit notes
Manufacturer:
Marder brandies
Food companies:
Stefan Marder, Marder Edelbrände, Fichtenweg 5, 79774 Albbruck - Unteralpfen
---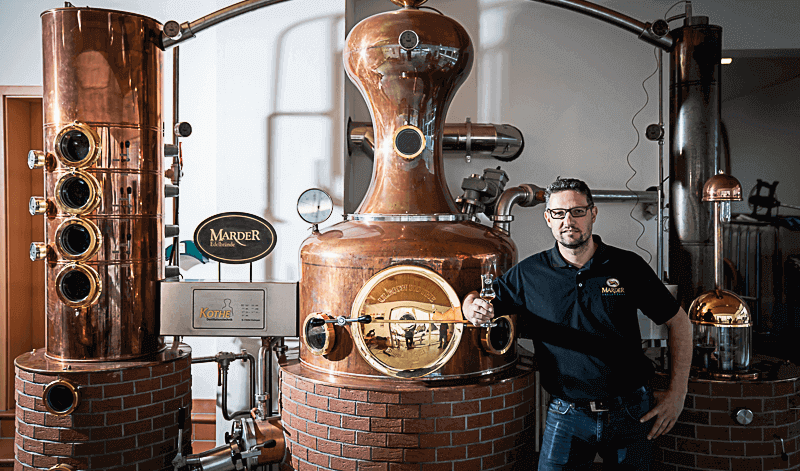 Our philosophy is to bring out the flavors of nature as pure and unadulterated as possible, and to preserve them for you. The love for every single fruit comes into the glass for you. Our brandies are a harmoniously mild taste experience of a special kind. We are a family business in 3rd generation located in Albbruck - Unteralpfen a small village in the nature park Southern Black Forest, about 60 km south of Freiburg. Where the fruit allows, pure brandies are produced. Up to 20 kilograms of fruit are used for one bottle of distillate. Our assortment includes about 40 different brandies and some liqueurs made from berries, wild fruits, stone fruits, pome fruits, marc and beer. The working method and claim of our family business is to use only the best fruit in the optimal degree of ripeness. Our growers and suppliers work according to our specifications and demands: Fruits from...
[Read more]