The most important facts summarized for you:
Calvados is a traditional brandy from Normandy
Calvados is made from apples that grow in the legally protected region of origin. This region measures around 200 km from east to west and around 150 km from north to south. Pears may also be added to Calvados.
Calvados has a drinking strength of between 40 and 45 percent
Storage in wooden barrels and the art of blending give the spirit its typically velvety and complex taste
Calvados is available in the age categories VO = Very Old (4 years), VSOP = Very Superiour Old Pale (at least 5 years) and X.O = Extra Old (at least 6 years).
What is Calvados?
Calvados is a noble brandy made from apples, to which pears may also be added in small quantities to round off the flavor. For a certain type of Calvados, Domfrontais, the law even stipulates a minimum quantity of 30 percent pears. But the main focus is on apples. But not just any apples, but Calvados apples.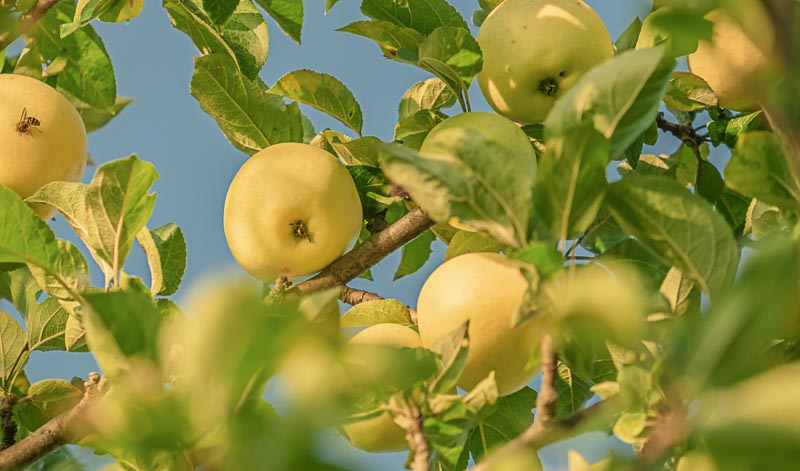 Only apples from protected areas of origin may be used for Calvados.

To clarify: Calvados apples do not refer to a specific variety, but to the growing area of the apples, whose origin is precisely regulated and therefore marked with the abbreviation AOC (AOC = Appellation d'Origine Contrôlée - protected area of origin). The largest growing area, Calvados AOC, is not a contiguous region, but extends over five larger and numerous smaller areas within Normandy in northern France. Incidentally, Calvados AOC should not be confused with the Département Calvados - the county, so to speak. This is significantly smaller than the production area and is also home to other appellations, including the Pay d'Auge AOC, the heartland of Calvados, which also extends over the Département of Orne a little further south. The third AOC is Domfrontais. Here, the vineyards are located entirely outside the Département of Calvados, in the districts of Orne, Manche and Mayenne.
Depending on the AOC, a total of over one hundred apple varieties and almost one hundred pear varieties are approved for the Norman brandy. These apple varieties are blended together in a specific ratio: 40 percent bitter, 40 percent sweet and 20 percent sour apple varieties. There is therefore no calvados that is distilled from a single apple variety. Each distillery has its own secret recipe according to which it blends the apples for a distinctive result.
Buy high-quality apple brandies:
How is Calvados made?
The production of a typically velvety and complex Calvados requires one thing above all: time. First of all, the freshly harvested apples are mashed - without any additives. The microorganisms in the apples alone ferment the fructose into alcohol.
After six to eight weeks, a type of cider is produced. This fizzy, slightly alcoholic cider, which is produced during the Calvados fermentation process, is not yet suitable for drinking due to its high bitter and acidic content. Its flavor components balance each other out during the subsequent two-year storage in wooden barrels. Here it absorbs the first aromas and tannins from the wood.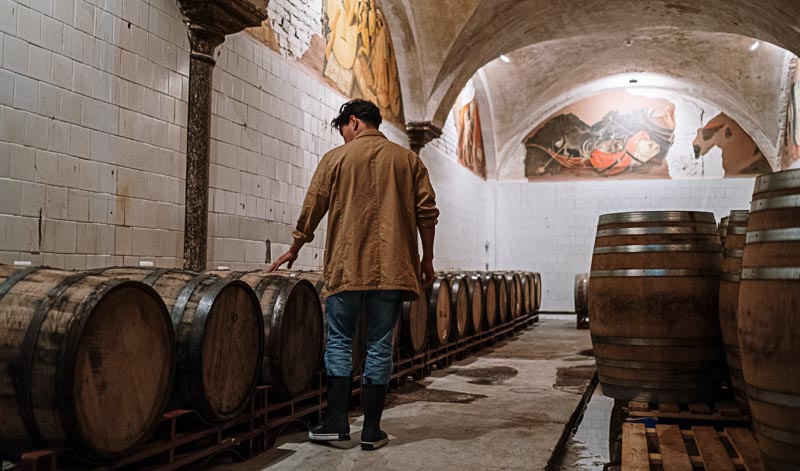 Calvados is stored twice: directly after fermentation and following the distillation process.

Distillation then takes place. A double distillation process is prescribed.
The AOC Calvados does not impose any further regulations on the distilleries regarding the distillation method. The AOC Pays d'Auge is different: here, the spirit must be distilled in high-quality copper stills. The first distillation produces a 25 percent raw spirit. After a resting period, the 'little water' ('petite eau'), as the French distillers call it, is brought to 70 percent alcohol content in a second distillation. This concentrated fine spirit is then returned to oak or chestnut barrels for at least two years. Here it takes on its dark color through oxidation and is further enriched with complex wood aromas and tannins.
At the end of the ageing period, it is the turn of the cellar master. Assemblage is the art of composition: mature brandies of different ages and taste characteristics are blended together until a harmonious, typical product has been created. In a final step, the Calvados masters bring their product to drinking strength with water and fill it into bottles.
What are the main types of Calvados?
There are different production regulations for the three designations of origin, Calvados AOC, Domfrontais and Pays d'Auge. Here is an overview: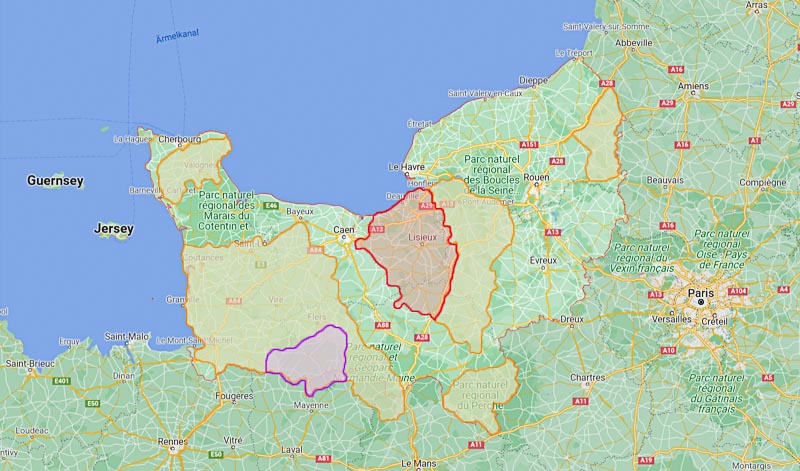 Calvados regions of origin: orange - AOC Calvados; purple - AOC Domfrontais; red - AOC Pays d'Auge | Google Maps/Own

Calvados AOC
the distillates can come from all areas of the general Calvados region of origin (so also from Pays d'Auge & Domfrontais!) and can be blended with each other
distilled twice, distillation method is not prescribed (mostly in column stills)
Addition of pears to round off the flavor is permitted (max. 30 percent)
184 apple varieties and 93 pear varieties permitted
Maturation in oak/chestnut barrels (at least two years)
Calvados Domfrontais
Defined region of origin (mainly in the Département of Orne, not in the Département of Calvados)
Distilled twice, Distillation method not prescribed (mostly in stills)
Addition of at least 30 percent pears
43 apple varieties and 89 pear varieties permitted
Maturation in oak/chestnut barrels (at least three years)
Calvados Pays d'Auge
Core growing region for Calvados (in the Département of Calvados, extends into the Départemant Orne)
Distilled twice in copper stills
Blended with a maximum of 30 percent pears
81 apple varieties and 30 pear varieties authorized
Matured in oak/chestnut barrels for at least two years

Pears may also be added to Calvados - but only in defined proportions

The taste of Calvados is less dependent on the appellation than on the style of the house and the age of the product. In general, brandies from the Domfrontais are milder/less acidic due to the high pear content. Young (two-year-old) calvados tastes fruity and acidic/fresh and is light amber in color. The longer it is aged, the more its color changes to cognac-brown nuances. The taste is enriched by the tannins and vanilla tones of the wood to create complex aromas (chocolate, nut, caramel notes, dried apricots). There are the age categories VO = Very Old (4 years), VSOP = Very Superiour Old Pale (at least 5 years) and X.O = Extra Old (at least 6 years).
How to drink Calvados?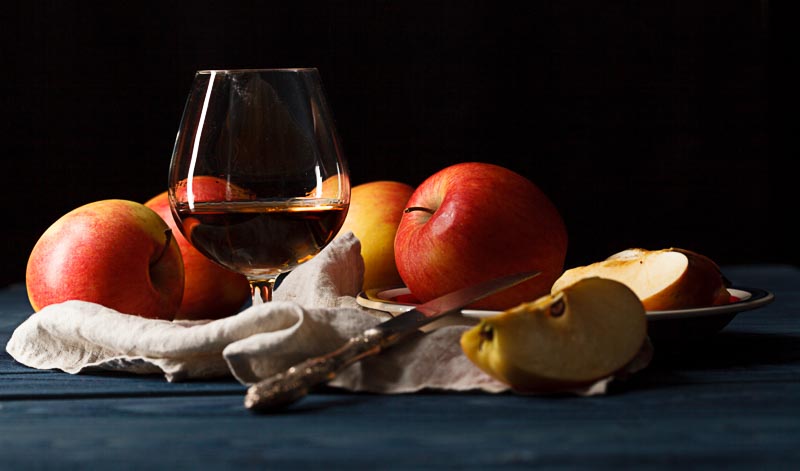 Calvados is best drunk from a nosing glass

You need a nosing glass for the Norman brandy. This is bulbous at the bottom and ends in a slightly opening tube at the top. This keeps the aromas together and directs them straight to your nose. There are also special Calvados glasses with lids so that the delicate substances do not evaporate. The best temperature for Calvados to develop its aroma is between 16 and 20 degrees. A fine, matured Calvados stands on its own. You can enjoy it sip by sip without distraction.
The Norman 'national drink' is also popular as a digestif or between two courses of a meal. In this case, the French refer to it as 'trou normand', the 'Norman hole'. This is derived from the idea that Calvados burns a hole in the food to make room for something new. Cocktails also harmonize with the Norman brandy.
The most famous is called Jack Rose, made with 4 cl Calvados, 1 cl grenadine and 1 cl lemon juice. A super refreshing summer drink!
You can find excellent apple brandies & other exciting spirits in our store: Buy spirits now