mild alcohol, fine herbal aromas, pleasant sweetness, herbaceous malty finish

Saxony, Germany

35% vol.
More information about Rose Valley "Monastery Elixir"
This variety of herbal liqueur from our house is one of the fine semi-bitter monastery-style spirits, made without artificial flavors and dyes. Thanks to the gentle distillation with additional herbs in the aroma basket and the use of a colored malt, a mild herbal schnapps with fine aromas and pleasant malty note is created.

Ingredients:
Fresh and dried herbs and spices, neutral alcohol.

Processing:
Herbs are macerated in a gentle cold extract, with neutral alcohol carefully distilled beforehand. The mazarate is given a lot of time

Additives/allergens:
Without colorants: the liqueur gets its color from the addition of colored malt.

Production:
Gentle distillation, with additional fresh herbs during distillation in the aroma basket, adjusting the drinking strength + tuning the aroma and color with added herbs, water, sugar and colored malt.

Bottling quantity:
Approx. 800 bottles per year

Recommendation:
As an aperitif and digestif

Alcohol content:
35 % Vol

Manufacturer:
Rose Valley
Ingredients:
fresh and dried herbs and spices, neutral alcohol
Food companies:
Feinbrand Manufacture Eric Brabant, Rosentalstr. 17, 09661 Striegistal OT Marbach
---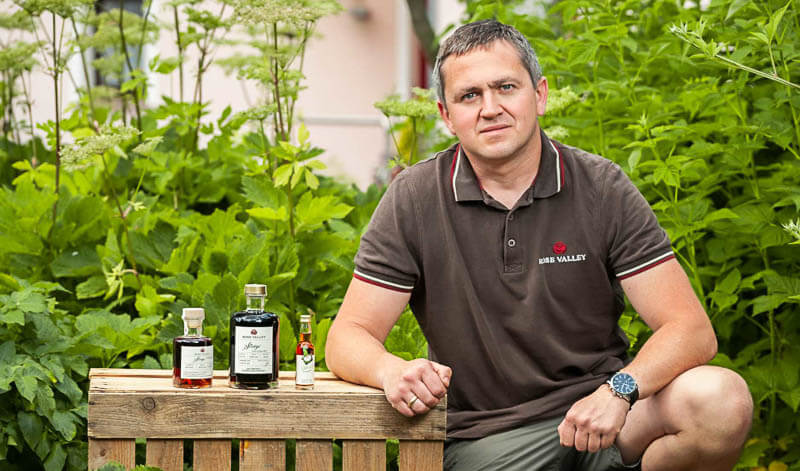 Fine brandies from the Striegistal - Welcome to the Feinbrandmanufaktur Eric Brabant The quality of our products is very important to us. Therefore we use only the best, mainly regional, raw materials. All products are manufactured without artificial flavorings and additives. Pure nature, that is our principle. The combination of the best raw materials, love for the craft, and the necessary portion of patience make the enjoyment of noble distillates and varietal aromas an unforgettable experience.
[Read more]