20.04.2023
The Bahama Mama is a popular tropical cocktail that has been enjoyed by beachgoers and holidaymakers for decades. The origins of this cocktail cannot be precisely named. However, it is believed to have originated in the Caribbean.
The name "Bahama Mama" is said to be a reference to the Bahamas, a tropical island paradise known for its crystal-clear waters and white sandy beaches. It is said that the drink was created as a tribute to the beauty and relaxation of the Bahamas.
Bahama Mama recipe
Ingredients (for 2 servings):
6 cl rum (gold)
6 cl coconut rum
6 cl pineapple juice
6 cl orange juice
3 cl lime juice
3 cl grenadine
ice cubes
Pineapple slices and/or maraschino cherries to garnish
Preparation:
Place ice cubes in a shaker.
Add all liquid ingredients & shake vigorously for approx. 10-15 seconds.
Strain the contents through a bar strainer into two long drink glasses.
Garnish each with a slice of pineapple and/or maraschino cherry.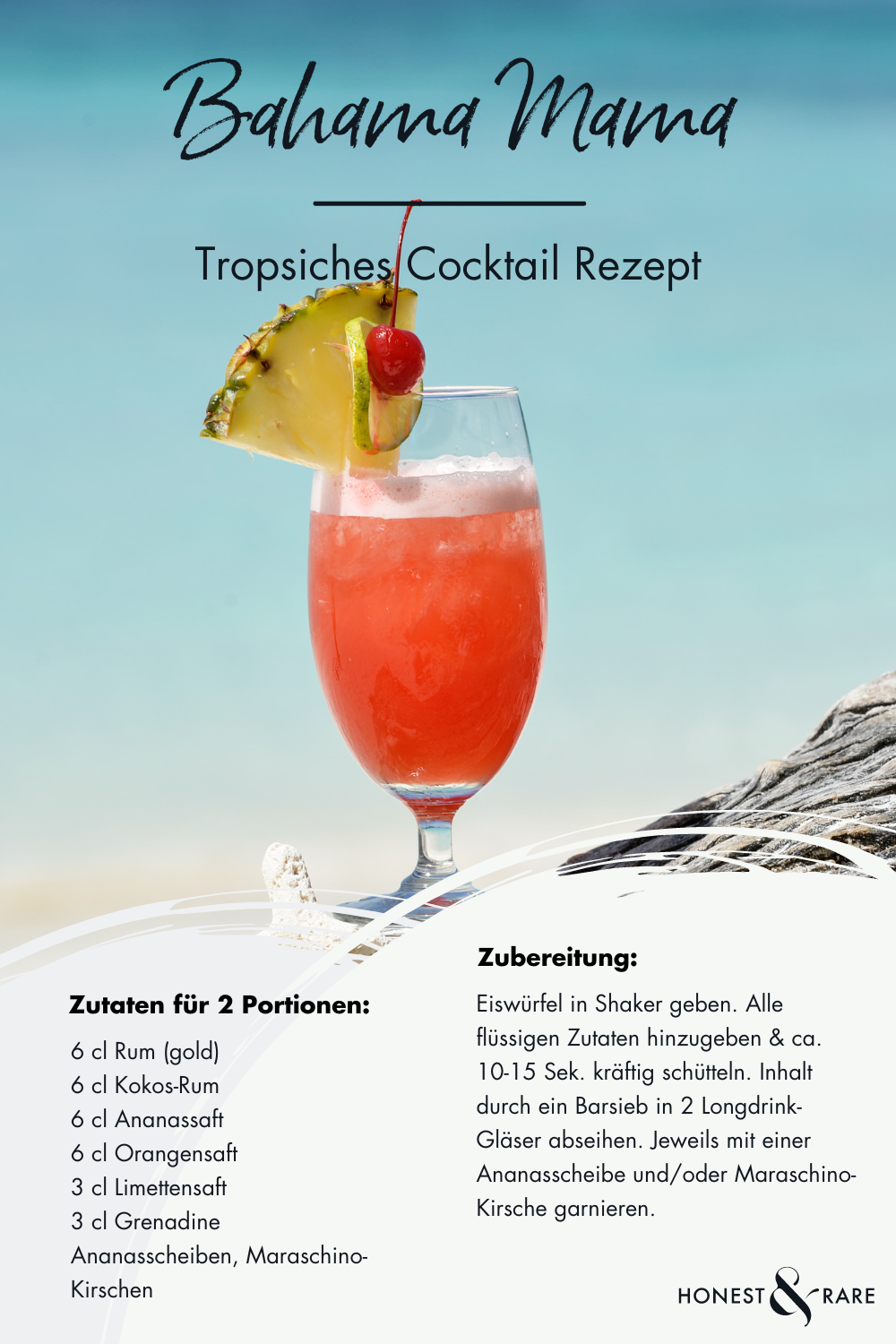 Tip: If you don't have any coconut rum in the house, you can improvise. Substitute rum and coconut rum as follows:
4 cl light rum
4 cl dark/spiced rum
6 cl coconut liqueur.
What does Bahama Mama taste like?
The Bahama Mama has a sweet taste with notes of pineapple and orange. It is an exotic cocktail that is often associated with the beach and the sun.
Some variations also contain other fruit juices, such as cranberry or grapefruit, or a shot of dark rum for added depth of flavor.
Whether you're sipping the Bahama Mama on a sun-kissed beach or at a barbecue in the garden, this cocktail is the perfect way to bring a tropical paradise to your tongue.