The Gin Basil Smash is refreshing, simple and perfect for hot days. The cocktail combines gin, fresh basil leaves, lemon juice and sugar syrup to create a balanced drink with citrus notes and a unique basil kick.
With this recipe, you can easily prepare the Gin Basil Smash yourself at home: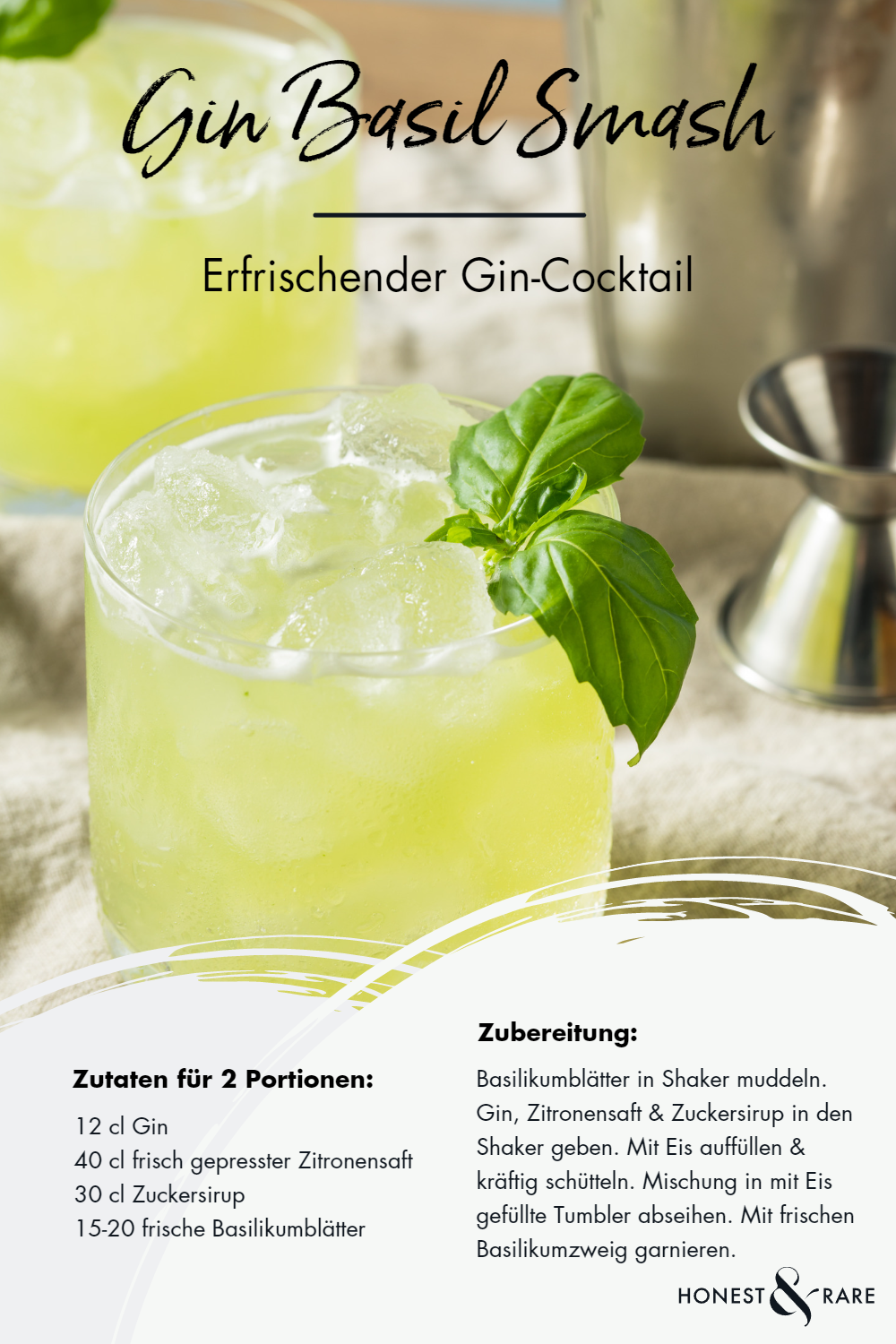 Recipe for the Gin Basil Smash
Ingredients (for 2 portions):
12 cl gin
40 cl freshly squeezed lemon juice
30 cl sugar syrup
15-20 fresh basil leaves
Preparation:
Muddle the basil leaves in a shaker until they are fragrant and slightly chopped.
Add the gin, lemon juice and sugar syrup to the shaker.
Top up with ice and shake vigorously for 10-15 seconds.
Strain the mixture into tumblers filled with ice.
Garnish with a sprig of fresh basil.
About the Gin Basil Smash
The Gin Basil Smash is a relatively new cocktail, created in 2008 by a German bartender named Jörg Meyer. Meyer was looking for a way to highlight the flavor of fresh herbs in cocktails and came up with the idea for the Gin Basil Smash. Due to its super refreshing basil flavor, the cocktail quickly became an international hit and is now a staple on many bar menus.
The great thing about the Gin Basil Smash is that it can be customized according to taste. For example, you can experiment with different types of gin to find out which gin tastes best in this cocktail.
If you're feeling adventurous, you can also add other fresh herbs such as mint or coriander to the mix and create your very own, individual recipe!
Which gin for the Gin Basil Smash?
The best gin to use for the Gin Basil Smash is a question of personal preference. Different types of gin can give the cocktail different flavors. However, a classic London dry gin is always a good choice for this cocktail, as its juniper-accented flavor profile complements the fresh herbal notes of the basil.
Of course, you can also experiment with a more floral or herbal gin to add even more of an herbal kick to the cocktail. So we can only recommend that you experiment and find your own personal favorite!