02.02.2023
The Espresso Martini is a real classic among after-dinner cocktails - and awakens your taste buds from their beauty sleep!
What is an Espresso Martini?
The Espresso Martini is a modern cocktail that was invented in the 1980s. It is said to have been invented by the bartender Dick Bradsell in London. The main ingredient in an Espresso Martini is, of course, espresso, which gives the cocktail a powerful caffeine boost.
The Espresso Martini has become a popular cocktail worldwide as it combines coffee and alcohol flavors and is considered a "pick-me-up". An excellent drink for anyone who likes it a little sweeter but doesn't want to compromise on elegance!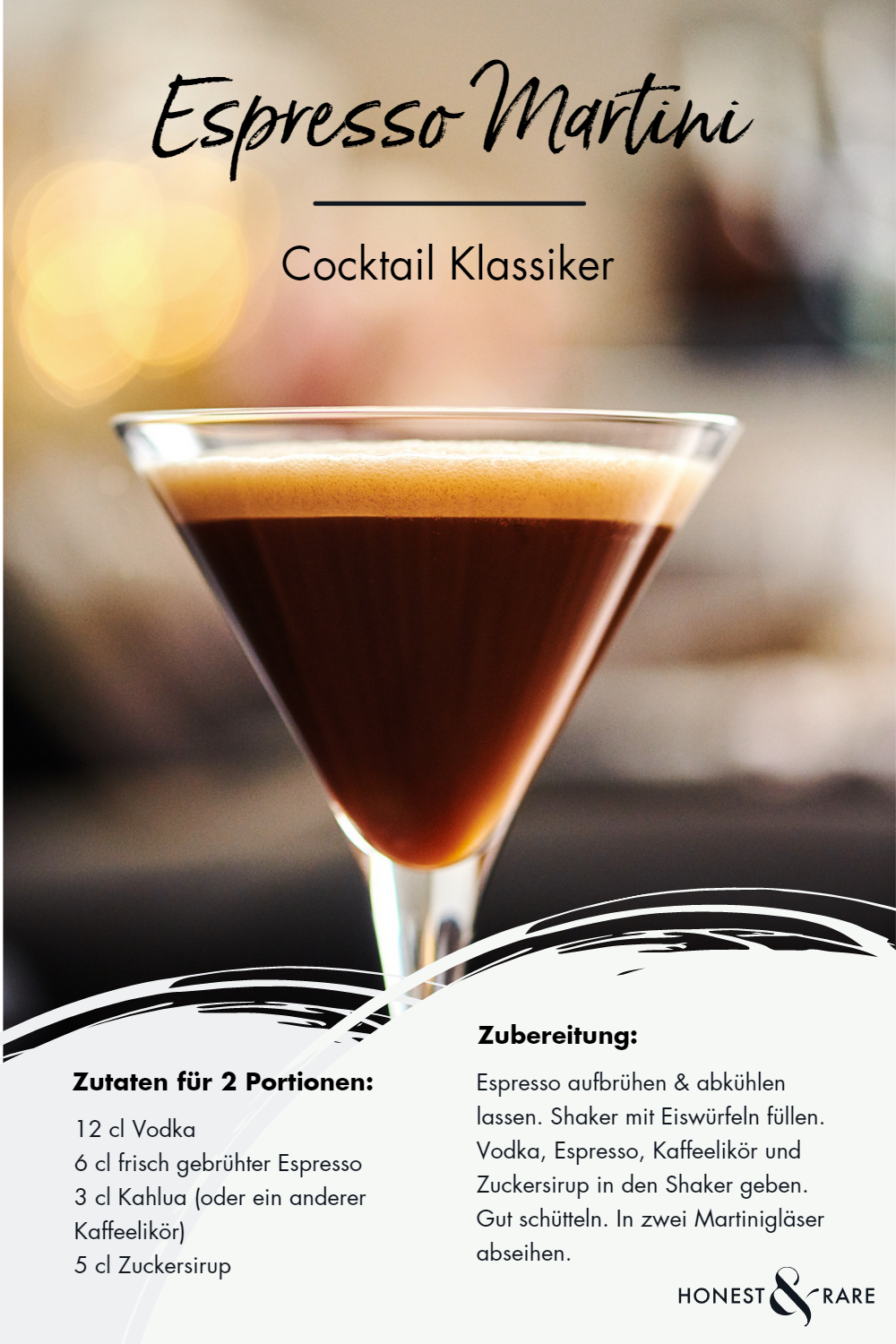 Espresso martini recipe
Ingredients (for 2 people):
12 cl vodka
6 cl freshly brewed espresso
3 cl Kahlua (or another coffee liqueur)
5 cl sugar syrup
ice cubes
Coffee beans (optional)
Preparation:
Brew 6 cl fresh espresso and leave to cool.
Fill the shaker with ice cubes.
Pour the vodka, cooled espresso, coffee liqueur and sugar syrup into the shaker. Shake well for about 10-15 seconds until the shaker becomes frosty.
Strain the mixture into two martini glasses.
Garnish with coffee beans, if desired.
Serve and enjoy your espresso martini!
Garnish variations for the Espresso Martini:
There are various other garnishes you can use for your Espresso Martini. Each one adds a slightly different touch of flavor, color and presentation to your drink:
Cocoa powder or chocolate shavings: for a chocolaty touch.
Whipped cream: a topping of whipped cream gives the drink a creamy finish.
Orange zest: for a little kick of freshness
Cinnamon stick or cinnamon powder: gives the Espresso Martini a spicy note
Maraschino cherry: adds a pop of color and a sweet contrast to the coffee aroma
Mint leaves: chopped or lightly clipped, a few fresh mint leaves give the cocktail a refreshing finish.