Chai latte is a popular tea-based drink that originated in India and is now popular all over the world. It is a blend of black tea, spices and milk that creates a rich and warming flavor.
Spices commonly used in chai lattes include cinnamon, ginger, cardamom, cloves and black pepper, and these flavors are often complemented by the creamy texture of the milk.
Whether you're looking for a cozy drink in the morning or a pick-me-up between meals, a homemade chai latte is the perfect way to indulge in a little comfort.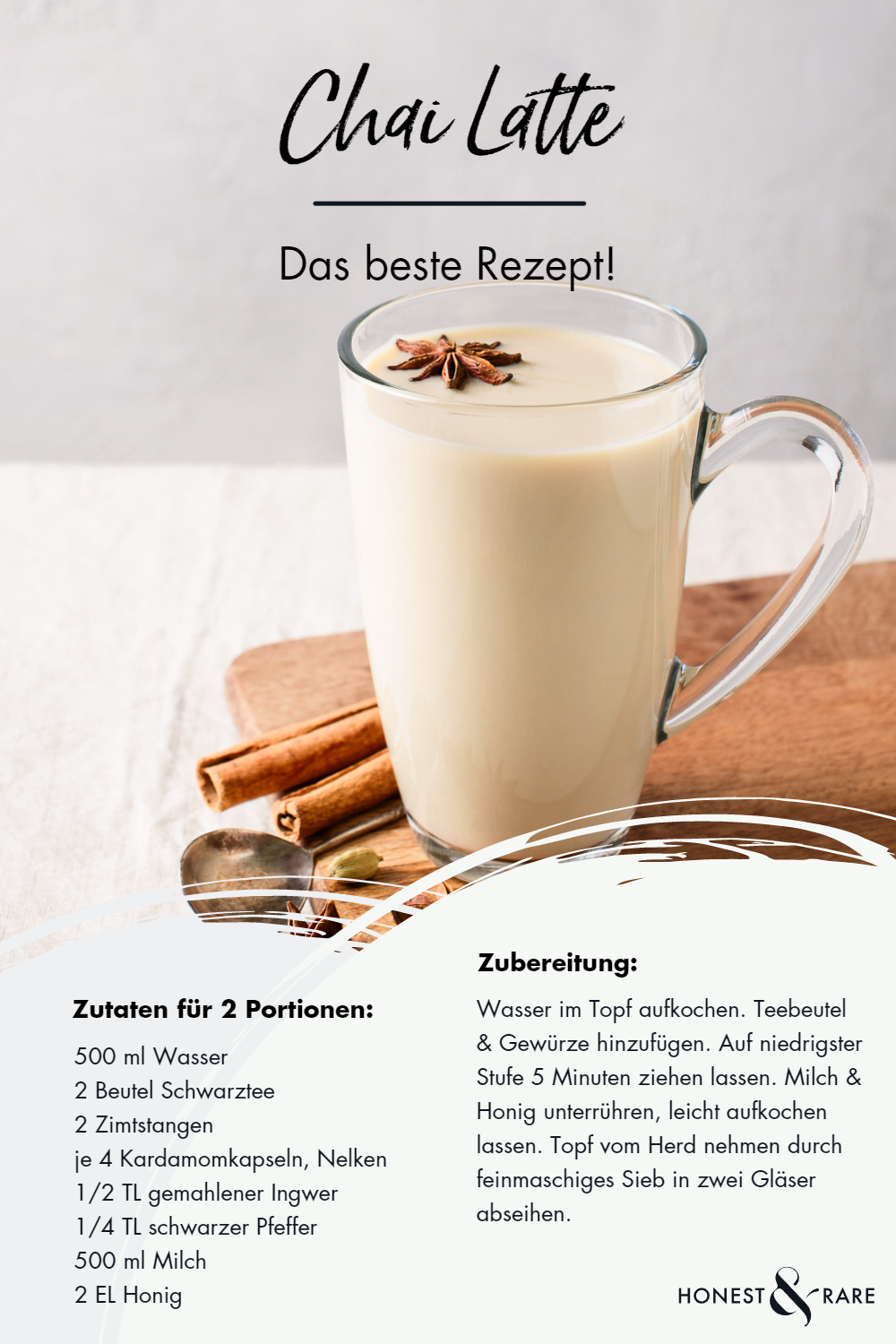 Chai latte: the recipe
Ingredients (for 2 portions):
500 ml water
2 bags of black tea
2 cinnamon sticks
4 cardamom pods
4 cloves
1/2 tsp ground ginger
1/4 tsp black pepper
500 ml milk
2 tbsp honey
Preparation:
Bring the water to the boil in a pan.
Add the black tea bags, cinnamon sticks, cardamom pods, cloves, ground ginger and black pepper.
Reduce the heat to the lowest setting and leave the spices to infuse for 5 minutes.
Add the milk and honey to the pan and stir.
Bring the mixture to a gentle boil.
Remove the pan from the heat and strain the chai latte through a fine-mesh sieve into two glasses. Serve hot and enjoy!
Things to know about chai latte
Chai latte has a long and rich history. The drink originally comes from India, where it is traditionally made from black tea, milk and a mixture of spices. Chai means "tea" in Hindi, and the word latte comes from the Italian caffè latte, which means "coffee with milk".
In India, chai is usually brewed with loose tea leaves and boiled with milk and spices to create an aromatic and tasty drink. Chai latte has now become popular in many countries, and different versions of the drink can be found in cafés and restaurants around the world.
Positive effects of chai latte
In addition to its delicious taste, chai latte is also known for its potential health benefits. The spices commonly used in chai, such as cinnamon and ginger, have anti-inflammatory and antioxidant properties that can help improve heart health, reduce inflammation and support the immune system.
The black tea in chai is also a good source of caffeine, which can provide a natural energy boost. Overall, chai latte is a delicious and soothing drink that you can enjoy for both its flavor and its potential health benefits.