The margarita has been appreciated for decades. The origins of this cult cocktail are not entirely clear, but it is widely believed to have originated in Mexico in the 1930s or 1940s.
One popular theory is that the drink was named after a woman called Margarita Sames, who is said to have created the cocktail for her guests at a party in Acapulco in 1948.
The margarita is traditionally made with tequila, lime juice and triple sec, a sweet and citrusy liqueur. It is usually served in a glass sprinkled with salt and garnished with a slice of lime.
There are many variations of the margarita, including frozen margaritas, flavored fruit margaritas and even beer margaritas.
Margarita recipe
Ingredients (for 2 servings):
8 cl tequila
4 cl freshly squeezed lime juice
4 cl triple sec
ice cubes
lime wedges
Preparation:
Place all the ingredients in a blender.
Blend on a high speed until all the ingredients are well mixed.
Pour the mixture into 2 margarita glasses and add a few ice cubes to each.
Garnish with lime slices and serve.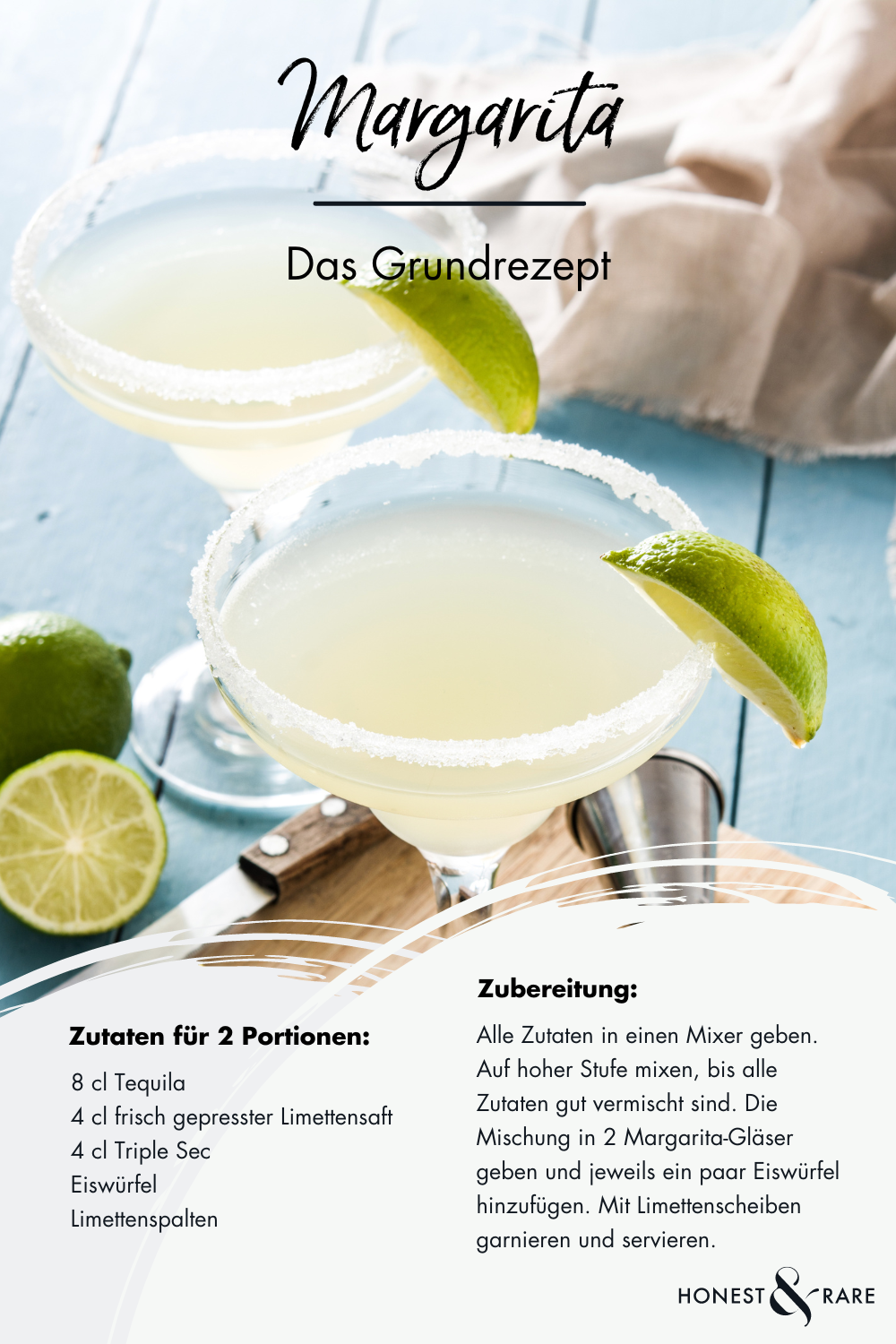 How does the margarita taste?
This margarita tastes sweet and sour with a slightly bitter taste from the tequila and Cointreau.
Things to know about the margarita
The margarita is one of the most popular cocktails in the world. In the USA, there is even a National Margarita Day, which is celebrated every year on February 22.
The cocktail is not only popular in bars, but is also featured in numerous films and TV shows, including The Big Lebowsky, Desperado, Breaking Bad and How I Met Your Mother. The singer Jimmy Buffet even dedicated the song "Margaritaville" to the margarita.
The margarita goes well with Mexican and Tex-Mex cuisine and is perfect for hot summer days.
Whether you prefer it classic or with a flavorful twist, the margarita is a timeless cocktail that always tastes good.