20.04.2023
The Martini is a timeless drink that has been consumed for over a century. The exact history of the Martini is not entirely clear, but it is thought to have originated in the late 1800s or early 1900s. The name "Martini" could come from the Martini & Rossi Vermouth that was originally used for the recipe.
Martini cocktail recipe
Ingredients (for 2 servings):
12 cl gin
2 cl dry vermouth
ice
2 lemon zests or olives
Preparation:
Fill mixing glass with ice. Add gin and vermouth.
Stir the mixture for 30 seconds to chill and dilute the drink.
Strain into two chilled martini glasses.
Garnish each with a slice of lemon or an olive.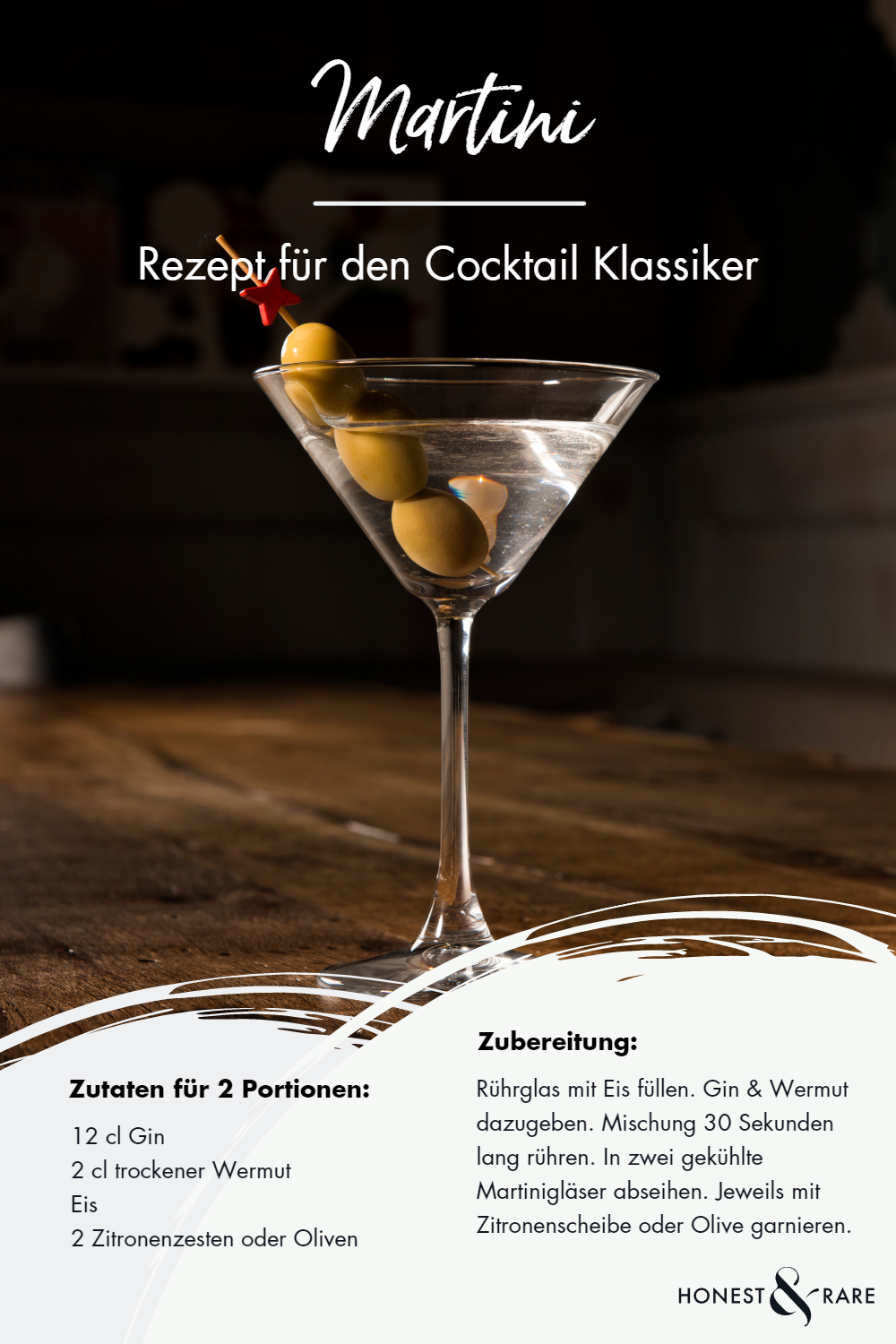 A martini is best served chilled and without ice in a martini glass with a stem. Some people prefer their martini "dirty", i.e. a little olive brine is added to the cocktail to give it a slightly salty taste.
Things to know about the Martini
The Martini is widespread in popular culture and has been drunk by many famous personalities throughout history, e.g. Winston Churchill, Franklin D. Roosevelt and Marilyn. Roosevelt and Marilyn Monroe. It is often seen as a symbol of sophistication and elegance.
Martini - shaken or stirred?
The most famous Martini fan, however, is probably the fictional character and charming British agent James Bond. As we all know, he prefers his martini "shaken, not stirred". Ultimately, however, this is a question of personal taste, as a martini can either be shaken or stirred. If the cocktail is shaken with ice, the drink will be slightly colder and more diluted, whereas stirring results in a slightly more concentrated and smoother drink.
Regardless of how you enjoy it, the Martini remains a timeless classic that is guaranteed to impress.