20.04.2023
The Paloma cocktail is a refreshing and popular tequila-based cocktail that originated in Mexico. It is the perfect cocktail for hot days and goes well with Mexican dishes such as tacos, guacamole and ceviche. It's also perfect for brunch or any other time you crave a light and refreshing cocktail.
Paloma recipe
Ingredients (for 2 servings):
12 cl tequila
6 cl freshly squeezed lime juice
6 cl grapefruit juice
1.5 cl agave syrup
pinch of salt
ice cubes
Lime or grapefruit slices
Preparation:
Place all the ingredients in a blender. Blend on a high speed until all ingredients are well mixed.
Pour the mixture into 2 highball glasses and add ice cubes.
Garnish each with lime slices.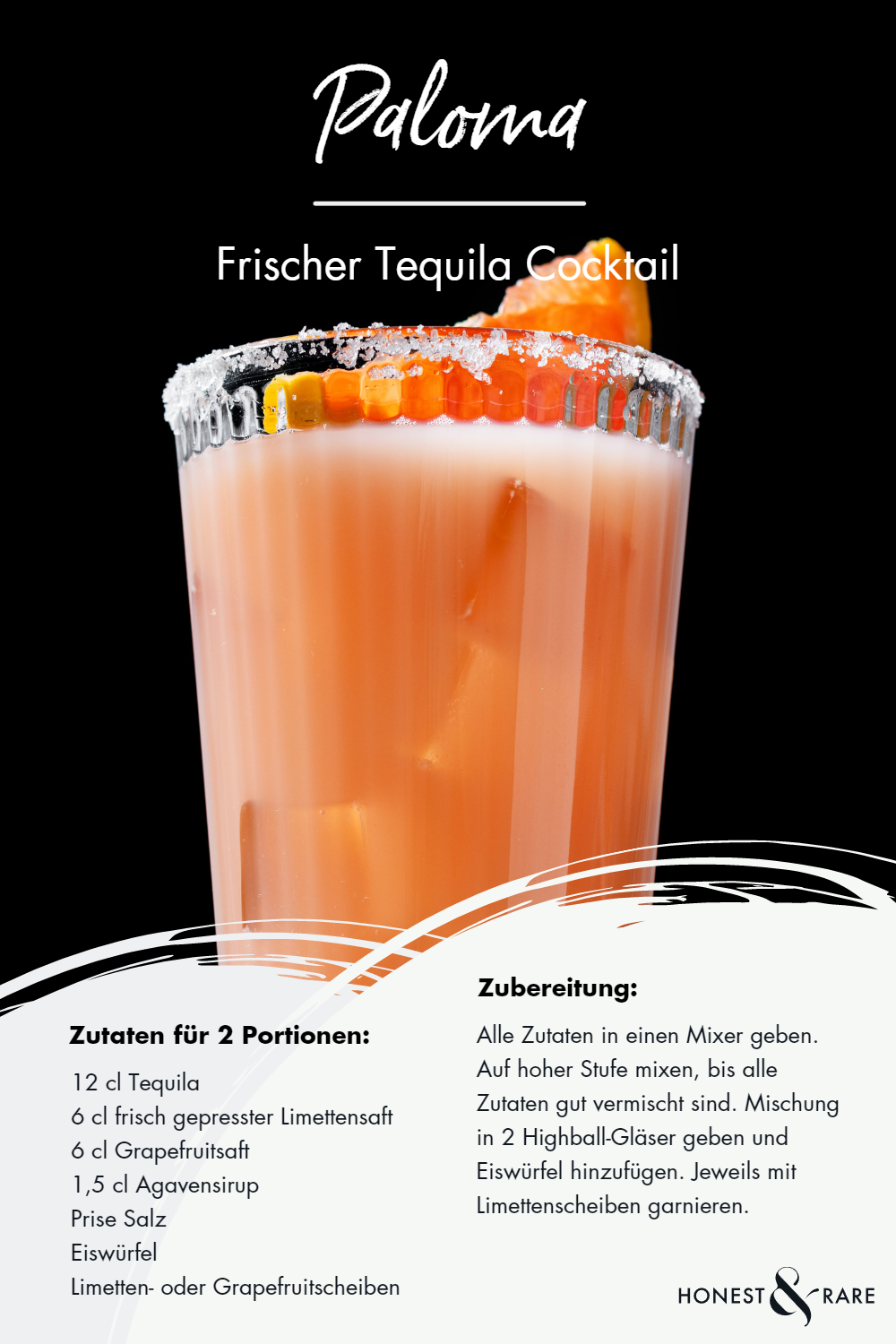 Interesting facts about the Paloma
It is said that the Paloma was invented in the 1950s by the legendary Mexican bartender Don Javier Delgado Corona. He was known for his masterful mixing skills and his contributions to the development of modern cocktails in Mexico.
Corona was also head bartender at the famous La Capilla bar in Tequila, Jalisco, and is considered the inventor of several classic cocktails.
The name "Paloma" is Spanish and means "dove". It is not known exactly why the cocktail is called Palima. However, it is assumed that the cocktail was named after the popular Mexican folk song "La Paloma". The song was first composed in the 19th century and has been a popular classic of Mexican culture ever since.
The Paloma is one of the most popular cocktails in Mexico and has also gained popularity in the United States in recent years. In fact, it is so popular that it is often referred to as the "national drink of Mexico".