02.02.2023
The Pisco Sour is a classic South American cocktail that combines the tangy taste of fresh lime juice with the smooth, slightly sweet aroma of pisco. This refreshing drink is an absolute hit - and very easy to make at home. You can find a simple recipe here.
Pisco sour recipe
Ingredients (for 2 people):
12 cl pisco
6 cl fresh lime juice
4 cl sugar syrup
2 egg whites
2 dashes of Angostura bitters
Preparation:
Fill cocktail shaker with ice.
Add the pisco, fresh lime juice, sugar syrup and egg white and shake vigorously for approx. 15 seconds.
Strain the mixture into two chilled glasses.
Float the bitters on top of the drinks by carefully pouring them over the back of a spoon.
Note: Depending on how sweet or sour you like your drinks, you can also vary the amount of sugar syrup.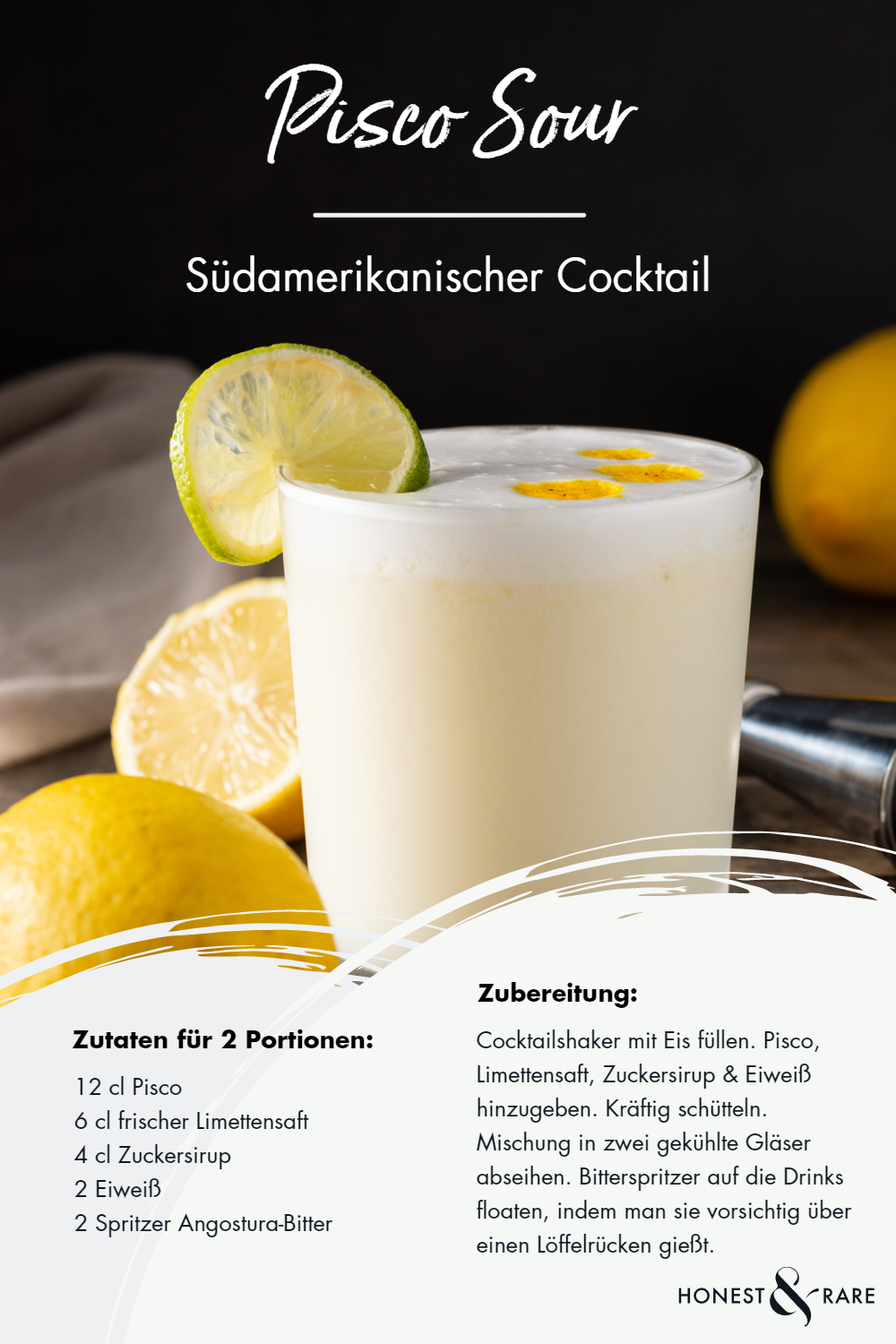 Useful facts about pisco sour
What is pisco?
Pisco is a type of brandy produced in the wine-growing regions of Peru and Chile. It is made by distilling fermented grape juice into a clear spirit, which is then matured in oak barrels or bottled immediately. Pisco is often used for cocktails, especially in South America. The South American spirit has a unique flavor profile with fruity and floral aromas and is appreciated for its versatility.
What do you do with the egg yolk?
As only the egg white is needed for the recipe, the egg yolk is left over after enjoying this delicious drink. So what to do with them? There are many simple ways to use the egg yolks. You can use them in dishes such as curd, ice cream, pasta sauce (e.g. Alfredo), hollandaise sauce, mayonnaise or scrambled eggs. These are just a few suggestions - there are many other ways to use leftover egg yolks.
Raw egg yolks will keep in the fridge for up to four days. You should store it in a sealable tin or jar. If you're not sure if the yolk is still good, you can simply put it in a bowl of water. If it sinks and lies flat on the bottom, you can still use it. If the yolk floats, it is better to dispose of it.