June is the most colorful month of the year. Why? Well, it's Pride Month! To mark the Stonewall riots, in which queer people fought back against police violence, harassment and discrimination in June 1969, the queer scene celebrates its heroes and successes every year in the first month of summer. The most important symbol at the parades and celebrations: The rainbow flag!
We take Pride Month as an opportunity to serve you colorful cocktail recipes: a recipe for every color of the rainbow. For more variety in your glass - and more colorful cocktail parties!
Background to the Pride Flag:
Designed as a positive identifying feature for the LGTBQ+ community, the Pride Flag has now become a global symbol of tolerance and diversity. Each color represents a positive aspect of being: red stands for life, orange for healing, yellow for the sun, green for nature, blue for harmony and purple for spirituality. Incidentally, the flag was commissioned by Harvey Milk in 1978, as the politician from San Francisco was the first out queer person to hold public office.
Recipe for red cocktail: Red Devil - with whisky and tomato juice
Spice up your life! Because the red of the Pride flag stands for life itself. We have selected a fiery red cocktail that will bring a little variety to your tongue. The Red Devil is made with whisky. We recommend the matching single malt from Marder Edelbrände, which brings an exciting interplay of flavors on its own and really enhances your Red Devil!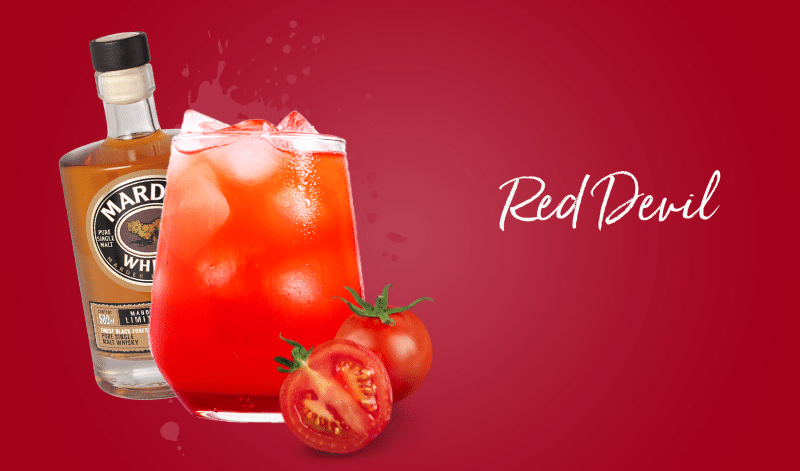 Our red cocktail recipe: the fiery Red Devil with whisky

Ingredients:
Preparation:
Pour all the ingredients into a shaker with ice cubes and shake well.
Pour fresh ice cubes into a tumbler glass and strain the drink.
Recipe for orange cocktail: Pumpkin Martini
Our rainbow cocktail for the color orange is more for cold days. But it's balm for the soul - and what could be better suited to the theme of healing, for which the color orange stands on the queer flag? We present: The Pumpkin Martini! To prepare it, we recommend the vodka from Marc Sauer's Smutje Spirituosen Manufaktur, filtered six times and sailed over directly from the vodka's home country.

Orange for cold days: the Pumpkin Martini

Pumpkin Martini ingredients:
Preparation:
Pour all the ingredients into a shaker with ice cubes and shake well.
Strain into a martini glass.
Garnish with cinnamon.
Yellow cocktail: recipe for pisco sour
Our cocktail for the rainbow season is as yellow as the sun: the Pisco Sour! Pisco is a distillate made from grape must, which is mainly drunk in Peru and Chile. We have Mountainbyrd to thank for the fact that this great spirit is also available in Germany. Gran Pisco de Chile is made from Moscatel grapes. The grape cuveé is distilled in wood-fired copper stills and then aged for two years in American oak. Yum!
And how do you drink pisco now? As a sour cocktail, for example!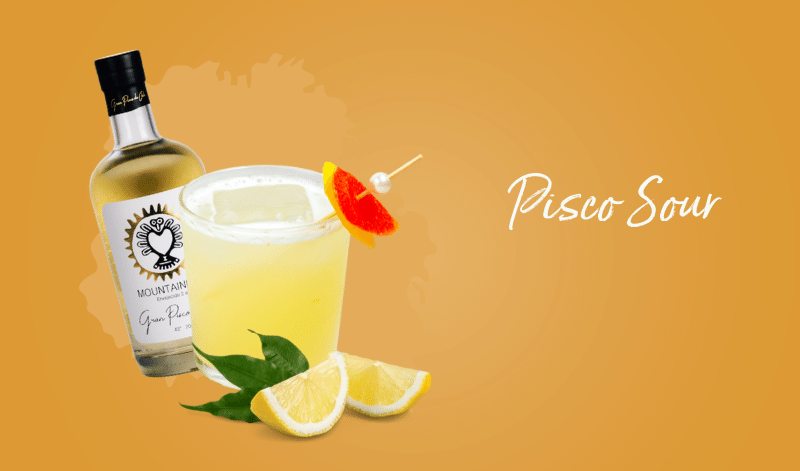 Exotic: the pisco sour makes you want summer!

Ingredients:
Preparation:
Place all ingredients (except bitters) in a shaker and shake for approx. 10 seconds.
Then add ice cubes and shake for another 10 seconds.
Pour through a bar strainer into a tumbler glass and garnish with a few drops of bitters. Garnish with citrus fruits if desired.
Recipe for green cocktail: Green Beast - with absinthe
This is where the green fairy becomes the green beast. Green Beast is made from absinthe, cucumber and lime juice - and conjures up the absinthe spirits with its spicy-fresh note. Which drink goes better with the green of the rainbow flag, which symbolizes nature? Our recommendation: Rose Valley absinthe from Eric Brabant's fine brandy manufactory, macerated with herbs from his own herb garden in a gentle cold extraction. With a hint of peppermint.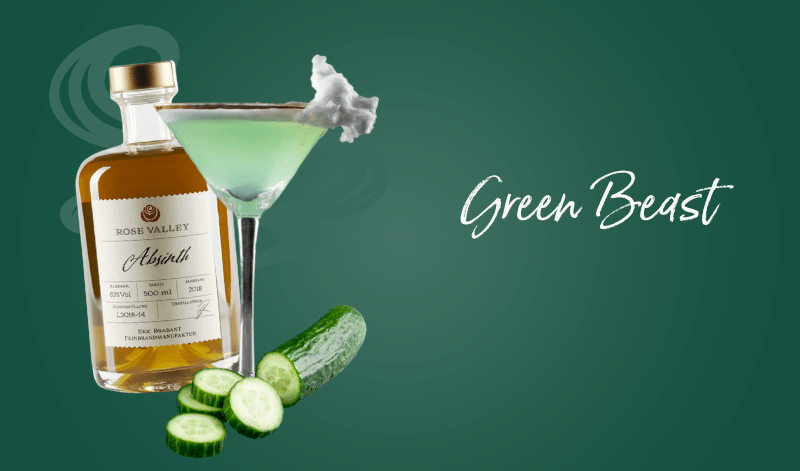 It doesn't get any greener than this: The Green Beast cocktail with absinthe

Ingredients:
Preparation
Place 3 slices of cucumber in the shaker and muddle.
Add the liquid ingredients and ice cubes and shake until the shaker becomes slightly icy.
Pour the fresh ice cubes into a highball glass and pour the drink through a fine strainer.
Garnish with the last slice of cucumber (if you like, add a little cotton candy to express the cloudy character of the absinthe). Enjoy!
Blue cocktail recipe: Blue Hawaii - with rum & coconut
In the queer theory of flags, blue stands for harmony. And what could be more harmonious than tropical flair? The Blue Hawaii is a mix of rum, Blue Curaçao and coconut, and its fruity, sweet taste is beguiling. For the perfect blend of this vacation cocktail, we recommend the rum from Ron Elba. This rum produced in Hamburg is not sweetened - hand-picked molasses from Mauritius, specially developed yeasts and a little sea air. These are the flavors of Ron Elba, nothing else. We can also highly recommend it on its own.

Makes you want to go to sea: The Blue Hawaii cocktail with rum and coconut

Ingredients Blue Hawaii:
Preparation:
Pour all the ingredients into the shaker and shake well with crushed ice.
Pour fresh ice cubes into a long drink or fancy glass and strain the drink through a sieve. Garnish with pineapple and maraschino cherry.
Recipe for purple cocktail: LaVodka - Vodka with lavender syrup
Purple - the color for spirit and spirituality. In keeping with this, we present our LaVodka - a long drink made with vodka and lavender syrup. It's best to use Sash & Fritz premium vodka from Berlin for LaVodka - with fruity grain aromas, made from fresh spring water from the Ore Mountains.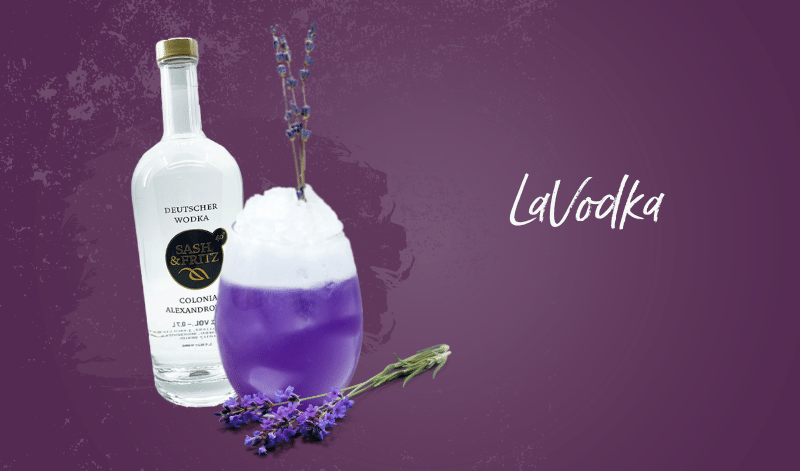 This color can only be lavender! The purple LaVodka cocktail with lavender syrup

Ingredients:
Preparation:
Place all ingredients in a shaker and shake well.
Pour into a strainer - either on the rocks in a tumbler or straight into a martini glass. Garnish with dried lavender if desired.