27.12.2021
A Christmassy recipe that is quick to make and a tasty treat for your guests. The Brandy Alexander is a heavenly creamy short drink that doesn't necessarily require brandy. There are a number of myths surrounding its origins: the wedding of an English princess is said to be just as responsible for the creation of the cocktail as the Russian Tsar Alexander II. However, it is more likely that the Brandy Alexander is named after the bartender Troy Alexander, who created the drink in a restaurant in New York City in the 1920s.
Brandy Alexander is mainly made from brandy, cream and crème de cacao and impresses with its creamy, sweet taste, which is the perfect end to a heavy meal. However, the Brandy Alexander is actually just a variation of the Alexander cocktail, which was originally based on gin. The preparation options therefore vary today. Gin, brandy or even cognac - it doesn't matter what you use as the basis for the short drink, the main thing is that it tastes good!
By the way, a short drink is a cocktail that holds five to a maximum of ten centiliters (cl). So more drink than a shot, but less than a full cocktail. Another well-known short drink is the martini. Find out more about this classic cocktail here: What is a martini and how it is made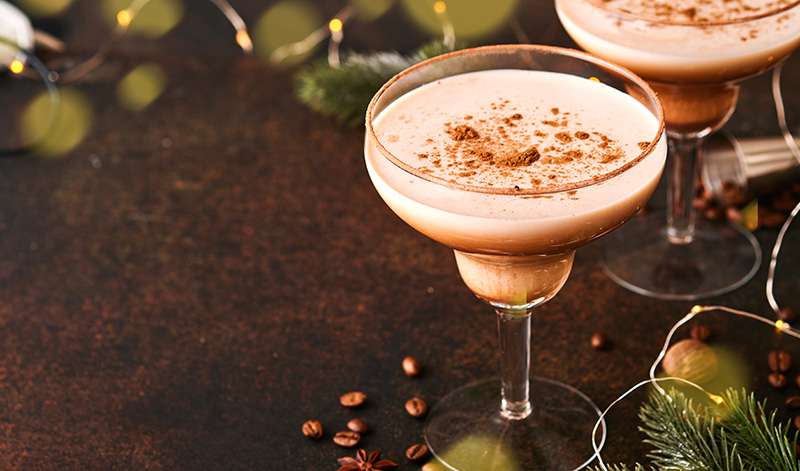 The Brandy Alexander is a Christmas short drink - and tastes great even without brandy!

Recipe: Brandy Alexander
Ingredients:
2 cl gin, brandy or cognac
2 cl Creme de Cacao
2 cl cream
cinnamon
ice cubes
Preparation:
Place the ice cubes in a shaker.
Add the liquid ingredients and shake well.
Strain into a cocktail glass and garnish with cinnamon.
Don't have any creme de cacao at home? Then just use Kahlua or chocolate liqueur! You can also find really good chocolate liqueur here!
Liqueur, schnapps & co. with chocolate: