Great Halloween cocktail recipes with the creepy factor! Here you'll find 10 delicious recipes and decorating tips to impress even black widows and mummies with your drinks!
When the undead and vampires get together to sip dangerous-looking cocktails with witches, voodoo priestesses, serial killers and tricycle-riding clowns, it can only mean one thing: It's Halloween! And that means it's time for a monster-themed party. To make sure your spooky celebration is an absolute hit, we've put together 10 spooky Halloween cocktail recipes for you.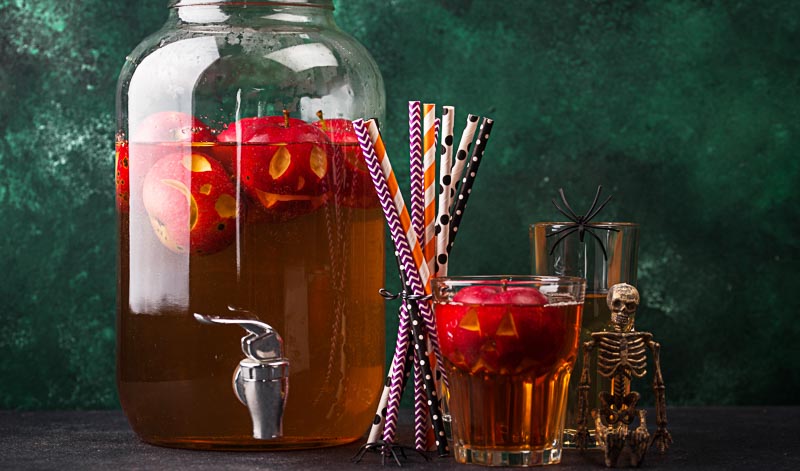 Faces carved into apples are a great decoration for punch, punch bowl or cider.

Only the best goes into your cocktails? Then take a look here: To the range of spirits
On this page: Halloween cocktails & alcohol-free drinks:

Decorating tips for spooky Halloween drinks
Even though many of our drinks already look great, you can create the right spooky vibe with a few spooky tricks and literal eye-catchers.
Eyeballs in a glass - variation 1: slice olives and freeze them in (round) ice cube molds. Particularly suitable for spicy drinks such as Bloody Mary.
Eyeballs in a glass - variation 2: peel the lychees, cut a hole in them and fill with blueberries! The slippery surface makes your lychee eyes look deceptively real.
Ice-cold pleasure: round ice cubes look like a full moon in a glass, especially in dark or black cocktails such as the Black Widow. Careful, not for werewolves!
Also good: the hand of death! Fill disposable gloves with water and freeze them. Be careful, if they are treated with tallow, turn them inside out first!
Cold fog: dry ice! The wafting mass always looks good at Halloween parties. However, caution is advised here, as dry ice is not at all harmless. So it's best to only use it if you already have experience with it.
(Un)friendly faces: cut grimaces into fruit and decorate drinks and cocktails with them. Carved apples look great in cider or apple punch, cucumber monsters give your Basil Smash or Mule that Ghostbusters flair!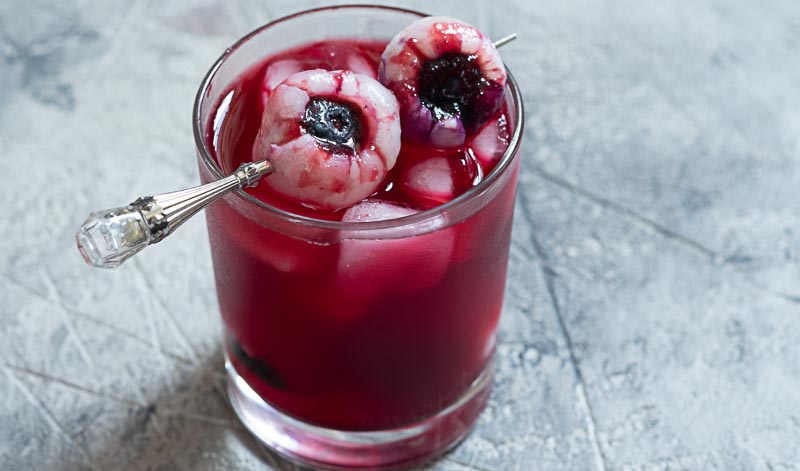 Deceptively real: lychee + blueberry = spooky decorative eyes for your Halloween cocktail!

Delicious Halloween cocktails
Let's not keep you in suspense any longer! Here are our Halloween cocktail recipes with and without alcohol for you:
Black Widow - black cocktail for the mysterious
This jet-black cocktail has it all! With its sweetish taste, the Black Widow will fog you over before raising the hairs on the back of your neck with its slight tingle. Pro tip: Served with round ice cubes, it looks like the full moon is rising in your glass!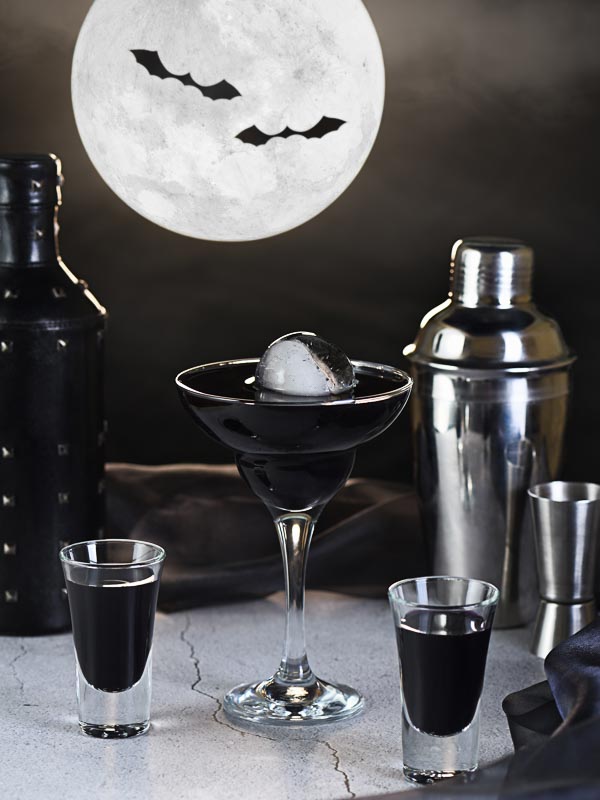 Ingredients (for 4 servings):

24 cl vodka
32 cl crème de cassis
12 cl coffee liqueur
12 cl ginger beer
2 tsp activated charcoal
blackberries
Preparation:
Fill the shaker with ice cubes.
Add all ingredients except ginger beer and blackberries, shake well.
Strain into a martini glass and top up with ice cubes and ginger beer.
Garnish with blackberries.
Zombie - the alcohol monster that even wakes the undead
Dead, dead, zombie! No Halloween party is complete without this powerful rum cocktail! We have an original recipe from 1934 for you here. The best way to serve the zombie is in a tiki mug, just as its inventor first presented it in the 1930s. In the right ambience, this even gives the cocktail a slight voodoo touch that will give your guests goosebumps.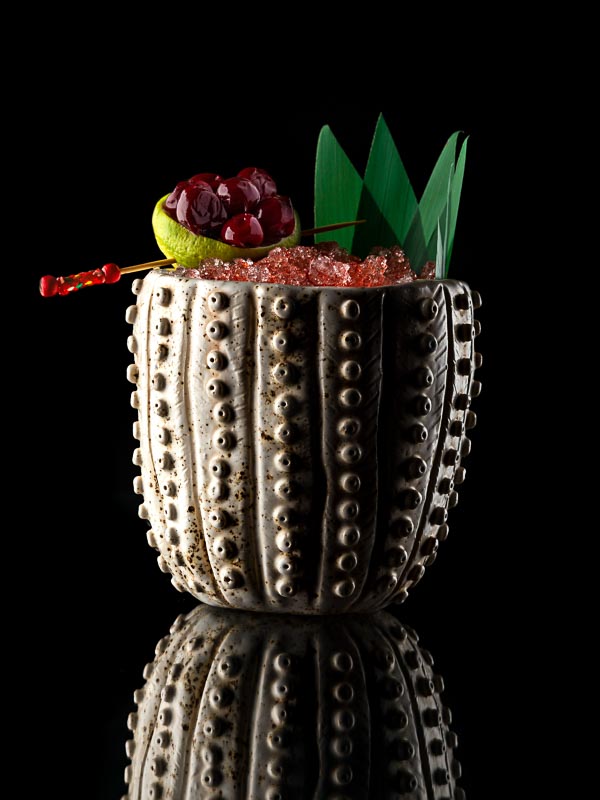 Ingredients (for 4 portions):
18 cl Golden Puerto Rico Rum
18 cl Aged Jamaica Rum
12 cl Demerara rum
10 cl lime juice
4 cl grapefruit juice
2 cl cinnamon syrup
6 cl Falernum
Pernod
Angostura Bitters
grenadine
Preparation:
Pour the rums, juices, cinnamon syrup and Falernum into a blender.
Add 24 drops of Pernod, 4 BL (bar spoons) of grenadine, 4 dashes of Angostura bitters and three to four good handfuls of crushed ice.
Blend for 5 seconds on the highest setting.
Pour into tiki or highball glasses and fill with ice cubes. Garnish with a sprig of mint if desired.
Find the right rum here!
Black Magic - voodoo with black vodka
The way the deep black vodka coats the drink is uncanny. With the Black Magic cocktail, you will definitely make an impression on the guests at your Halloween party!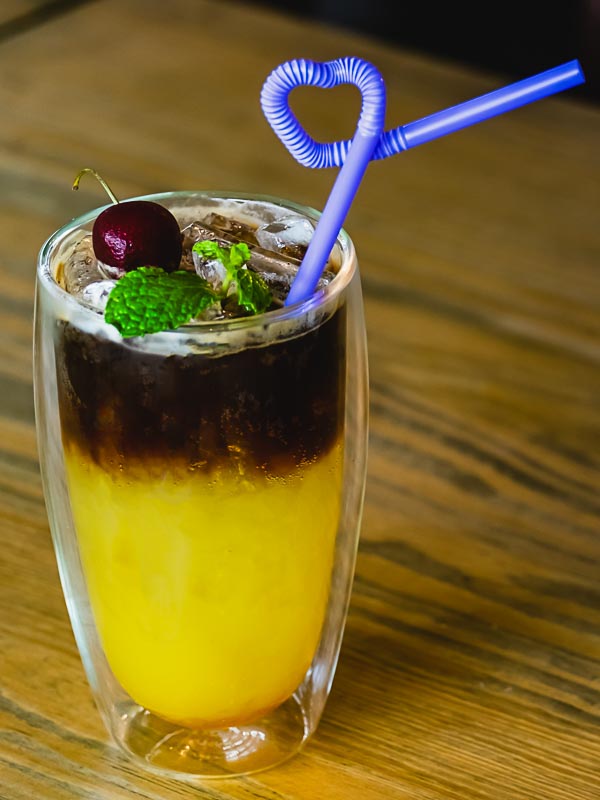 Ingredients (for 4 portions):
500 ml orange juice
16 cl black vodka
6 cl triple sec
Licorice or orange slices
Preparation:
Pour the orange juice and triple sec into a shaker with ice cubes and shake vigorously.
Fill tall glasses with ice cubes and strain shaker contents into glasses.
Place a spoon against the rim of the glass with the curve facing outwards. Slowly pour 4 cl of vodka over the spoon to create two layers in the glass.
Garnish with licorice and/or orange juice.
Order high-quality cocktail ingredients:
Bloody Mary - classic Halloween cocktail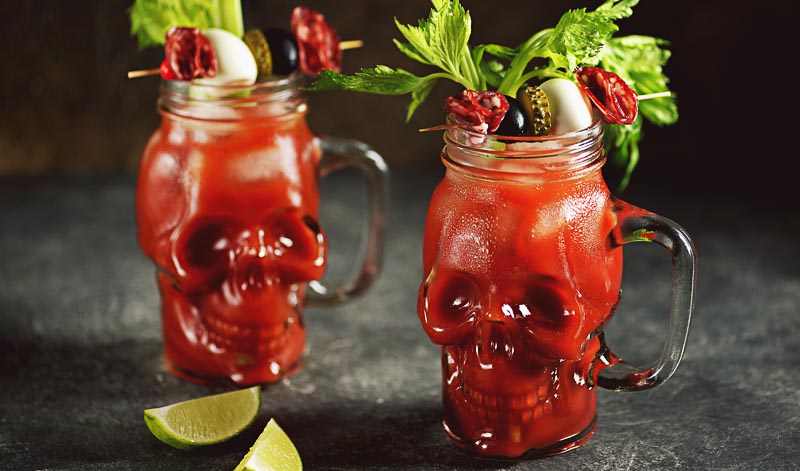 Bloody Mary is a fairly low-calorie cocktail. Click here for the recipe!

The Bloody Mary is one of the classic Halloween drinks - not only because of its name, but also because of its intense, blood-red color. The tomato cocktail is perfect for anyone who likes it spicy rather than sweet - and is also good for your figure, as the Bloody Mary has hardly any calories compared to other cocktails.
Click here for the Bloody Mary recipe.
Molotov - explosive cocktail with eggnog
Wherever you find chopped-off limbs and (fake) blood-smeared faces, a Molotov cocktail is a must! However, this drink will only blow up your taste buds. For a really visual effect, you can either pour the Molotov cocktail with eggnog into a canister or into bottles with a napkin stuck in the top.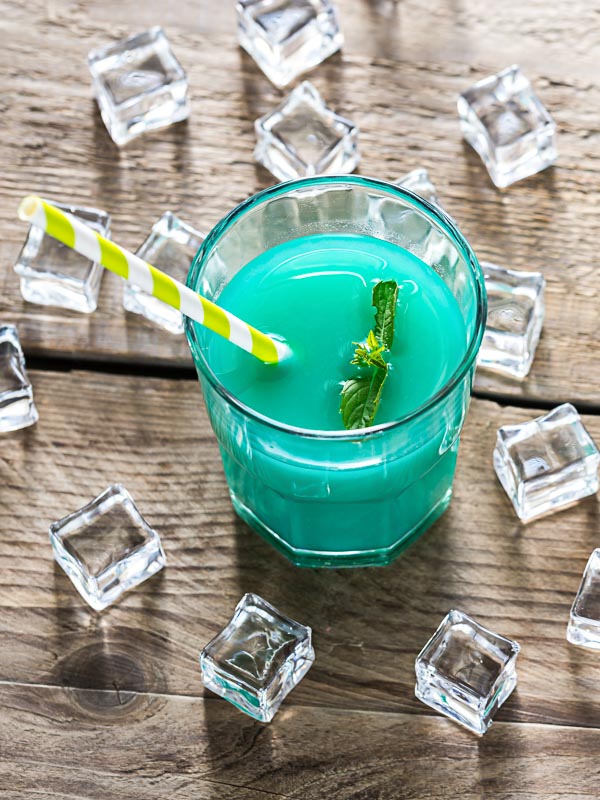 Ingredients (for one punch bowl):
Preparation:
Squeeze the lemons.
Place all the ingredients in a sealable container and shake vigorously.
Serve with ice cubes.
Red Lady - Bloody pleasure
The Red Lady should be enjoyed with caution, as it is definitely addictive! Bright red in color and a wonderfully sweet taste - every vampire will fall for it!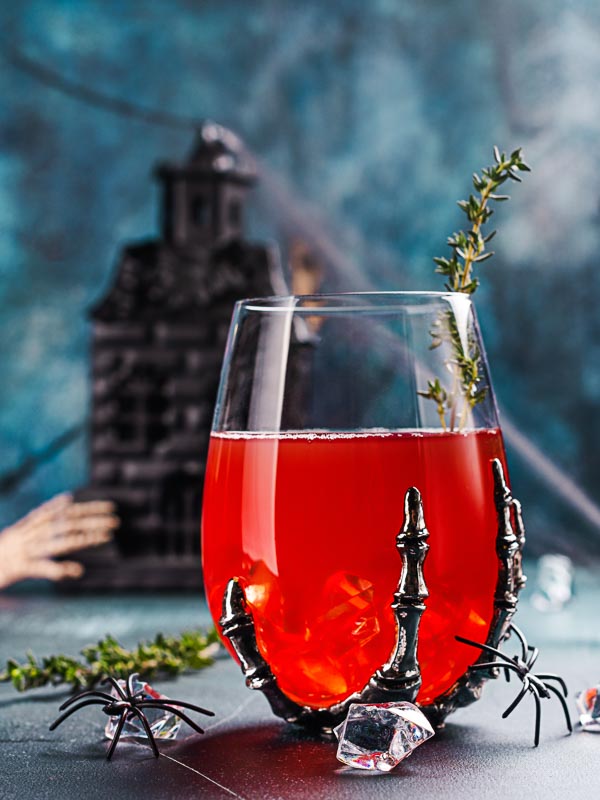 Ingredients (for 4 portions):
Preparation:
Pour the vodka and blackcurrant liqueur into a shaker with ice cubes and shake vigorously.
Strain into a martini glass and top up with cranberry juice.
Non-alcoholic Halloween drinks
Of course, non-alcoholic drinks are also a must at a Halloween party. We have a few great non-alcoholic Halloween recipes for you so that your sober guests don't get bored in their glasses, but instead get into a real spooky mood!
Non-alcoholic pumpkin punch
Admittedly, this pumpkin punch isn't really scary - but it's damn tasty!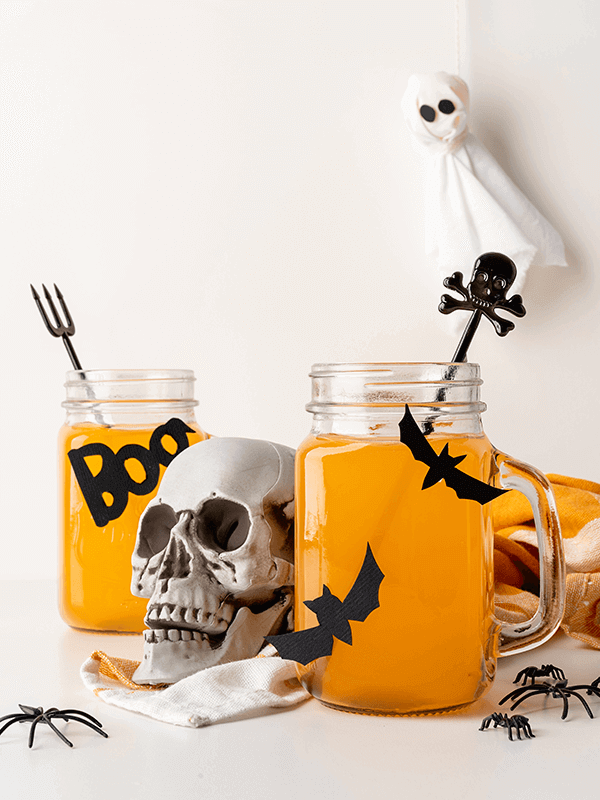 Ingredients (for 4 portions):
500 ml orange juice
500 g pumpkin (for 200 g pumpkin puree, preferably Hokkaido or butternut)
500 ml rooibos tea
2 tbsp maple syrup
4 tbsp pomegranate seeds
1 vanilla pod
4 cinnamon sticks
nutmeg, clove, ginger, cinnamon, ground galangal
Preparation:
Cut the pumpkin into slices and cook in the oven until soft. Puree finely with a hand blender and leave to cool.
Meanwhile, make the tea and leave to cool.
Mix the orange juice with the pumpkin puree, tea and maple syrup.
Scrape out the seeds from the vanilla pod and mix the spices. Ratio: 4 cinnamon to 1 each nutmeg, clove, ginger and galangal. Add ½ teaspoon with vanilla pulp to the punch mixture and chill for 1 hour.
Serve with ice cubes, pomegranate seeds and cinnamon stick.
It is worth making a little more of both the spice mix and the pumpkin puree. This way you can make a delicious pumpkin spiced latte the day after the party!
Halloween beetween with beetroot
In this non-alcoholic cocktail, beet and blackberries provide a blood-red color and refreshingly delicious taste!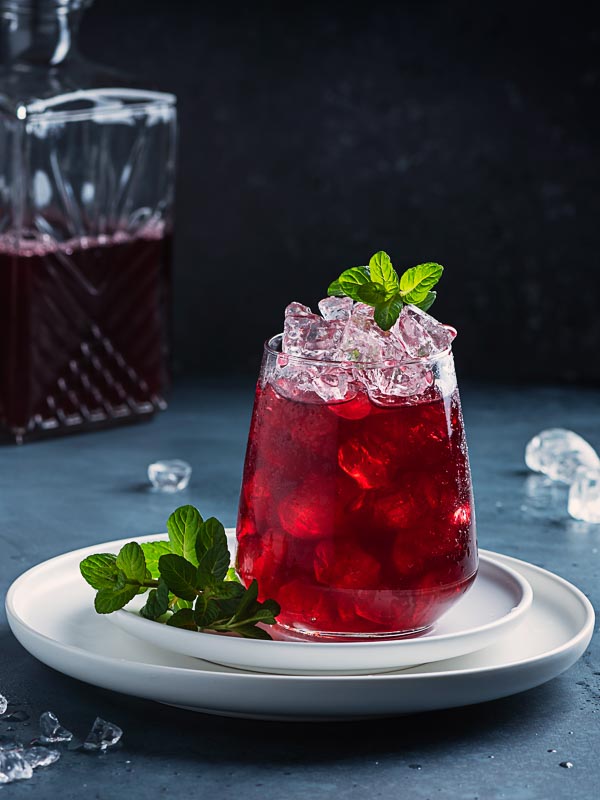 Ingredients (for 4 portions):
20 cl beet juice
8 cl blackberry syrup
4 cl lemon juice
800 ml dry tonic water
Blackberries
Preparation:
Shake the beet juice, blackberry syrup, lemon juice and ice cubes vigorously in a shaker.
Pour fresh ice cubes into highball glasses and strain the contents of the shaker.
Top up with tonic water and garnish with blackberries.
Pro tip: Finish with a dash of blackberry syrup in the glass to create a really bloody effect.
Mikoko Cooler - non-alcoholic cocktail with coconut
The Mikoko Cooler impresses with its poisonous green color and tastes creamy & refreshing at the same time! Thanks to the coconut milk, this alcohol-free Halloween cocktail is also suitable for the vegan undead.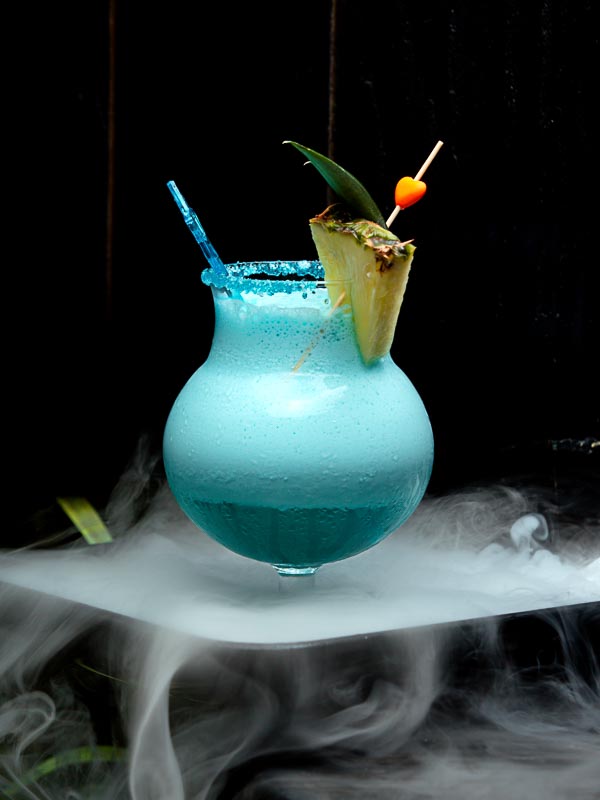 Ingredients (for 4 portions):
500 ml coconut milk
120 g cream of coconut
120 ml woodruff syrup
60 ml lime juice
Preparation:
Pour all ingredients into a shaker with ice cubes and shake vigorously.
Fill the glass with ice cubes and strain the contents of the shaker through a sieve. Serve.
Virgin Lila Hexe - with vodka without alcohol
The witch's potion comes without any alcohol, but with an alcohol-free vodka alternative. And tastes just as good as its alcoholic sister.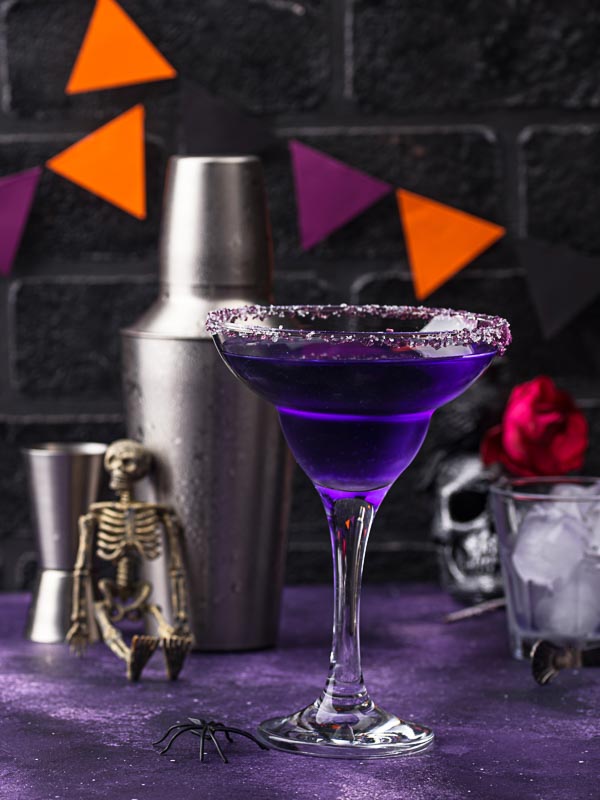 Ingredients (for 4 portions):
5 cl alcohol-free vodka
10 cl non-alcoholic Blue Curacao syrup (see below)
150 ml cranberry juice
5 cl grenadine
2 cl water
2 cl lime juice
2.5 cl lemon juice
1 tbsp sugar
Ingredients for non-alcoholic Blue Curacao:
250 ml water
250 g sugar
10 g orange sugar
5 g lemon sugar
blue food coloring
Preparation:
Prepare alcohol-free Blue Curacao: Bring the water and sugar to the boil while stirring and simmer gently. Add food coloring until the desired shade of blue is reached. (If you pour the hot liquid into boiled jars/bottles, you can even keep the Blue Curacao for a while). Leave to cool completely.
Bring the sugar and water to the boil while stirring. Add the lemon juice and lime juice. Leave to cool completely.
Mix the non-alcoholic vodka, curacao and lemon water with the cranberry juice and grenadine.
Serve with ice cubes.