20.04.2023
The Rob Roy cocktail has its origins in the United States. The cocktail is named after the famous Scottish folk hero Rob Roy MacGregor. It is essentially a Manhattan cocktail made with Scotch whiskey instead of bourbon or rye whiskey.
Rob Roy recipe
Ingredients (for 2 servings):
4.5 cl Scotch whisky
3 cl Vermouth Rosso
1.5 cl freshly squeezed lime juice
ice cubes
2 slices of lime
Preparation:
Pour all ingredients into a shaker. Shake vigorously until all the ingredients are well mixed.
Pour the mixture into 2 cocktail glasses and add 1 ice cube to each.
Garnish each with a slice of lime and serve.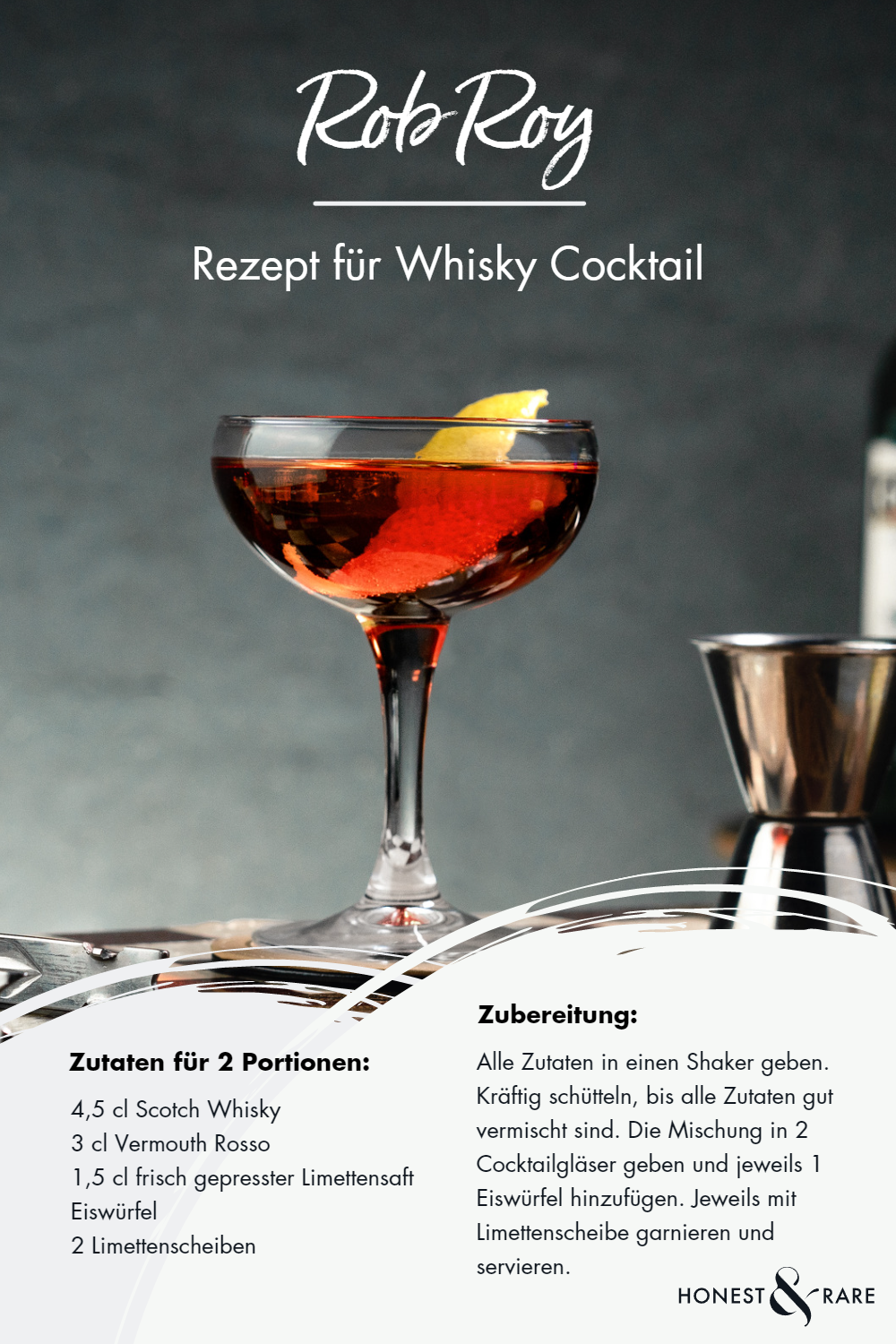 How does the Rob Roy taste?
The Rob Roy cocktail is best enjoyed as a pre-dinner drink or as a nightcap and goes well with rich, hearty dishes such as steak or roast meat. Its smoky, complex flavors also make it a great drink on its own, especially in cooler weather.
Interesting facts about the Rob Roy cocktail
The exact origins of the Rob Roy cocktail are unclear, but it is thought to have originated in the early 20th century, around the same time as the Manhattan.
It is said that the cocktail was named after Rob Roy MacGregor, a Scottish outlaw and folk hero who lived in the late 17th and early 18th centuries. Rob Roy was known for his fearless character and cunning tactics. The cocktail has been created as a tribute to his Scottish heritage.
The Rob Roy is one of the few cocktails that uses Scotch whiskey as a base and is therefore often seen as a more sophisticated alternative to the Manhattan.