20.04.2023
The Sidecar Cocktail has a long history dating back to the early 1900s. Its origins are not entirely clear, but many believe it originated in France or England. Some say it was named after the sidecar of a motorcycle, others after the sidecar in which a military officer and his assistant were transported.
Sidecar cocktail recipe
Ingredients (for 2 portions):
12 cl cognac or brandy
6 cl Cointreau or triple sec
6 cl fresh lemon juice
Sugar (optional)
Lemon or orange wedges
Preparation:
Moisten the rim of each of two chilled cocktail glasses and dip in sugar (optional).
Pour the cognac, Cointreau or triple sec and lemon juice into a shaker.
Add ice to the shaker and shake well.
Strain the mixture into the cocktail glasses.
Garnish with a lemon or orange wedge.
The Sidecar is best served chilled and is a perfect drink for any occasion.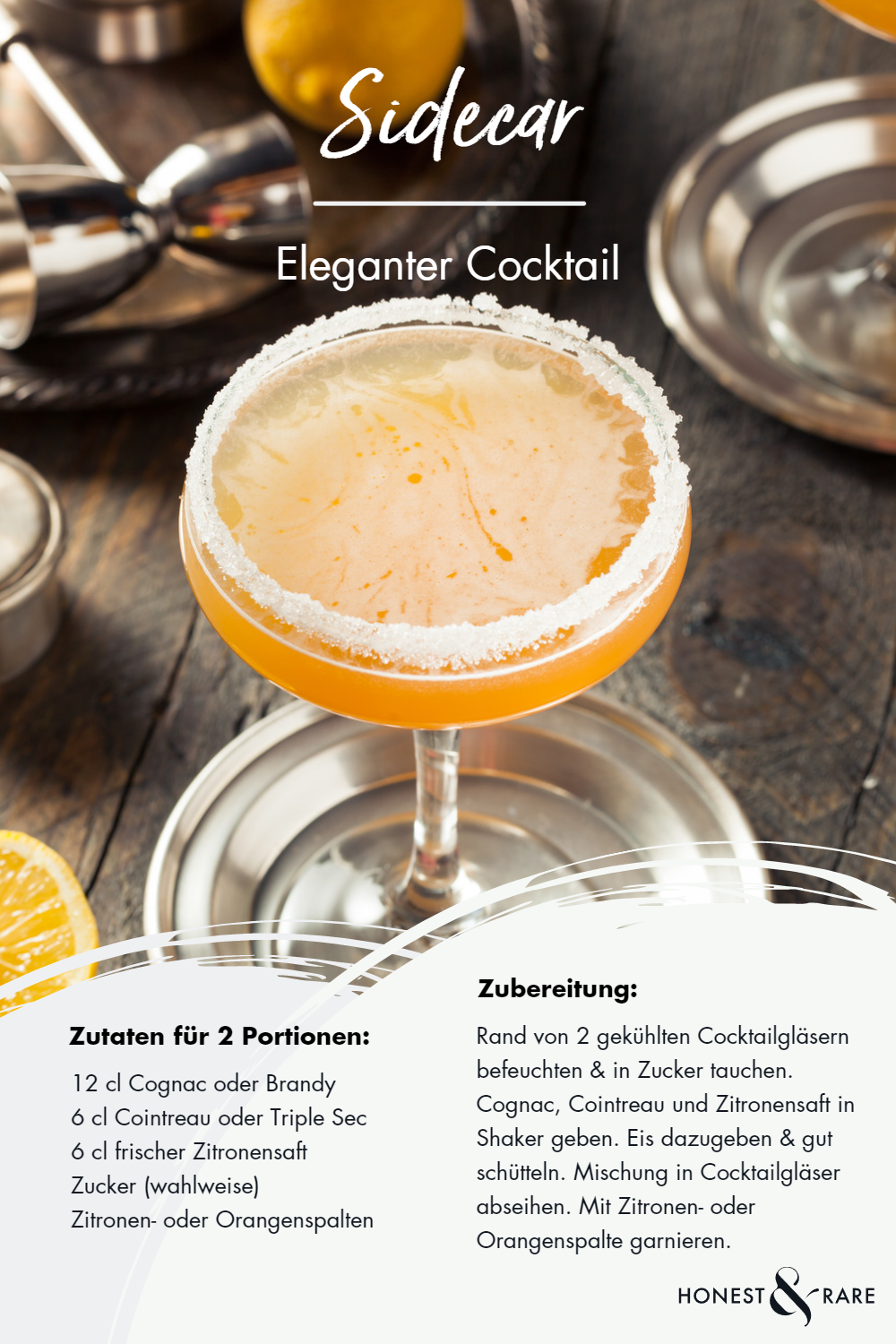 What does the Sidecar taste like?
The Sidecar cocktail has a sweet and sour taste that is balanced by the warmth and complexity of cognac or brandy. The citrus flavor of the fresh lemon juice gives the drink a tangy freshness, while the Cointreau or Triple Sec adds a sweet, orange note.
History of the Sidecar cocktail
During Prohibition in the United States (1920-1933), the Sidecar became very popular in speakeasies and other underground bars. One of the reasons for this was that the cocktail was made using ingredients that were readily available even during Prohibition. Cognac and other spirits were imported into the United States and sold illegally, while citrus fruits such as lemons were easy to find in the markets.
In addition, Sidecar was an easy drink to make and its sweet and sour flavor appealed to people who were not used to drinking straight alcohol. It was also a good way to mask the taste of inferior or home-made spirits.